Behold, upon the horizon, a tremendous marker on the road to 2020! It hearkens to us, and we fly towards it willingly! The last weekend before the last weekend before Christmas! Gadzooks! How shalt you commmemorate this momentous occasion? With abundant trips into the night to enjoy abundantly awesome moments, like the kind found at a Trevor Noah show, or the kind created by Ladytron, or the sort only sung out at a Gospel Christmas, or the type all lit up on Peacock Lane. It's a lot of stuff to do this weekend—hit the links below and plan your weekend accordingly
---
Jump to:
Friday
|
Saturday
|
Sunday
---
Friday, Dec 13
Ladytron, Youryoungbody Like Add to a List
Ladytron should write a book about keeping a band together (these gorgeous, English ancients formed in 1999) and consistently bringing the dreamy, goth dance pop, because their sixth record Ladytron—who releases a self-titled record after 20 years? Ladytron!—has several ghostly hits to get your sway onto ("Animals" and "The Island"). Even if that weren't the case, seeing Ladytron live would be worth it just to hear their overflowing cornucopia of unbreakable electro-pop songs like "Seventeen," "Destroy Everything You Touch," "90 Degrees," "Cracked LCD," "International Dateline," et—flippin'—cetera! How many records until Ladytron is afforded the same prestige as Depeche Mode or New Order? I'M WAITING. (Fri Dec 13, 9 pm, Wonder Ballroom, $32.50-35) SUZETTE SMITH
Mike Epps Like Add to a List
Helium hosts a weekend of stand-up with the talented and likable comedian and actor out of Indianapolis, known for his roles in The Boondocks, Dolemite is My Name, and The Hangover, as well as his brand new memoir, Unsuccessful Thug. (Dec 13-15, Fri-Sat 7:30 pm & 10 pm, Sun 7 pm & 9:30 pm, Helium Comedy Club, $40-55)
Art Alexakis, Common Hours Like Add to a List
It goes without saying that Art Alexakis' history with the Portland music scene is... difficult. But, like it or not, here is where he got his start, taking his alt-rock band Everclear to multi-platinum success and then refusing to fade away even as the cultural conversation shifted to nü-metal and hip-hop. He's a grinder and, if nothing else, it would behoove you to respect his hustle. The 57-year-old singer/songwriter returns to Portland with a lovely folk-pop solo album (Sun Songs) in his hip pocket, and a lot on his mind after announcing earlier this year that he has been diagnosed with multiple sclerosis. (Fri Dec 13, 9 pm, White Eagle, $40 & Up) ROBERT HAM
Felipe Esparza Like Add to a List
The Mexican comedian known for his recent HBO special, Translate This, brings his raw, real-life stand-up back to Portland for a stop on "The Bad Hambre" tour. (Fri Dec 13, 7 pm, Revolution Hall, $37.50 & Up)
The Dream Syndicate, Eyelids Like Add to a List
Whenever a beloved band reunites, even their most ardent fans find themselves bracing for an announcement of new music. The effort is appreciated, but rarely worth the time and money spent on it. The Dream Syndicate are the rare exception. Since reuniting in 2012, the modern psychedelic masters have released two stupendous albums—2016's How Did I Find Myself Here?, and this year's These Times—that are equal to the seared, romantic visions the group conjured during their initial run in the '80s. What is present in the band's work now is a world-weary attitude that seeks out the simple comforts of listening to a record at home and some appreciation for making it to 2019 with their faculties mostly intact. (Fri Dec 13, 8 pm, Polaris Hall, $25-30) ROBERT HAM
Kristen Key Like Add to a List
Coming to Portland fresh off of stealing the show on NBC's Bring the Funny is West Texas-raised comedian Kristen Key, with support from Belinda Carroll, Jenna Vesper, D. Martin Austin, and Kat Buckley, with a special burlesque performance by Vanity Thorn. (Fri Dec 13, 9:30 pm, Curious Comedy Theater, $15-20)
Broder Nord Julbord Nordic Christmas Feast Like Add to a List
Broder Nord gets in the spirit with their 3rd annual Julbord celebration, bringing Nordic tradition to Portland food lovers through a carefully planned feast, hosted by Nord's head chef Charlie McMullin. (Fri Dec 13, 6 pm, Broder Nord, $65)
Marco Benevento, The Mattson 2 Like Add to a List
Using loops and circuit-bent toys, Benevento makes smart, catchy electronic music just right for dancing. (Fri Dec 13, 9 pm, Doug Fir, $18) RACHEL MILBAUER
Swiggle Mandela, Psychic Guilt, Halloweener Like Add to a List
Rising Portland hip-hop artist Swiggle Mandela heads up a Friday-night show at the Cobra Lounge, with local goth and darkwave duo Psychic Guilt and experimental noise act Halloweener rounding out the all-ages bill (Fri Dec 13, 8:30 pm, The Cobra Lounge, $5-10, all ages)
Friday the 13th Double Feature
The Gaylords of Darkness (Stacie Ponder and Anthony Hudson) celebrate the spookiest of all dates with this double feature of the first two entries in one of cinema's longest-running-and-qualitatively-shittiest examples of pure exploitation, the Friday the 13th series. Stars (and final girls) Adrienne King and Amy Steel in attendance (Fri Dec 13, 6 pm, Hollywood Theatre)
---
Saturday, Dec 14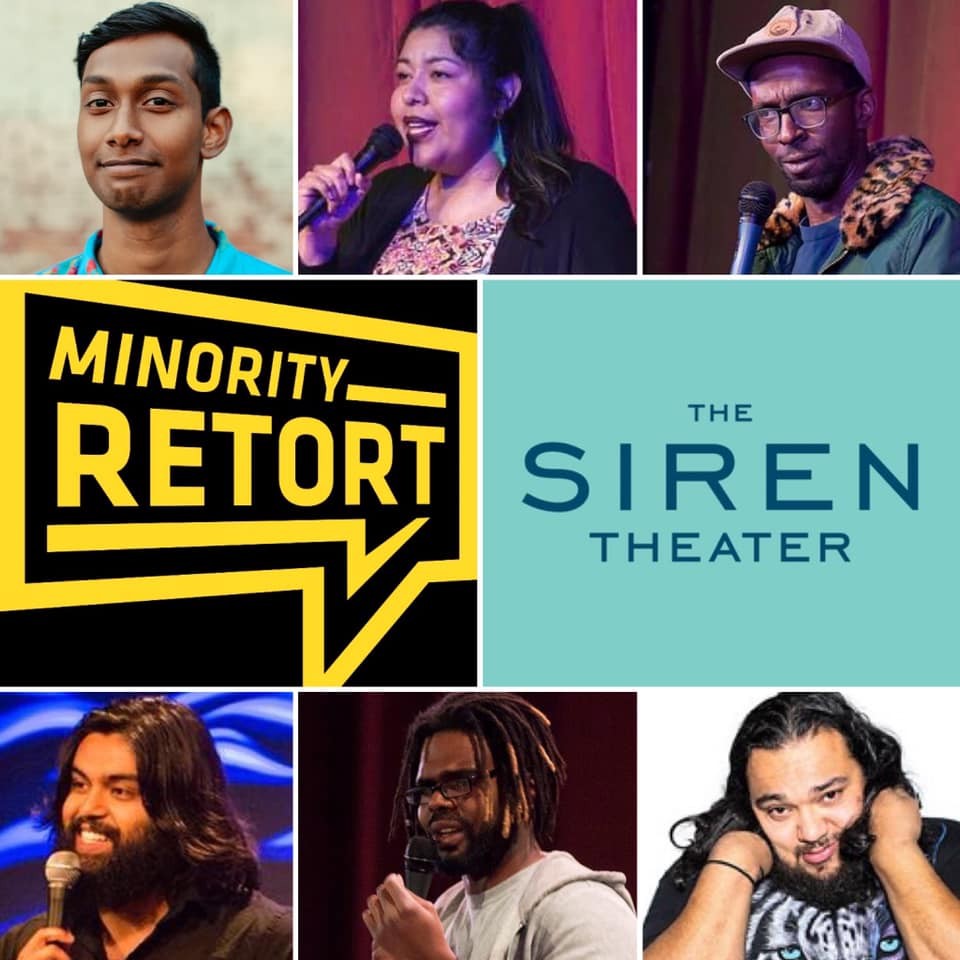 Minority Retort Like Add to a List
Fresh off shows at both the Pacific Crest and Ha Ha Harvest Comedy Festivals, Portland's best stand-up comedy showcase spotlighting comedians of color returns with a December installment, featuring sets from Jaren George, Stephanie Patricio, Richie Aflleje, Thomas Lundy, and headliner Adam Past. Hosted by Jason Lamb, Julia Ramos, and Neeraj Srinivasan. (Sat Dec 14, 8 pm, Siren Theater, $12-15)
Trevor Noah Like Add to a List
These days I need my news spoon-fed to me with a little sugar; Trevor Noah (and his dimples) knows how to lay it on thick. But as Noah explained in a recent appearance on The Breakfast Club, he tends to stay away from political topics in his standup, since he talks about that crap all week on The Daily Show. (Still, Noah's spot-on impersonation of Donald Trump is Emmy-worthy at this point.) Having grown up in apartheid-era South Africa, Noah's worldly perspective shines alongside common-sense feminism in his specials like African American, Afraid of the Dark. In his latest Netflix offering, Son of Patricia, Noah continues to prove that political correctness is not a threat to comedy. His is the kind of stand-up you can learn a thing or two from; Noah's cultural commentary is the entire reason I now pronounce "zebra" correctly. (Sat Dec 14, 7:30 pm, Moda Center, $36-92) JENNI MOORE
Wynne, Karma Knows, Jerry Bandito Like Add to a List
While Wynne has played a small handful of shows around town in the last three years, a proper hometown headliner gig has been elusive, due to her being under 21 and the fact that she lacked a debut EP or LP. Having finally released her impressive debut mixtape If I May in late October, the golden-haired MC appears fully committed to authentically representing her hometown (Lake Oswego), her college town (Eugene), and her current city (Portland) regardless of where her career takes her. I understand and respect the blonde-haired rapper's intent with this perfectly ordered, 11-track "mixtape" available on all streaming platforms: to demonstrate her self-awareness of entering the hip-hop arena tentatively, and as a guest in the culture. But If I May is album-worthy TBH. Now that the artist is of legal drinking age and has plenty of material to perform, the time has finally come for Wynne to start playing shows at venues in Portland and beyond. It all begins with this all-ages joint at the Hawthorne, and you shan't miss it. (Sat Dec 14, 8:45 pm, Hawthorne Theatre, free w/ rsvp) JENNI MOORE
Rad Max presents So Bad, It's Rad!: Chopping Mall Like Add to a List
Portland's pre-eminent purveyors of "rad wave" dance rock, Rad Max, return to the Clinton for a special screening of 1986's killer robot epic ("epic" being loosely used here but lets just go with it) Chopping Mall, augmented with Rad Max's sounds and... joie de vivre. That's a good word for it! (Sat Dec 14, 7 pm, Clinton Street Theater, $8)
Stumptown Soul Holiday Spectacular Like Add to a List
For the sixth straight year, an all-star cast of Portland musicians gather for the Stumptown Soul Holiday Spectacular, featuring an array of blues, jazz, rock & roll, and soul performances, along with some traditional holiday classics, all aimed at spreading some holiday cheer in support of the Jeremy Wilson Foundation and the Children's Cancer Association. (Sat Dec 14, 7:30 pm, Wonder Ballroom, $22-30)
Crafty Wonderland Like Add to a List
If you're feeling guilty for purchasing GARBAGE gifts for your loved ones every holiday season, there's a quick and fun cure: Crafty Wonderland. The annual celebration of everything crafty and DIY returns to the Convention Center with over 250 vendors selling really good handmade goods: hats, action figures, art, wallets, jewelry, pins, T-shirts, bowties for cats, slingshots, and thousands more super fun and original gifts will be on display. So go, buy, and stop disappointing your loved ones, already! (Sat-Sun Dec 14-15, 11 am, Oregon Convention Center, free, all ages) WM. STEVEN HUMPHREY
The Grouch, Murs, Daniyel Like Add to a List
The Bay Area-hailing hip-hop legend links up with Los Angeles rapper Murs for the Portland stop on the 12th and Final "How the Grouch Stole Christmas" tour. (Sat Dec 14, 9 pm, Star Theater, $25)
Amir K, Dianna Potter Like Add to a List
Mississippi Studios hosts an evening of stand-up with the Iranian-born, SoCal-raised comedian who has appeared on MADtv and Comedy Central and won a SAG award for his role in the Oscar-winning film Argo. (Sat Dec 14, 8 pm, Mississippi Studios, $20-24)
2019 Yule Ball Like Add to a List
A wizarding world version of a winter formal, with DJ Switch on the decks as the Portland chapter of the Harry Potter Alliance throws a party full of dancing, themed drinks, a photo booth, raffles, and of course, magic! Proceeds benefit KIND (Kids In Need of Defense), a nonprofit which provides legal representation, interpreters, and support for immigrant children. (Sat Dec 14, 5:30 pm, Melody Ballroom, $35-90)
Portland Opera to Go: La Bohème Like Add to a List
Portland Opera does its part to help spread the drama and art of opera to its audience with its Opera To Go series, condensing classics into fun, 50-minute blasts of melody, performance, and pure theater, and theater doesn't get more theatrical than La Bohème. (Sat Dec 14, 1 pm, Hampton Opera Center, $10)
Silversun Pickups Like Add to a List
The Los Angeles-based alternative rock band returns to the Crystal Ballroom to head up an all-ages "December to Remember" show supporting their fifth studio album, Widow's Weeds. Sat Dec 14, 8 pm, Crystal Ballroom, $32.50-27)
Lola Kirke, Angelica Garcia Like Add to a List
You might know Lola Kirke from her role as an oboist on the Amazon series Mozart in the Jungle, or the 2017 Golden Globes, where she famously sported a magnificent pink pin that read "Fuck Paul Ryan." But she's also a real-life musician, and a dang good one at that—her self-titled debut EP is four tracks of dreamy Americana that kicks off with a delightful song called "Baby Butt." (Sat Dec 14, 9:30 pm, Bunk Bar, $14-16) CIARA DOLAN
A Holiday Wine Spectacular Like Add to a List
Wine is always spectucular, but it becomes a little extra-tacular tonight as Teutonic hosts this holiday party headlined by the Mutineers, with Andrew Emlen on cello and Ian Brandon on the fiddle. (Sat Dec 14, 7:30 pm, Teutonic Wine Company, $10)
---
Sunday, Dec 15
Gospel Christmas Like Add to a List
Although I don't consider myself a religious person, even I can admit to feeling "the spirit" whenever gospel music is on; that ramps up even more during the holiday season, when all I want to do is blast my stereo and pretend like I'm Whitney Houston's character in The Preacher's Wife, or Mariah Carey on her stellar recording of "Jesus Oh What a Wonderful Child." Lucky for me: This December marks the 21st anniversary of Gospel Christmas, a joint performance by the Oregon Symphony and the Northwest Community Gospel Choir, which comprises approximately 92 singers from 33 houses of faith and organizations in Portland and beyond. (Sun Dec 15, 4 pm, Arlene Schnitzer Concert Hall, $35-115, all ages) JENNI MOORE
The Mystery Box Show Like Add to a List
Portland's long-running storytelling series dedicated to the sexier side of things uses the Alberta Rose Stage as a springboard for a rotating cast of performers to continue their comedic, dramatic, titillating, and touching explorations of desire in all its forms, vanilla to extra-freaky, across the entire gender spectrum. (Sun Dec 15, 7 pm, Alberta Rose Theatre, $22-57)
Speaker Minds, Rich Hunter, Madgesdiq Like Add to a List
Led by classically trained singer Adrian Adel and MC Randal Wyatt, Portland-based six-piece Speaker Minds specializes in hip-hop, rock and R&B. The band hasn't released anything new since their 2018 EP Wastelands—but that doesn't mean we can't enjoy all the groovy tunes that're already out. Neo-soul singer Rich Hunter (who formerly performed under the moniker Risky Star) accentuates the soul-drenched bill, bringing even more allure to a show that ALSO provides an opportunity to devour some tasty vegan "chicken" strips from the adjoining Bar Bar. (Sun Dec 15, 9 pm, Mississippi Studios, $5) JENNI MOORE
Peacock Lane Like Add to a List
SCARF UP, MOTHERFUCKERS! It's time to get your eggnog-loving ass to Peacock Lane, which starting TONIGHT will blaze and burn with SO MUCH GODDAMN CHRISTMAS CHEER that your eyes will shoot out jets of scalding-hot mulled wine! For over 80 years, the residents of Peacock Lane have gone bugfuck shitcrazy with Christmas lights—and my sources on the Lane are whispering that this year is gonna be a particularly mind-blowing orgasm of electric insanity! Will there be a hot cocoa booth? FUCKING OF COURSE THERE WILL BE, AND I'M GOING TO DRINK ALL OF IT. (Sun Dec 15, 6 pm, Peacock Lane, free, all ages motherfuckers) ERIK HENRIKSEN
Basil Strawberry, DMN Like Add to a List
This edition of the Rontom's Sunday Sessions doubles as a double single release party! I know that sounds confusing, but all you need to know is that Basil Strawberry and DMN have new songs and they will be sharing them and they will be good. (Sun Dec 15, 8 pm, Rontoms, free)
Waterparks Like Add to a List
Rising Houston pop-punk trio Waterparks return to town for an all-ages stop on a tour supporting their latest Equal Vision-issued album, Fandom. (Sun Dec 15, 8 pm, Wonder Ballroom, $22.50-25, all ages)
Fiesta Navideña Like Add to a List
Portland's Espacio Flamenco celebrates the holiday season at the Aladdin with an evening of traditional holiday songs (villancicos), student and Espacio Flamenco Company performances, and an interactive flamenco sing-along for the entire audience. (Sun Dec 15, 7 pm, Aladdin Theater, $5-15, all ages)
Don't forget to check out our Things To Do calendar for even more things to do!