Hello, December 2019. It looks like you're getting off to a very lively start so far, and Portland is definitely benefitting from a whole bunch of amazing Things to Do this week, including the start of the Holiday Ale Fest, another installment of the I, Anonymous Show, the Christmas Ships are coming through, and (checks notes) KENNY G IS HERE!?!? As always, that's only the BEGINNING—hit the links below and plan your week accordingly
---
Jump to:
Monday
|
Tuesday
|
Wednesday
|
Thursday
---
Monday, Dec 2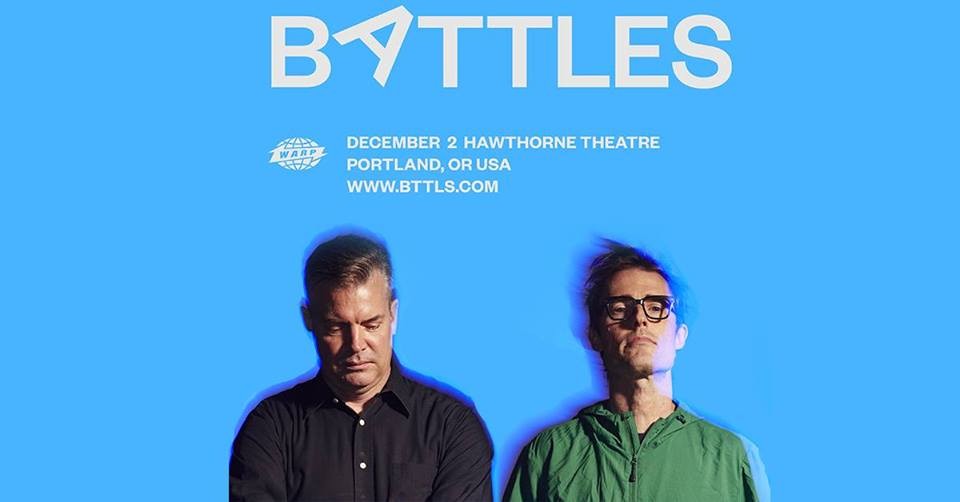 Battles, Palm Like Add to a List
Of the experimental New York foursome that were Battles, only two remain: Ian Williams and John Stanier. No, they didn't actually battle each other (although they should say they did). It's funny to think of their 2006 track "Tras"—which sounded like a metal song that became a math equation—as this group's hit single, but that's what we were nodding our heads to on the way to shows. Over the past few albums, Battles has fooled with incorporating vocals into their complex and symmetrical "bleep bloop" compositions, and on their new album Juice B Crypts they include one-off collaborations with singers like Xenia Rubinos, rappers like Shabazz Palaces, and groups like Tune-Yards. But I still like their instrumental tracks like "A Loop So Nice" best. (Mon Dec 2, 8 pm, Hawthorne Theatre, $20-25) SUZETTE SMITH
Takács Quartet Like Add to a List
The folks at Friends of Chamber Music have been welcoming world-class players to Portland for more than 75 years, and tonight and tomorrow, they host four of the best with a sublime program tucked up their collective sleeve. The Takács Quartet, having performed in legendary concert halls around the globe for several decades, is what's known in certain classical music circles as "the shit." (Mon-Tues Dec 2-3, 7:30 pm, PSU Lincoln Performance Hall, $32-57) BRIAN HORAY
Daughters, Lingua Ignota Like Add to a List
It almost goes without saying that Rhode Island noise rock band Daughters comes with a lot of baggage. Even as they debuted in 2003, with their much-lauded Canada Songs, they were seeking to cast off their past lives as the grindcore group As the Sun Sets. Canada Songs was a controlled chaos of screams and blistering guitar licks; by the time you could tell the songs apart, they had you. The band fell out around their third record, as bands do, but reformed to release 2018's You Won't Get What You Want which collects a variety of discordant music styles into an interesting and controlled catalog. These days it seems like Daughters frontman Alexis Marshall wants to employ more throbbing-noise and altar calls than chaotic screaming freak-outs, which I would say is a sign of maturity if he hadn't suggested last year that people should punch journalists they don't agree with. (Mon Dec 2, 8 pm, Bossanova Ballroom, $20) SUZETTE SMITH
Sir Woman Like Add to a List
Prolific Austin-based singer/songwriter Kelsey Wilson (Wild Child, Glorietta) brings her newly-minted funk project to the Doug Fir Lounge for a headlining show supporting her solo debut, Party City. (Mon Dec 2, 9 pm, Doug Fir, $15)
The Benson's Annual Gingerbread Unveiling Like Add to a List
Pulling back the sheet on a 40-plus year-old Portland tradition, a tradition made out of 200 pounds of gingerbread, 30 pounds of white chocolate, 15 pounds of dark chocolate, and 30 pounds of marzipan. Attendeeds are encourage to not only marvel at this feat of baking, and enjoy delicious gingerbread treats, but to donate new, unwrapped toys for the Children's Cancer Association. (Mon Dec 2, 4 pm, The Benson Hotel, free, all ages)
The Tenors Christmas Like Add to a List
The renowned vocal group consisting of Victor Micallef, Fraser Walters, and Clifton Murray return to Portland to spread some holiday cheer with backing from conductor Raúl Gómez and the Oregon Symphony. (Mon Dec 2, 7:30 pm, Arlene Schnitzer Concert Hall, $35 & Up, all ages)
Pizza Night Like Add to a List
The two words in the title alone should be enough to capture your attention and hold it there, but in the interest of fully informing you: Olympia Provisions, home of godlike meats, has a night dedicated to making meaty pizzas, as well as a wine menu featuring selections perfectly paired with the flavors available, and only local bands on the speakers. (Mon Dec 2, 5 pm, Olympia Provisions, free)
---
Tuesday, Dec 3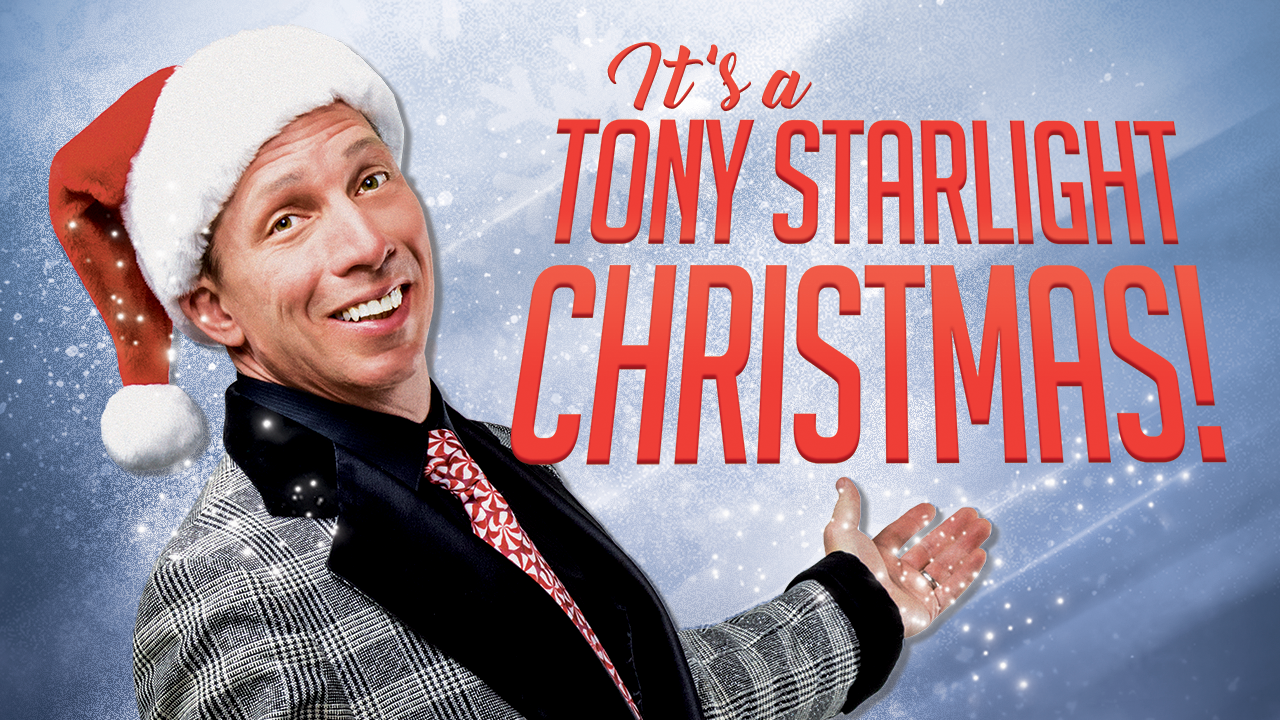 It's a Tony Starlight Christmas Like Add to a List
If you like your holiday swinging with a dose of cocktails, check out It's a Tony Starlight Christmas, in which Portland's fave crooner is joined by a rat pack of talented singers to perform classic holiday hits (and comedy) in the style of Frank, Dino, Liza, Bing, and more. (Tues Dec 3, 7:30 pm, The Tony Starlight Showroom, $27-75)
Kenny G: Celebrating 25 Years of Miracles Like Add to a List
GET READY FOR SOME KENNY G FACTS IN YOUR FACE, MOTHERFORKERS! Fact one: Kenny G grew up in Seattle and studied accounting at the University of Washington! WHAT. Fact two: In 1997, Kenny G held the world record for playing the longest continual note on a saxophone (an E-flat for 45 minutes and 47 seconds). BANG! Fact three: Kenny G is super popular in China! His song "Going Home" is played at the end of business days at many shopping malls, health clubs, and train stations. SLAMMA-JAMMA! And Fact four: Kenny G's Miracles: The Holiday Album is one of the most successful holiday albums of all time, selling eight million copies, which he'll be playing IN ITS ENTIRETY at the Arlene Schnitzer Concert Hall for the luckiest, motherforking ears in the world—yours. BATHE IN HIS GLORIOUS MAJESTY, YOU UNDESERVING BUNGHOLES! (Tues Dec 3, 7:30 pm, Arlene Schnitzer Concert Hall, $35 & Up, all ages) WM. STEVEN HUMPHREY
Dreamers, Arrested Youth, American Teeth Like Add to a List
The NYC-based trio headed up by Nick Wold, Marc Nelson, and Jacob Lee Wick brings their indie pop and rock back through town for an all-ages show supporting their latest full-length, Launch Fly Land. (Tues Dec 3, 8 pm, Hawthorne Theatre, $17-20, all ages)
Relentless Splendor's 99-Minute Comedy Fest Like Add to a List
Suki's plays host to this comedy smorgasbord from Relentless Splendor, packing a whole comedy festival's worth of entertainment into 99 minutes, with sets from Simon Gibson, Whitney Streed's Rants Off Dance Off, Chris Khatami's Spec Script, and more. (Tues Dec 3, 7:30 pm, Suki's Bar & Grill, $5)
Flights for Your Rights: Planned Parenthood PAC of Oregon Holiday Wine Party Like Add to a List
Planned Parenthood PAC of Oregon is getting into the holidays the correct way: with lots and lots of wine. And because they're Planned Parenthood, not only will it be fun, but you'll be doing some good, with proceeds helping secure even more victories for reproductive rights in 2020. (Tues Dec 3, 6:30 pm, Southeast Wine Collective, $20)
Jim Breuer Like Add to a List
Goat Boys never grow up, and Jim Breuer has been touring non-stop ever since leaving Saturday Night Live, with a resume containing successful radio shows and podcasts alongside more well known entries like his role in the stoner-classic Half Baked. He also is maybe the best one-man AC/DC impersonator who ever lived? Pretty specific niche, yes, but a very loud and entertaining one. (Tues Dec 3, 8 pm, Aladdin Theater, $32.50-50, all ages)
Drag Queen Bingo: Benefit for Animal Aid and Project Pooch Like Add to a List
Poison Waters presents a special edition of Drag Queen Bingo benefitting Animal Aid and Project POOCH, because 'tis the season to give, and what better gift to give than to help puppers in need. Plus, you know, drag queens and bingo is always a recipe for good times. (Tues Dec 3, 6 pm, Rogue Eastside Pub & Pilot Brewery, free)
French Vanilla, Conditioner, Plastic Weather Like Add to a List
Having visited Portland last year while supporting Detroit rocker Stef Chura, Los Angeles feminist art-punk outfit French Vanilla brings their shapeshifting sounds back to the stage at Mississippi Studios for a headlining set supporting their latest album, How Am I Not Myself? (Tues Dec 3, 9 pm, Mississippi Studios, $12-14)
---
Wednesday, Dec 4
The I, Anonymous Show Like Add to a List
If you love sick secrets, crazy rants, and side-splitting laughs, have we got a show for you! The I, Anonymous Show stars the fabulous Kate Murphy, who selects the wildest, strangest submissions from the beloved Mercury column and reads them live on stage. Joining Kate is a panel of whip-smart comedians—this month it's Tory Ward, Jake Silberman, and Dylan Jenkins—who dissect these submissions with hilarious precision. If you're looking for serious fun, the I, Anonymous Show is the place to be! (Wed Dec 4, 7:30 pm, Curious Comedy Theater, $10) WM. STEVEN HUMPHREY
The Holiday Ale Festival Like Add to a List
For the 24th straight year, Pioneer Courthouse Square gets tented, heated, and filled with over 50 specialty winter ales from some of the best brewers in the country. Come down spread some holiday cheer while indulging in an array of delicious Belgians, barleywines, stouts, and sours you won't find at the supermarket, and capitalize on the opportunity to talk to the geniuses responsible for making all these delicious suds, too. (Wed-Sun Dec 4-8, Pioneer Courthouse Squre, $40-100)
Mount Eerie, Julie Dorion Like Add to a List
It's been over a decade since the release of Lost Wisdom, the beautifully sparse 2008 collaboration that saw Mount Eerie's Phil Elverum link up with his musical hero, Julie Doiron of Eric's Trip, along with Canadian musician Fred Squire. Recorded in Elverum's hometown of Anacortes while Doiron and Squire were on a brief layover between touring and recording sessions of their own, the album was embraced by fans and quickly tucked away, with Elverum moving on to experiment with black metal on Wind's Poem and Doiron returning to her indie rock roots with I Can Wonder What You Did with Your Day. Fortunately, Elverum and Doiron have reunited for Lost Wisdom pt. 2; the accompanying tour gives Elverum another chance to share the stage with his favorite singer and fans an opportunity to witness these desolate, yet endearing songs in a live setting. (Wed Dec 4, 8 pm, Revolution Hall, $20, all ages) CHIPP TERWILLIGER
Rupi Kaur Like Add to a List
The author of the acclaimed poetry collections milk and honey and the sun and her flowers returns to Portland for a guaranteed-to-be emotionally and intellectually stirring evening. (Wed Dec 4, 8 pm, Arlene Schnitzer Concert Hall, $29-65)
Spoon, Nicole Atkins Like Add to a List
Spoon, the preeminent indie ensemble of the aughts, has officially made enough albums to warrant a "best of" record—and they're taking it on the road. The group's compilation, Everything Hits at Once, will get you on the dancefloor with classics like "I Turn My Camera On," "The Underdog," and "The Way We Get By," and a bonus new single "No Bullets Spent." (Wed Dec 4, 8 pm, Crystal Ballroom, $38-42) ALEX ZIELINSKI
Bedouine Like Add to a List
Syrian-born/Los Angeles-based singer/songwriter Azniv Korkejian, better known by her stage name Bedouine, brings her country- and funk-tinged folk music to the Doug Fir for a headlining show supporting her new album, Bird Songs of a Kiljoy. (Wed Dec 4, 9 pm, Doug Fir, $15-17)
High On Fire, Power Trip, Devil Master, Creeping Death Like Add to a List
Sleep guitarist Matt Pike brings his sludge metal and psychedelic thrash band High on Fire back through town to split a co-headline show with Dallas hardcore thrashers Power Trip. Devil Master and Creeping Death round out the all-ages show. (Wed Dec 4, 8 pm, Wonder Ballroom, $22-25, all ages)
Tents, Cataldo, Nyles Lannon Like Add to a List
Fresh off the release of their latest album, Medicine, local quintet Tents bring their synthy and soothing indie-pop through Holocene to head up a hometown show along with support from Seattle's Cataldo and San Francisco-based artist Nyles Lannon. (Wed Dec 4, 8:30 pm, Holocene, $8-10)
---
Thursday, Dec 5
Christmas Ships Parade Like Add to a List
Since 1954, the mighty waters of the Columbia and Willamette have been home to the ONLY Christmas tradition that's worth a damn: THE CHRISTMAS SHIPS, a mighty fleet of delightfully decorated boats that patrol our land's dark, dangerous waves—bringing us boisterous light and joy, and banishing sinister sea lions and razor-toothed mer-people to the rotting, watery depths! Nearly every night until Christmas, this jaunty procession of slow-moving, light-spangled boats will valiantly cruise through all sorts of territory, from Milwaukie to Vancouver—AND there'll be meet and greets, where you can cram your eye-holes with close-up views of the festive boats (!) and meet the fearless skippers (!!) who heroically navigate their vessels across our rivers and into our hearts. (Thurs Dec 5-Sun Dec 22, Tom McCall Waterfront Park, free, all ages) ERIK HENRIKSEN
The Thesis Like Add to a List
The Thesis is known for consistently bringing together some of the most promising names in Portland hip-hop, and this month's lineup is true to form: esoteric rapper Donte Thomas, R&B/pop crooner Kid Indigo, commanding MC Mickey Taelor, skilled sampler Trox, and locally beloved DJ Verbz. But my personal favorite artist on this month's bill is Maarquii, the dynamic genderqueer rapper/performer whose latest singles feature a full, expertly produced sound and a good amount of lyrical swagger. "Won't you bump that new Maarquii?" they ask on "Day Ones." Indeed, won't you? (Thurs Dec 5, 9 pm, Kelly's Olympian, $10) BLAIR STENVICK
Jamie Lee Like Add to a List
Jamie Lee is best known for appearances on Girl Code, @Midnight, Chelsea Lately, and HBO's Crashing, but her stand-up is as good a place as any to be wowed by not just her punchlines but her presence. (Thurs Dec 5, 8 pm, Helium Comedy Club, $25-33)
Madame Gandhi, MILCK, SassyBlack Like Add to a List
Los Angeles-based producer, drummer, and activist Madame Gandhi (AKA Madame Gandhi) brings her percussive electronic afrobeat sounds to the Doug Fir Lounge for a Portland show supporting her electrofeminist solo EP series. Fellow LA-based artist MILCK and Seattle's SassyBlack round out the bill. (Thurs Dec 5, 9 pm, Doug Fir, $15)
The Chainsmokers, 5 Seconds of Summer, Lennon Stella Like Add to a List
The Chainsmokers' overblown, triumphantly loud type of EDM is perfectly curated for giant arenas and outdoor partying. Remember to stay hydrated since you'll be dancing to this set all night. (Thurs Dec 5, 7 pm, Moda Center, $14-119)
Channel Tres, DJ Shi Shi, DJ Black Daria Like Add to a List
Having supported Vince Staples and JPEGMAFIA on a tour that hit the Roseland earlier this year, Compton-hailing DJ, producer, and musician Channel Tres brings his unique blend of house-infused hip-hop and R&B back to town for a headlining set of his own. (Thurs Dec 5, 8:30 pm, Holocene, $12-15)
Whose Live Anyway? Like Add to a List
The cast of TV's Whose Line is it Anyway? bring their improvised comedy to the Revolution Hall stage. Featuring Ryan Stiles, Jeff B. Davis, Joel Murray, and special guest Dave Foley from the Kids in the Hall and Newsradio. (Thurs Dec 5, 8 pm, Revolution Hall, $35-55)
Charlie Hunter & Lucy Woodward Like Add to a List
In-demand guitarist Charlie Hunter and vocalist Lucy Woodward team up for a night of blues, soul, and funk at Mississippi Studios when they roll through Portland in support of their collaborative debut, Music!Music!Music! (Thurs Dec 5, 8 pm, Mississippi Studios, $22-25)
Don't forget to check out our Things To Do calendar for even more things to do!