Portland: you have your mission. Take this last night of 2018—a year that somehow felt about three years long—and find a measure of joy within it. Celebrate that joy as strongly and as purely as you can. You won't be able to salvage the entire year in a single night, and it'd be silly to even try. But you can at least make some memories worth celebrating for the rest of your life—provided you don't go too hard in the paint. Look at the list below and choose wisely. And if nothing quite strikes that fancy, don't sweat it—there's a
lot
more options available
in our New Year's Eve calendar
.
---
Jump to:
Downtown
|
North
|
Northeast
|
Southeast
|
Northwest
|
Southwest
---
Downtown
Governor's Ball
Northwest party starters Hit Explosion and Portland saxophonist and Oregon Music Hall of Fame inductee Patrick Lamb head up the 7th installment of the Annual Governor's Ball and New Year's Eve celebration at the Sentinel Hotel. (5 pm, Sentinel Hotel, $115 & Up)
'90s New Year's Eve
Don your '90s finest—whether that means overalls with one strap down, or way-too-big flannel tied around your waist, or both at the same time with unlaced boots, a hypercolor shirt, and a hat with the tag still on it—and head down to Punch Bowl Social to ring in the New Year with games, bowling, music, and some special NYE punch. I'm sure there'll be a corner somewhere where people in babydoll dresses and chokers are smoking cloves. (9 pm, Punch Bowl Social, free)
105.9 The Brew Year's Eve Party: Steel Panther, DJ Gregarious
The Los Angeles based comedy-glam metal band known for their raunchy lyrics and exaggerated on-stage personae bring their act back to town to to head up 105.9 The Brew Year's Eve Party at the the Crystal Ballroom. Portland's own DJ Gregarious rounds out the proceedings. (9:30 pm, Crystal Ballroom, $41.50-45)
Champagne Ball
Portland's biggest NYE party returns for its 28th year, bringing you a night of live music, DJs, themed party rooms, 17 bars, food, party favors, and a video countdown on three separate dance floors. (8 pm, Hilton Portland Downtown, $115-175)
Railroad Earth, Shook Twins
A seamless melding of bluegrass-inspired fiddle hoedowns is tempered by Americana flourishes, smart songwriting, and extended jams. Railroad Earth's oeuvre spans many styles, but the band is without a doubt at its best when it's folding in the organics of piano and horns, laying down feel-good meditative epics. There's no way I know as much as hardcore fans, but if you're able to snag a ticket to this, consider yourself lucky. (9 pm, Roseland, $25-65) RYAN J. PRADO
---
North
Trumans Water, Lavender Flu, White Shark Shiver
What better way to say farewell to a frantic and dizzying year than to share the last evening of 2018 with Truman's Water, a band whose music is as unsettled and tense as we've all been feeling for 12 straight months. A fixture of the indie underground since the '90s, this outfit's modern classic albums Godspeed the Punchline and Fragments of a Lucky Break approach the raw materials of guitar rock with a cubist's perspective, creating subtly complex structures full of impossible angles and complex formulas that miraculously balance out every time. (8 pm, Turn! Turn! Turn!, $8) ROBERT HAM
The Parson Red Heads, Holly Ann
The beloved local folk-rock outfit celebrate New Year's Eve at the White Eagle Saloon by performing R.E.M.'s Automatic for the People in its entirety. (9 pm, White Eagle, $10)
Festive New Year's Eve Dinner
A seven-course celebration of the coming new year, courtesy the culinary mind of Executive Chef Ryley Eckersley, using local winter produce, seafood, and meat, with optional wine or cocktail pairings from bar manager Camille Cavan. (5:30 pm & 8:30 pm, Quaintrelle, $135)
Jerry Joseph & The Jackmormons
Through innumerable hardships and struggles, Joseph has remained a steady fixture in the local rock scene for more than three decades, and, even after being inducted into the Oregon Music Hall of Fame in 2015, doesn't appear to be slowing down one bit. So why should you? (9 pm, Mississippi Studios, $25-50) SANTI ELIJAH HOLLEY
New Year's Eve Bash with the Robert Henry Band
The Ponderosa's boot-scootin' and line-steppin' New Year's party is fueled by the traditional country sounds of the Robert Henry Band, victors of the 2018 Battle of the Bands, and as such, they will reign on the stage as balloons drop, champagne gets popped, and 2019 says hello. (5 pm, Ponderosa Lounge & Grill, $30-50)
---
Northeast
DJ Anjali & the Incredible Kid's New Year's Eve Dance Party Extravaganza
One of Portland's most revered record-spinning duos, DJ Anjali and the Incredible Kid, are movin' on up for their annual New Year's Party, taking over the Wonder Ballroom's stage with festivities 100 percent unlike any other party in the city, with the Portland debut of Reyna Tropical, support from post-soul vanguards Brown Calculus, live percussion from Adam McCollom on the dhol, live dances by DJ Anjali & the Gulabi Gang, and a joyous explosion of energy. (9 pm, Wonder Ballroom, $29.50-40)
New Year's Eve Steakhouse Oyster Social
A New Year's Eve dinner that needs no reservations, and doesn't adhere to a set menu: you just show up and put together your own meal from a selection of steakhouse-inspired dishes Tournant's cooking up, including fresh NW oysters on the half shell, 28-day-aged ribeye, flank steak, mashed potatoes, and samples from the Edrington spirits collection. (6 pm, Tournant)
Brizzleman, Fountaine
Portland singer/songwriter and multi-instrumentalist James Villa (AKA Brizzleman) brings his neo-soul, R&B, and synth-funk sounds through the Alberta Street Pub to ring in 2019 in style. (9 pm, Alberta Street Pub, $10-12)
New Year's Eve Celebration at Kennedy School
The Kennedy School hosts a school-wide New Year's Eve celebration, with Big Bad Beat throwing down all the finest Top 40 hits in the theater, and Sonny Hess getting bluesy and gritty in the gym. (9 pm, Kennedy School, $20-25)
---
Southeast
New Year's Eve Battle of the Decades III
Bunk Bar hosts its third annual New Year's Eve Battle of the Decades, in which a who's-who roster of Portland musicians will be tasked with forming bands and covering tunes from four decades—the '50s, '60s, '70s, and '80s. Dress in the spirit of your favorite era and ring in 2019 with a balloon drop, champagne toast, and all-night dance party. (9 pm, Bunk Bar, $30)
Summer Cannibals, Jo Passed, Noche LIbre
Portland scene stalwarts Summer Cannibals bring their fuzzed-out guitar rock and infectious power-pop to the Doug Fir Lounge to ring in 2019 with a lively set full of covers, deep cuts, and special guests. Canadian psych-pop outfit Jo Passed and Noche Libre DJs Mami Miami and Títa round out the proceedings. (9 pm, Doug Fir, $18-20)
Cooky's NYE: Sweat Away 2018
DJ Cooky Parker is renowned for putting on only the best all-vinyl soul get downs at the Eagles Lodge, but for New Year's Eve, he's calling in his friends Callie Danger and Void to help him to help you leave it all on the floor before and after the ball drops. (9 pm, Eagles Lodge, $10)
Greg Fitzsimmons
Helium invites you to ring in the new year with a night of insightful, incisive stand-up from the Emmy award-winning writer and host of the "FitzDog Radio" podcast and "The Greg Fitzsimmons Show" on Howard Stern's SiriusXM channel. (8 pm & 10:30 pm, Helium Comedy Club, $39-64)
Rontoms New Year's Eve Party
Ring in 2019 at Rontoms with the help of infectious fun delivery service Tango Alpha Tango, culminating in a giant balloon drop at midnight, and a traditional champagne toast. Well, maybe "culminating" is the wrong word because the party sure as hell isn't stopping at 12:01 am. (8 pm, Rontoms, $20)
---
Northwest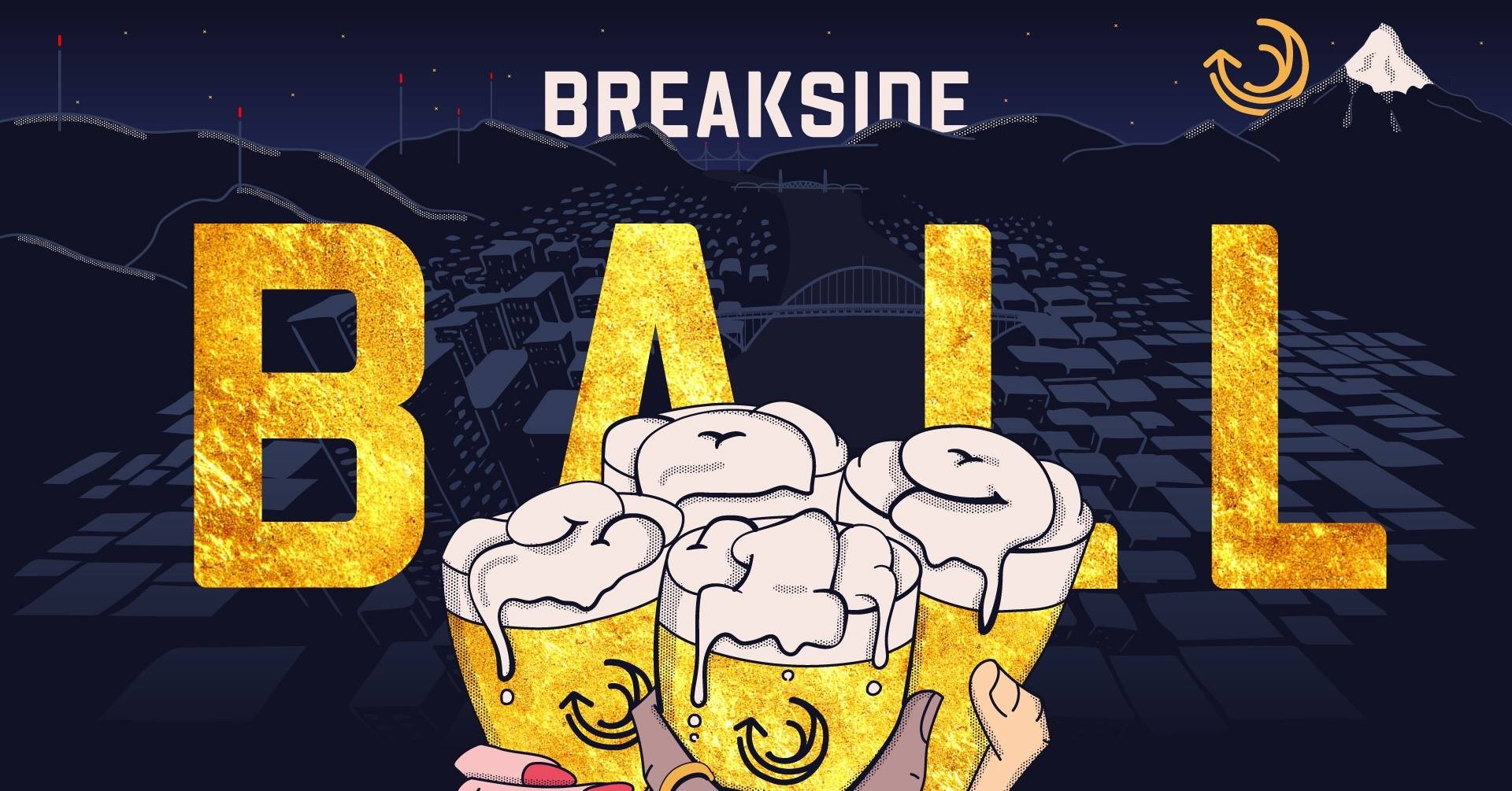 Breakside Ball 2019
Breakside Brewing once again transforms their pub, and the street in front of it, into a sprawling party, with live music, live DJs, heated tents, food carts, a fire pit, an outdoor silent disco, and of course, multiple bars by which to serve gallons and gallons of delicious Breakside brew. (8 pm, Breakside Brewery, $35-1500)
Midnite NYE 2019
One of Portland's single-biggest New Year's celebrations, both in size and stature, with over 16,000 square feet to play in, holding a live light show, reactive projections helping count down the drop, and music from SKAM artist DJ Fergie and opener Danny Merkury. (8 pm, Pure Space, $40-150)
Kells Brewery New Year's Eve Celebration
There's gonna be so many darling little hats at this New Year's party! Hats and favors! Oh, and of course, loud live local music, a balloon drop, a midnight toast, and all the lovely drinkables the brewery has on tap and behind the bar. That part's pretty important. (8 pm, Kells Brewery, $10)
Exclusive VIP New Year's Eve
Why mingle with the lowly rabble on the close of 2018 when you can be the exclusive VIP you deserve to be? Partake of the champagne bar, bottle service, private lounges, and sounds by DJ Le Phreak, hosted by Champagne James, Dave Exclusive, Dan the Pitbull Man, and LC Lonely Child. (8 pm, Splash, $25-30)
Peruvian New Year's Eve Celebration
A special Peruvian prix-fixe menu for New Year's Eve, specially prepared by new Executive Chef Cliff Denny, with menu items including crab-stuffed avocado, marinated pork belly, seafood stew, beer-and-cilantro braised lamb shank, paella, and much more. Wine pairing is optional. (5 pm, Andina, $80)
---
Southwest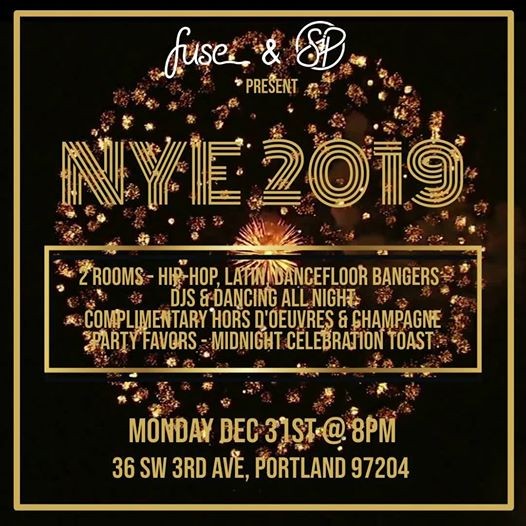 New Year's Eve Party at Fuse & Sip
It may be called a "speakeasy" but if you know anything about such locations, you know that some of the most raucous, boisterous partying that ever was done, was done in a speakeasy, and New Year's Eve is a great excuse for Fuse & Sip to call back to those days. (8 pm, Fuse & Sip)
A New Year's Eve Celebration at the Old Church
Friends of Chamber Music and the Florestan Trio head up a New Year's Eve Celebration at the Old Church, featuring an hour-long concert followed by a dessert and champagne reception. (7:30 pm, The Old Church, $35)
Suki's Annual NYE Karaoke Dance Party
A Portland tradition presented for the benefit of all the city's best barroom belters and karaoke champions. Come to Suki's, celebrate the new year, and dig deep into your repertoire. Dig deep into your closet, too—the best dressed person could win $250 in cash, which is a pretty good way to start 2019. (8 pm, Suki's Bar & Grill, free)
NYE Supper Club: Happy Days are Here Again
Hotel deLuxe celebrates the new year in the highest of high styles thanks to Veuve Clicquot's presentation of "Happy Days Are Here Again," a cabaret-styled show starring Susannah Mars and Merideth Kaye Clark as Judy Garland and Barbra Streisand, with David Saffert (known for doing a killer Liberace impersonation himself) backing them up on piano. Admission includes appetizers, dinner, and champagne pairings. (6 pm & 9 pm, Hotel deLuxe, $175)
Don't forget to check out our Things To Do New Year's Eve calendar for even more ways to ring in 2019!