BIPOC Adoptees VOICES Community Event
This event is in the past
Sunday, September 24, 11:30 am–3:30 pm & 3:30–9 pm
This is an in-person event
Free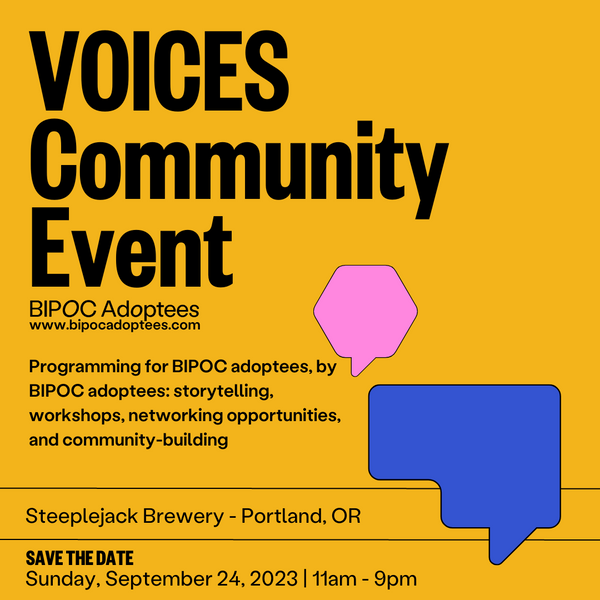 The following description comes from the event organizer.
Join the BIPOC Adoptees community for our very first VOICES event, a day-long event created for BIPOC adoptees and by BIPOC adoptees. This FREE day-long event will be on Sunday, September 24, 2023.
VOICES is about:
-
V
alidating our diverse experiences
-
O
wning our own narratives
-
I
nspiring each other
-
C
hallenging stereotypes
-
E
mpowering ourselves
-
S
haping how we and others understand adoption
PROGRAMMING:11:00am - 3:30pm
Part 1: BIPOC Adoptees Only (18+ years)
We will have programming for us, by us, including only us from 11am to 3pm. We want BIPOC adoptees to feel safe sharing experiences with a community who intimately knows the realities of being a BIPOC adoptee. The first part of the day is for Black, Indigenous, and POC intergenerational adoptees ONLY. A special signup is required to ensure we are creating a safe place where BIPOC adoptees can be honest about our unique experiences and expand our community.
3:30 - 9:00pm Part 2: Event opens to family, friends, allies and advocates (all ages)
Later in the afternoon from 4pm to 9pm, we will open the event to partners, friends, family, allies, and advocates who seek to support us. This includes a panel, facilitated by Adoption Mosaic, about adoptees in adulthood and our relationships with adoptive family. We will also have activities for intergenerational adoptee youth and social time for community building.
Get in touch if you have any questions: bipocadoptees@gmail.com