This event is in the past
Friday, November 24, 9–11 pm
This is an in-person event
$25
21+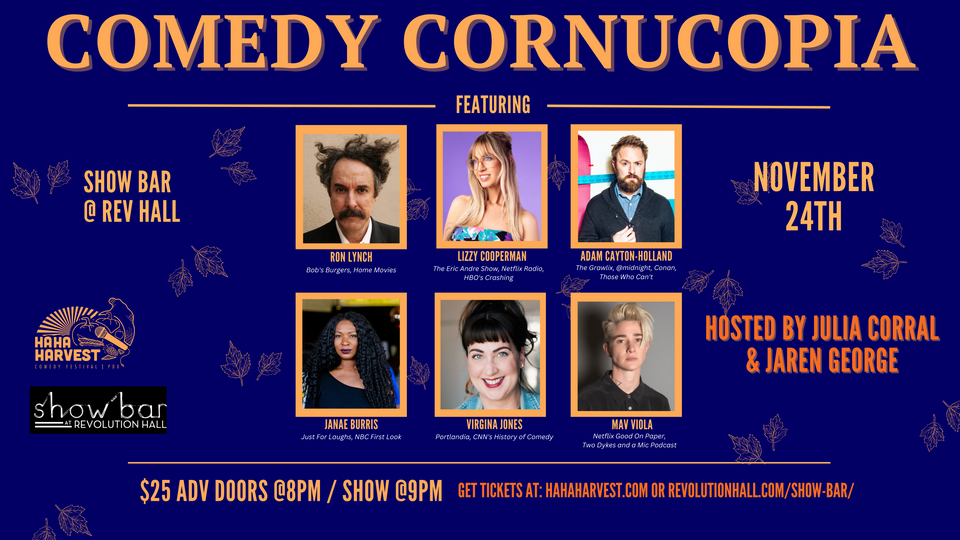 The following description comes from the event organizer.
Hosts: Julia Corral and Jaren George
Featuring: Lizzy Cooperman, Adam Cayton Holland, Ron Lynch, Janae Burris, Mav Viola, and Virginia Jones
Comedy Cornucopia
Get ready for a special festival kickoff show - Comedy Cornucopia – an all-headliner extravaganza that's the crown jewel of the Ha Ha Harvest Comedy Festival!
Lizzy Cooperman (The Eric Andre Show, Netflix Radio), Adam Cayton Holland (The Grawlix, Conan, Those Who Can't), Ron Lynch (Bob's Burgers, Home Movies), Janae Burris (Just For Laughs, NBC's First Look), Mav Viola (Netflix's Good On Paper, Two Dykes and a Mic Podcast), and Virginia Jones(Portlandia, CNN's History Of Comedy), all under one roof, ready to serve up a heaping helping of comedy.
Hosted by the dynamic duo, Julia Corral and Jaren George (Comedy in The Park), this show is the crème de la crème of comedic gatherings. It's like Thanksgiving for your funny bone, where the harvest is pure, unadulterated Ha Ha's. Each comedian brings their unique flavor of humor to the table, creating a comedy feast that's sure to leave you stuffed with laughter.
Event Location
1300 SE Stark (located in Revolution Hall) Portland, Oregon 97214
Venue website