David Spade: Catch Me Inside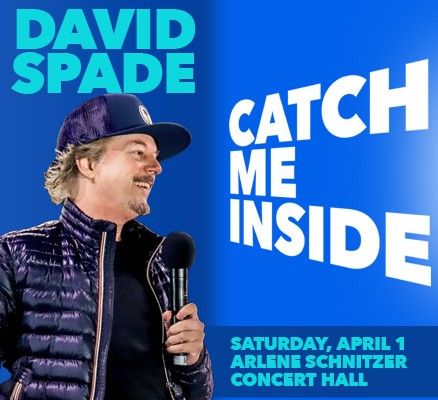 "
David Spade has announced the 2023 dates of his ongoing comedy tour, Catch Me Inside. The comedian, actor, and television personality will be hitting nine cities across the country with his hilarious set.
Nominated for an Emmy Award for his memorable role as Dennis Finch, the wise-cracking, power-hungry assistant on "Just Shoot Me," David Spade became a household favorite during his five-year stint as a cast member on NBC's "Saturday Night Live." He was also nominated for a Golden Globe in 2000 and an American Comedy Award in 1999 for his work on NBC's "Just Shoot Me." Spade continues to be a box office draw and continues to do stand-up tours nationwide. His most recent stand-up special "Nothing Personal" debuted on Netflix in April.
Spade can currently be heard co-hosting his podcast "Fly on the Wall" alongside fellow SNL alumni Dana Carvey. In each episode they interview cast members, hosts, writers, and musical guests as they share never-before told stories about their careers; including how they made their way to the show and how being a part of SNL's cultural history has impacted their lives beyond the show. The podcast premiered #1 in the comedy category and in the top five overall on Apple's podcast chart. The podcast has since been renewed for a second season and has included interviews with Sir Paul McCartney, Lorne Michaels, Nick Kroll, Maya Rudolph, Jimmy Fallon, Martin Short, Molly Shannon, Tom Hanks, Tina Fey and many more. New episodes are released every Wednesday everywhere podcasts are available.
He starred in the Netflix original comedy, THE WRONG MISSY, which was the number one movie on Netflix in the days following its release on May 13th, 2020. The film was also announced as the eighth most watched Netflix original movie in the company's history. That same year, Spade also hosted his own late-night series "Lights Out with David Spade" on Comedy Central.
" (Promo Copy)