Every Tuesday–Sunday, through October 29, 10 am–5 pm
This is an in-person event
Free
All Ages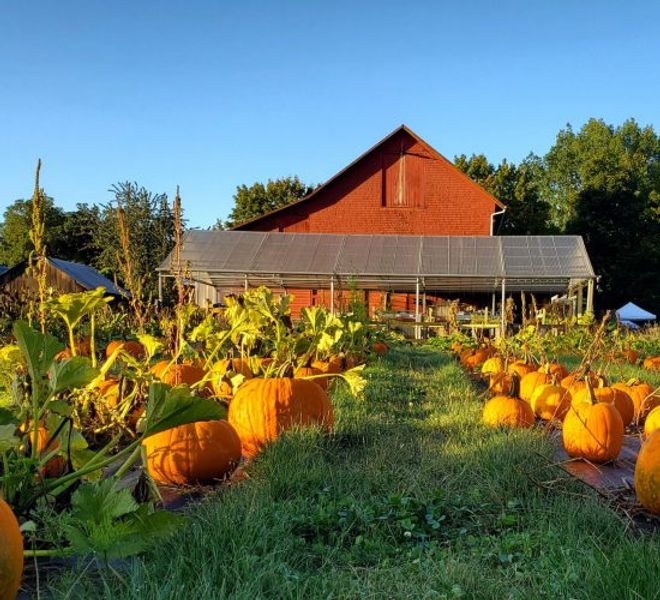 The following description comes from the event organizer.
Visit our picturesque pumpkin patch, filled with classic jacks ready for picking! Boots optional, as we've grown grass between the rows to make searching for the perfect pumpkin a breeze! Pumpkins will be available approximately late-September.
Seasonal treats include hand-dipped Honeycrisp Caramel Apples and house-baked Pumpkin Chocolate Chip Cookies. Or try one of our seasonal drink specials…Pumpkin Pie Milkshake, Pumpkin Spice Latte or our house-specialty Spiced Chai Latte.
We grow over 20 varieties of apples and 6 varieties of pears…all sustainably grown, using a primarily organic approach, with low-spray impact. In season, we offer both Ready-picked and U-pick apples. Visit our Apple Variety page for specific varietal information and our Daily U-pick Availability page for up-to-date picking information.
A visit to our farm is free for the entire family. Our play area is geared towards the youngest in the crowd, with our Straw Pyramid House & Tiny Tots Hay Maze (open for play beginning late Sept). Plan to feed our friendly farm animals…don't forget to bring your quarters!
Now serving… Our newest batch of hard cider will be available to sample for a limited time this fall. Visit us in our new Cider House serving station, adjacent to our dining patio on the following dates:
Saturdays & Sundays (12-4pm)
October 7 & 8
October 14 & 15
October 21 & 22