Garbage with Noel Gallagher's High Flying Birds and Metric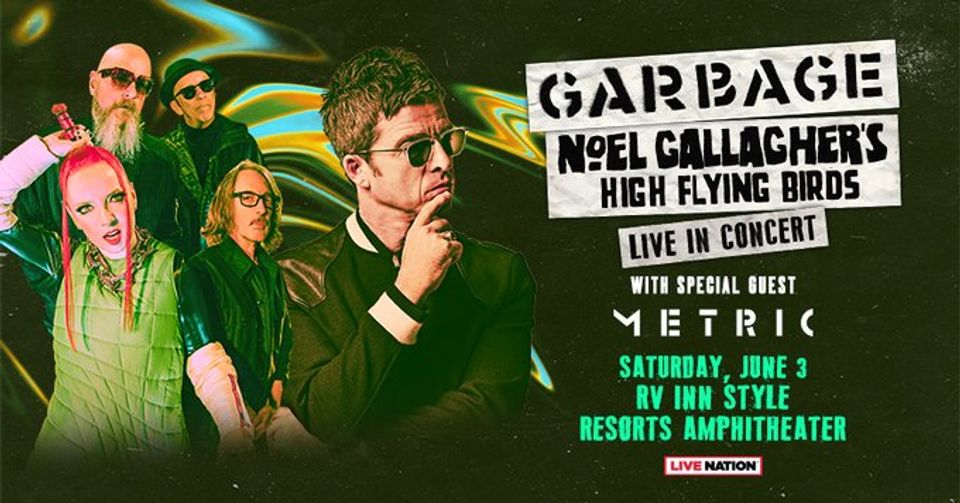 The following description is from the event organizer.
Since releasing their eponymous debut album in 1995, Garbage – composed of Shirley Manson, Duke Erikson, Steve Market and Butch Vig – has blazed a distinct sonic trail. With a passel of hits including "Stupid Girl," "Push It," "Only Happy When it Rains" and "I Think I'm Paranoid," they've garnered consistent critical acclaim as well as seven Grammy nominations along the way to 17 million albums sold. The band's ferocious new album No Gods No Masters continues to expand their musical vision. The 11-track collection is by turns brutal and beautiful, a celebration of the sonic maelstrom and a triumph of silence, sometimes within the space of a single song. "This is our seventh record, the significant numerology of which affected the DNA of its content: the seven virtues, the seven sorrows, and the seven deadly sins," says Manson, the band's iconic frontwoman. No Gods No Masters is a big, bold and indignant record – overtly political and socially charged in a way that the band has not been before, with songs touching on themes ranging from global unrest and encroaching climate change, the Black Lives Matter movement, sexism and misogyny. The result is the perfect soundtrack for a fraught moment from a band that has been making its unique mark for nearly 30 years – a record that could only have come from the intimate relationship between musicians who have matured and grown together over the course of their careers.
On sale Fri Feb 17 at 10 am.
Event Location
17200 NE Delfel Rd. Ridgefield, WA 98642
Venue website