Gather: A Cacao Dance and Embodiment Celebration for the Autumnal Equinox
This event is in the past
Friday, September 22, 7–10 pm
This is an in-person event
$33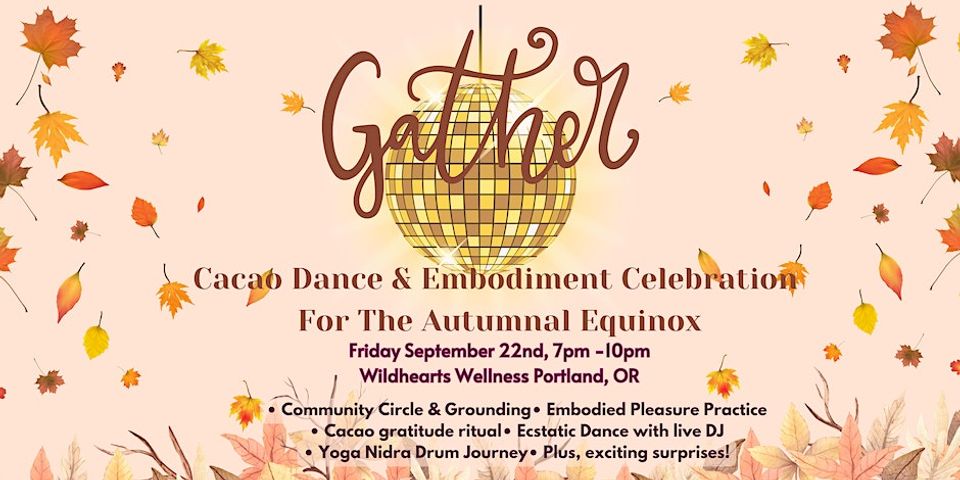 The following description comes from the event organizer.
Cacao Dance and Embodiment Celebration for the Autumnal Equinox
Join Emily Dalsfoist, Charlie Henderson & Mary Wagstaff for an
an evening of community gratitude and play as we celebrate the
autumnal equinox.
✨Embrace the Equinox ✨
Experience the magic of the autumnal equinox, a time when day and
night find balance before the transition to darker days. This
harmonious convergence invites us to pause, reflecting on the
bountiful harvest and the potential within the seed, ready to bloom
with the coming of spring.
✨ Embrace the Shift ✨
Fall brings a distinct change in our sensory experience and naturally
guides our inner and outer needs. This gathering provides an
opportunity to share your celebrations, fears, and revelations, as well
as to discover the support that will accompany you through the
darker days.
✨ What to Expect ✨

• Community circle and grounding

• Embodied Pleasure Practice

• Cacao gratitude ritual

• Ecstatic Dance with live DJ

• Yoga Nidra Drum Journey

• Plus, exciting surprises!

✨Join, Connect, and Share ✨

Bring a friend, make new connections, and be a part of our inclusive

community. Our aim is to foster a brave and consensual space for

everyone. Please note that this event is drug and alcohol-free. If you

have any questions or require support, do not hesitate to reach out.

✨ Location ✨

The studio is situated on an upper level, accessible via a short flight

of stairs. We will be seated on the floor for part of the event.

✨ What to Bring ✨

• Journal and pen

• Water bottle

• Personal item for the altar

• comfy clothes to move and sit in

All are welcome to celebrate, express, and thrive with us. Let's honor

the equinox together.