Hail the New Weird Horror: SOFT TARGETS Book Release Party
This event is in the past
Free
18+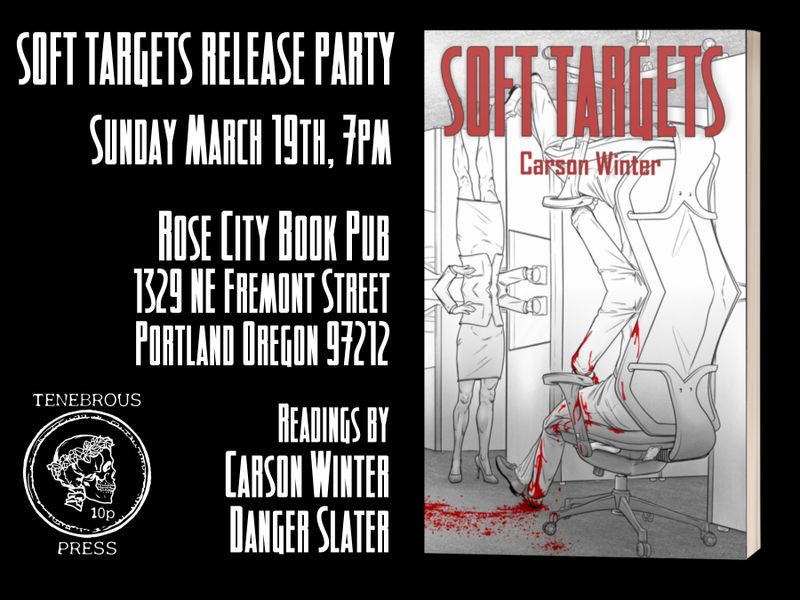 The following description is from the event organizer.
"I already knew
Carson Winter
was one of the best newer writers of the Weird, but with
SOFT TARGETS
my admiration and expectations of his work have skyrocketed. Read this book." -
Jon Padgett
, author of
The Secret of Ventriloquism
"A stunning, darkly funny, intensely disturbing look into the psyche of two young men barely getting by...will make you laugh, cry, gasp, and scream HOLY SHIT." -
Joshua Hull
, screenwriter of
Glorious
on SHUDDER
Join
New Weird Horror publisher Tenebrous Press
and author
Carson Winter
for the release of
SOFT TARGETS
, a reality-bending novella about malignant malaise; the surrender to violence; and the addictive appeal of tragedy as entertainment.
Readings by the author, as well as Portland Bizarro author
Danger Slater
(
I Will Rot Without You
).
Carson Winter
is a minimalist weirdo, a conversational absurdist, and a vehemently bleak-minded artist making his home in the Pacific Northwest. His fiction has appeared in Vastarien, Apex, and Dread Stone Press' Split Scream series. You can find him on Twitter @CarsonWinter3 or at
carsonwinter.com
.