Happy Birthday John Waters!
Every day, from Apr 17 - Apr 23
$8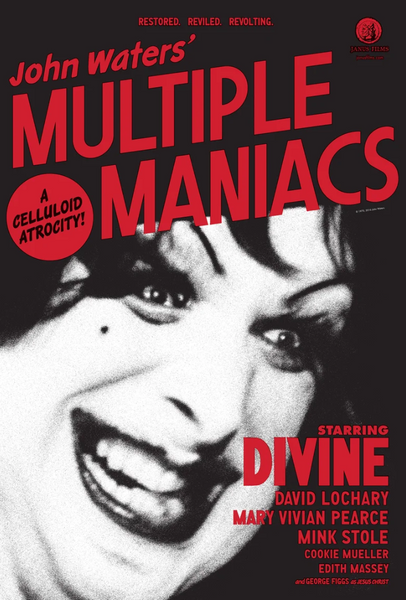 "" (Promo Copy)
John Waters' gloriously grotesque, unavailable-for-decades second feature comes to theaters at long last, replete with all manner of depravity, from robbery to murder to one of cinema's most memorably blasphemous moments.
For his first studio picture, filth maestro John Waters took advantage of his biggest budget yet to allow his muse Divine to sink his teeth into a role unlike any he had played before: Baltimore housewife Francine Fishpaw, a heroine worthy of a Douglas Sirk melodrama.
A seemingly perfect wife and mother (Kathleen Turner) from Baltimore gains celebrity status as a serial killer.
Cecil B. Demented
An insane action-comedy about a young lunatic director and his devoted cult of cinema terrorists who kidnap a movie goddess and force her to star in their underground movie.
When Tracy Turnblad (Ricki Lake), an overweight teen, auditions for a spot on a popular teen dance show, she beats out the spiteful Amber von Tussle (Colleen Fitzpatrick), winning over Amber's boyfriend (Michael St. Gerard) in the process.



2522 S.E. Clinton St. Portland, OR 97202