Holocene's 20 Year Anniversary: Inner City, Kim Ann Foxman, Ben Tactic, and Leeonn
This event is in the past
This is an in-person event
21+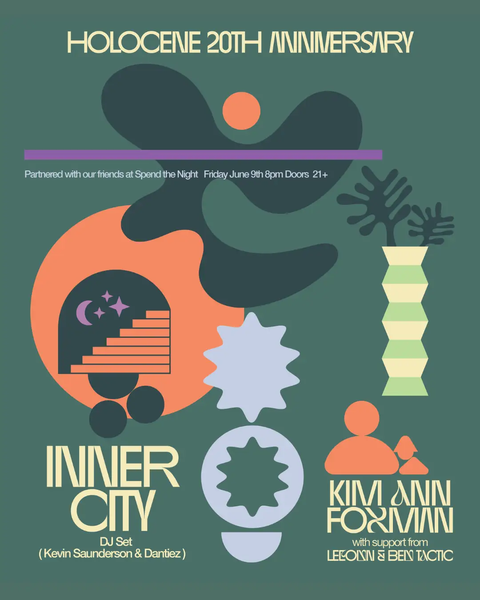 The following description comes from the event organizer.
To celebrate 20 years (and counting) of Holocene, we've crafted a series of events to showcase some of our favorite artists from near and far - For this final evening, we end the festivities on the dance floor over our new Danley sound system with: Inner City DJ set, Kim Ann Foxman, plus local support from our friends and frequent collaborators at Spend the Night, Ben Tactic and Leeonn.
The story of Inner City is intractably linked with its founder Kevin Saunderson, widely credited as one of the progenitors of techno and a landmark figure in dance music. The beginning of Inner City as a project came in 1987. The music Saunderson was playing and producing in Detroit at the time, alongside fellow The Belleville Three members Juan Atkins and Derrick May, laid the path for what came to be known as Techno, and birthed an entire global culture to follow.
Inspired by marathon sets by pioneering DJs Ron Hardy and Larry Levan, Saunderson set out to break from the strictures of Detroit techno's tracky, dark machine funk by adding vocals to his productions. Work with contemporaries at the time had led to a unique sound based on colourful keyboard chords and snappy drums.
What followed was a whirlwind: "Big Fun" and "Good Life" dominated not only clubs but the charts, sweeping top 10s all across Europe, and starting a run of four consecutive No1s on the US Billboard Dance Chart. Their enduring popularity in club and radio rotation continues to this day, standing out as top-tier classics in the pantheon of modern music. Paradise, their debut album, went Platinum in the UK, setting in motion years of high demand on the live touring circuit, and spawning further hit singles such as "Ain't Nobody Better," "Do You Love What You Feel", and 1992's "Pennies From Heaven".
To the delight of fans, Inner City was revived in the early 2010s. New material was forthcoming, too: 2011's "Fantasy", 2014's "Bad Girl" – featuring remixes from a then 21-year-old and fast rising Dantiez Saunderson, Kevin's son and musical protege – and, most recently, "Good Luck" in 2017, with Danitez integrated as a full member of the group.