Jay Si Proof and Mr. Beautiful
This event is in the past
Goodfoot
Kerns (Portland)
This is an in-person event
21+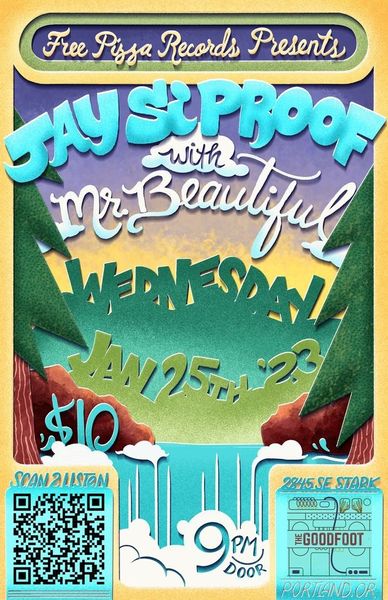 "
Two party funk teams join forces with a hump day dance party to make ya go bananas. $10
Mr. Beautiful


Mr. Beautiful is a funk band / art collective hailing from Portland, Oregon. We've been playing music together as a group since summer 2021, although many of our individual members have been making music collaboratively together dating back years. The driving force behind our music is an intensely collaborative creative environment - many of our songs began as improvised jams. We believe that our music is not just ours, but belongs to everyone around us. We've been able to grow to where we are now only through the love and support of ours friends and followers - fellow musicians, photographers, and people who just like to dance.
Jay Si Proof
Jay Si Proof, or JSP, is the philosophical indie funk vision of multi-instrumentalist composer/arranger Jeff Chilton (Jay Si). Described as "earth jazz alchemists" by Vortex Magazine, JSP was born in 2019 from the soggy jazz soaked earth of Portland, OR. Since its inception, the band has evolved through adventurous jazz fusion to low-fi jams to a full fledged funk party, all while prioritizing genuine messages of spirituality and human betterment in the midst of endless modern crises.


JSP released their EP "Closer" in 2021 to praise at home in Portland and followed with a year of touring the West Coast from Santa Cruz to Seattle. The EP featured Jay Si Proof's iconic retro and utterly human aesthetic, showcasing unique hooks, melodic horns and improvisational solos recorded mostly live at renown Jackpot Recording Studios. In their upcoming self produced 12 track album "Care About It," JSP presents music inspired by grandiose retro soundscapes and instrumentation packaged into neat indie song forms interspersed with the evocative moments of jazz interaction and improvisation they are known for. Jay Si Proof is led by Jeff Chilton (trombone and vocals) and joined by Lucas James (drums and vocals) JD Erickson (sax and flute), and Corey Heppner (guitar).
" (Promo Copy)