Jimmy Eat World & Manchester Orchestra: The Amplified Echoes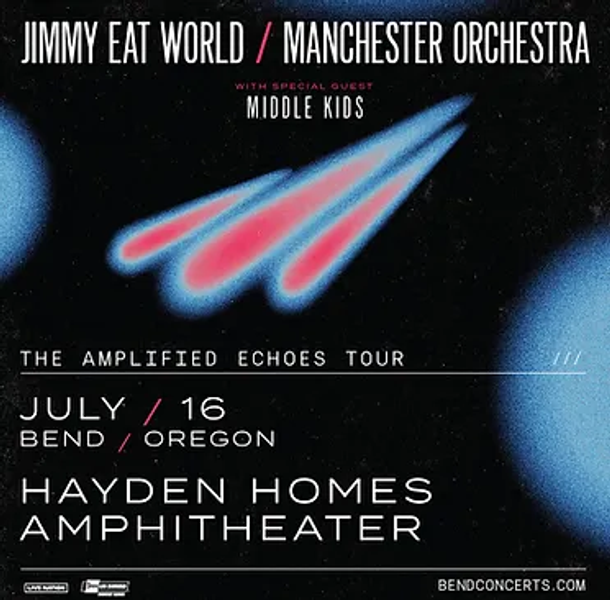 The following description is from the event organizer.
Jimmy Eat World are celebrating three decades and 10 albums of existence in 2023. The Mesa, AZ, four-piece's commercial breakthrough came with the release of several singles from their album "Bleed American," with "The Middle" hitting No. 1 on the Billboard Alternative Airplay chart and peaking at No. 5 on the U.S. Billboard Hot 100, where it spent 33 weeks total and became RIAA-certified Platinum. Futures, their follow-up to BA, featured "Pain," which also hit No. 1 on the Billboard Alternative Airplay chart. In October 2019, the band released their tenth album,
the critically acclaimed "Surviving," which became one of three "chapters" of their 2021 globally streamed series Phoenix Sessions that also included Futures (Chapter V) and Clarity (Chapter III).
Following their acclaimed 2021 album "The Million Masks of God," Manchester Orchestra is back with "The Valley of Vision," a brand new project that takes on the weighty themes of adulthood, faith and redemption through a wealth of fresh new sounds and textures. But if "The Million Masks of God" served as a cry for help - exploring a man's encounter with the angel of death, inspired by frontman and songwriter Andy Hull's reflections on grief as well as the battle with cancer faced by guitarist Robert McDowell's father - "The Valley of Vision" offers a collective, cathartic expression of gratitude. Throughout the 27-minute album, you can almost feel the band take a giant exhale and then put its arms around you.
Continuing to push themselves into fascinating and immersive creative realms with each release has always been the mantra for Manchester Orchestra, and "The Valley of Vision" finds the band reinvigorated once again. Across the six-song salvo and VR film out March 10th, the band conjures a story that is further illuminated through a cinematic experience by writer-director Isaac Deitz, created with 3D-computed radiography technology.
GENERAL ONSALE:
Thursday, March 16, 2023
10:00 AM