Joe Manis Quartet: John Coltrane Birthday Show
This event is in the past
Saturday, September 23, 5:30 pm
This is an in-person event
$15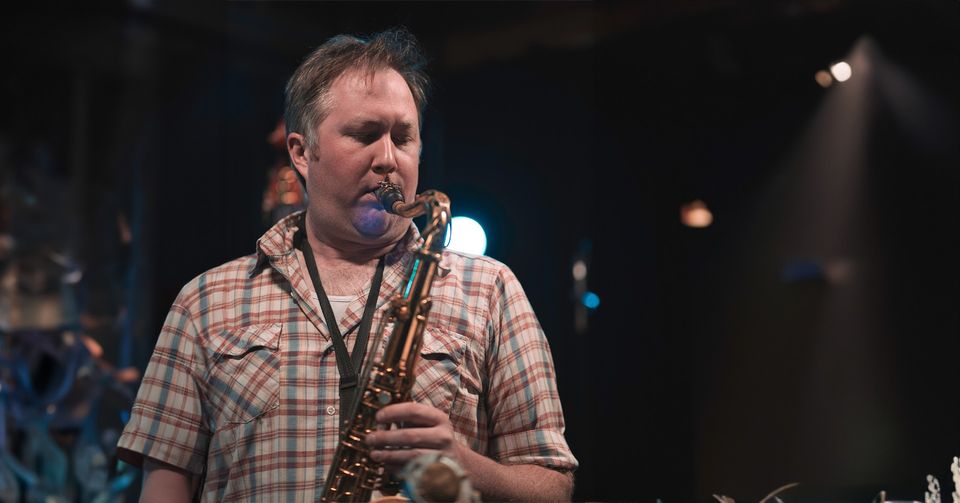 The following description comes from the event organizer.
Joe Manis, Tenor Saxophone
George Colligan, Piano
Tyler Abbott, Bass
Charlie Doggett, Drums
Originally from Dexter, Oregon, SteepleChase recording artist Joe Manis is noted for the strength of his "intense, updated take on the glorious Rollins-'Trane tradition." (Willamette Week) Manis was the recipient of a 2013 Oregon Arts Commission Individual Artist Fellowship. His album for SteepleChase Records, The Golden Mean, features George Colligan on organ, Kevin Congleton on drums, and Lillie Manis on viola and was released in 2015. North By Northwest was released by SteepleChase Records in 2013.

He released his debut album Evidence in 2009 features Manis on tenor saxophone, Kevin Congleton on drums, and Portland luminary Dave Captein on bass: the Willamette Week called the album "explosive," and said "(Manis) makes Pink Floyd's 'Money' sound like something a young John Coltrane might have played"; the Eugene Weekly said: "Fabulous... Will thrill fans of Monk, Rollins."

The Joe Manis Trio was featured at Rontoms during the 2010 PDX Jazz Festival, a high-energy performance that was a featured Willamette Week "Pick" and received praise from local music critics and bloggers; the Trio returned to the Festival in 2011, 2013 and 2020. Recent Joe Manis Trio appearances include Fat Cat NYC, the Shedd Institute's jazz series, Jimmy Mak's, Tula's, the Cathedral Park Jazz Festival, and the Montavilla Jazz Festival.

Manis has toured Europe as a duo and in a trio with David Friesen, where they recorded Structures, a live album. He currently plays with Friesen's Trio. He also appears on Risky Notion (Four stars & Best Albums of 2015, DownBeat Magazine) on Origin Records with George Colligan's Theoretical Planets. Manis has played with Thomas Mapfumo and the Blacks Unlimited, including a performance at Carnegie Hall's Zankel Hall, and appears on their album Rise Up! on Real World Records. He has also performed with the George Colligan Quartet, the Chuck Israels Jazz Orchestra, the Ken Schaphorst Big Band, "Weird Al" Yankovic, Johnny Mathis, the Temptations, comedian Bob Newhart, Wayne Newton, the Oregon Symphony with Gladys Knight, the Oregon Bach Festival Orchestra, the Portland Opera, the Sunriver Music Festival Orchestra, the Eugene Symphony, and the Eugene Opera. Manis has performed on NPR's Jazz Night In America, hosted by Christian McBride.

Manis has presented jazz masterclasses across the country, including at University of Nevada, Reno, California State University, Northridge, Whitman College, University of Texas at Arlington, University of Oregon, Ferris State University, Central Washington University, Willamette University, Portland State University, Southern Oregon University, Oregon State University, Western Oregon University, Pacific University, Lower Columbia College and Mesa, Glendale, Portland, Spokane Falls, Mt. Hood, Clackamas and Lane Community Colleges. He received a Master of Music in Jazz Studies-Performance with Academic Honor from the New England Conservatory and a Bachelor of Music in Jazz Studies from the University of Oregon. Additional studies were at the Eastman School of Music. He is a current faculty member at the University of Oregon and Lane Community College and a former music faculty member at Portland State University and Umpqua Community College. Manis is the Director of the Oregon Jazz Workshop in Eugene. His article "Rhythmic Analysis: Jeff 'Tain' Watts - 'Housed From Edward'" was published in the March 2012 edition of JAZZed Magazine. Manis also has written for the Jazz Society of Oregon's Jazzscene. He is married to violinist/violist/educator Lillie Manis, with whom he has a son, Ellery.