This event is in the past
Saturday, September 23, 9 pm
This is an in-person event
$15 - $25
21+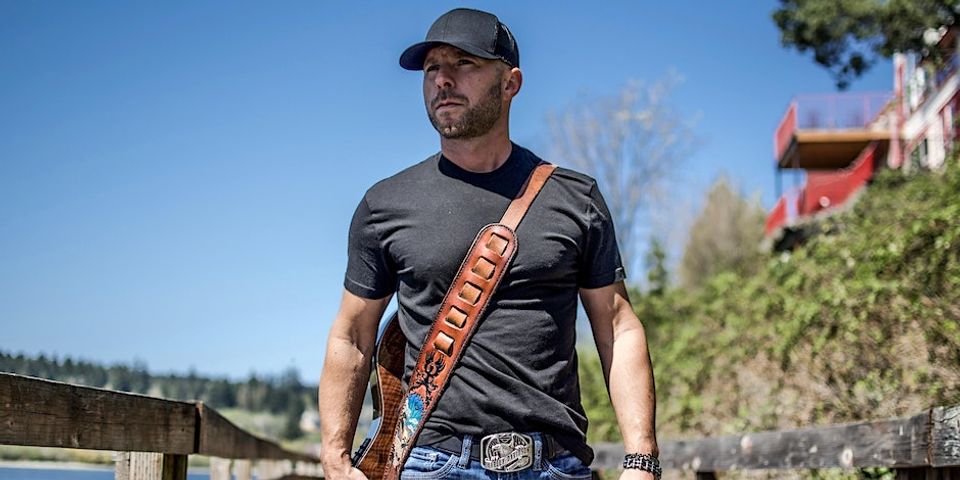 The following description comes from the event organizer.
Joel Gibson Jr. is the premier independent Country & Rock artist in the PNW! His engaging baritone vocals, humble demeanor and charismatic stage presence set this vibrant performer apart from the other conventional acts.
In his short 6 years of performing live, he has played over 700 shows, including Watersheds 2022 Official 10th Anniversary Kickoff Party hosted by 98.9 The Bull, opening for major acts like, Joe Nichols, Trace Adkins, Paul Overstreet, Allie Colleen, Ned Ledoux and more. Was nominated by Nashville's Country Evolution as a Top Five artist to watch in 2023 as well as a nomination for Best Regional Touring Act in 2022 by the NW CMAs.
The eclectic blend of his alluring originals and expansive catalog of familiar genre-spanning covers will take you on a captivating and evocative musical odyssey that is a must-see! You'll enjoy covers like his Bob Kingsley's Country Top 40 Video Challenge winning songs "Round Here Buzz" by Eric Church and "Lights Come On" by Jason Aldean or maybe even a rocking rendition of AC/DC "Highway to Hell" or even his cover of Bob Seger's "Night Moves" which happens to be the 2nd most viewed cover on YouTube under Frankie Ballard.
Growing up in his home state of Washington and spending summers in the Outer Banks of North Carolina has molded this Singer-Songwriter into a performer that delivers whether performing solo acoustic or with his band. His musical journey started in 2017 and he quickly became a local favorite, playing solo acoustic shows around Washington, Oregon, Idaho & Montana. Due to popular demand, his debut acoustic EP "Here Up North" was released and became the catalyst to the loyal and fervent following that continues to grow today. In 2018, Joel began recording his debut LP of self-penned original music that included 12 songs and 2 additional singles ("PNW-Hoodies & Romeos" and "Vice"). The LP was released in June 2019 and garnered further attention from 94.9 The Wolf, local bars, fairs, festivals, and casinos looking to book Joel and his entertaining and compelling live shows.
Rolling into 2020 with steady momentum he was met with the abrupt halt of live entertainment due to the global pandemic known as COVID-19. Not being one to sit idle and always looking for ways to be innovative, Joel and his Wife/Manager, Brittney, started the Tailgate Tour. It was met with immediate support and demand that resulted in 60 outdoor socially distant live solo performances that brought Joel around the region playing shows (sometimes 4 per day!) in people's driveways & properties! The Tailgate Tour won in two categories for "Best of Central Kitsap 2020" for "Best Outdoor Concert" and "Best Annual Festival" and in February 2021 it won "Best of The Best of Kitsap 2020" for "Best Outdoor Concert".
Following the success of the Tailgate Tour, Wife/Manager brought to life the idea of playing an outdoor show from a pontoon boat and then Anchors Down™ was created! The inaugural show took place in Dyes Inlet in Silverdale, WA, and hosted 100+ boats, kayaks & paddleboards! The event was captured in a music video for Joel's song "This Old Town" which can be viewed on YouTube. Due to popular demand, a second Anchors Down™ event was added to Liberty Bay in Poulsbo, WA and was another successful turnout.
In addition to these successful events, Joel also started the Couch Concert! It's streamed quarterly on Facebook Live, and it has grown into a community of loyal, fun-loving fans around the country that want to kick back, interact and sing-along! It has garnered enough attention that it "broke" Facebook three times, with the event exceeding the 4-hour cutoff mark!
In 2021 he released his sophomore album recorded at the renowned Robert Lang Studios in Shoreline, Washington "Small Town Truth", It's another collection of self-penned original music that spans Country, Rock, Americana & Blues genres.
Currently Joel is in the process of recording his next album set to be released in June of 2024 and you can catch him at many shows this year including the Official Kickoff party for the Pendleton Whisky Fest, Jackson Hole, WY and The Wyoming State Fair.