Jung's Relationship to Astrology with Dr. Becca Tarnas
Friday, December 1, 7–9 pm
$25
All Ages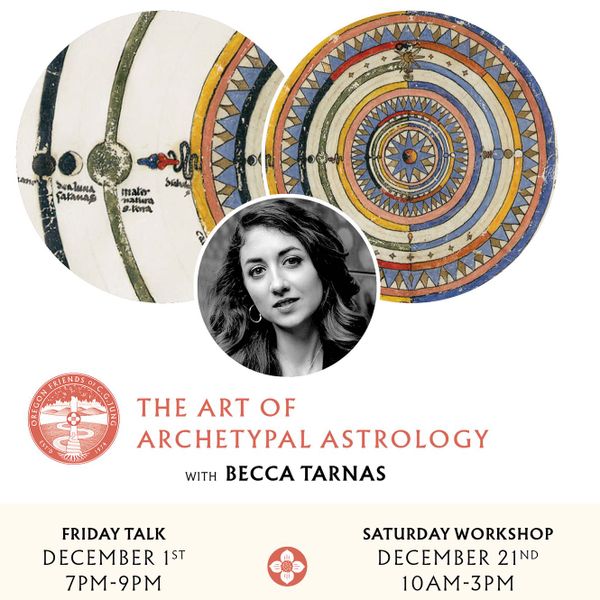 The following description comes from the event organizer.
In recent years, new scholarship has been emerging demonstrating the essential role the discipline of astrology played in the development and practice of C. G. Jung's analytical psychology. In 1911, Jung wrote a letter to Freud in which he said that his nights were occupied with the study of astrology, to which Freud responded that Jung would be "accused of mysticism." Jung kept his practice of astrology relatively concealed, but based upon evidence in his own writings, as well as statements he made late in his life, Jung was drawing on astrological wisdom regularly for both personal use and with his patients.
Drawing on the research of Liz Greene, Keiron Le Grice, and Safron Rossi, this presentation will demonstrate the role astrology played in Jung's analytic practice, as well as the significant ways in which he drew on astrological symbolism in the transformative process of creating The Red Book. By understanding how astrology influenced the development of Jungian psychology—and how depth psychology has subsequently shaped modern astrology—we can see how the astrological discipline can complement, enhance, and deepen the psychotherapy practiced today.
About our speaker:
BECCA TARNAS, PH.D., is an Assistant Professor in the Philosophy, Cosmology, and Consciousness program at the California Institute of Integral Studies. She received her doctorate from CIIS, with her dissertation titled The Back of Beyond: The Red Books of C.G. Jung and J.R.R. Tolkien. Her research interests include depth psychology, archetypal studies, literature, philosophy, and the ecological imagination. Becca is an editor of Archai: The Journal of Archetypal Cosmology and author of the book Journey to the Imaginal Realm: A Reader's Guide to J.R.R. Tolkien's The Lord of the Rings. She is currently researching and writing a biography of Stanislav Grof, the co-founder of transpersonal psychology.
Friday, December 1, 2023
7-9pm Pacific time
Lecture with live Q&A
THIS IS A FULLY VIRTUAL EVENT - YOU MUST REGISTER IN ADVANCE AT OFJ.ORG TO RECEIVE THE ZOOM INFO (OR TO RECEIVE THE RECORDING, IF YOU CANNOT ATTEND THE LIVE ZOOM EVENT)