Kareem Kandi World Orchestra
This event is in the past
Saturday, September 23, 7:30 pm & 9:30 pm
This is an in-person event
$15 - $20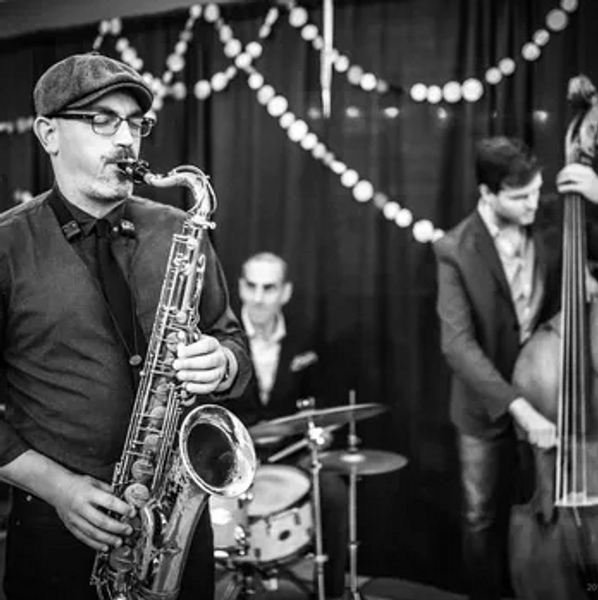 The following description comes from the event organizer.
Kareem Kandi (TAC), Tenor Saxophone
George Colligan (PDX), Piano
Greg Feingold (SEA), Bass
Dae Bryant (PDX), Drums
A native of the Pacific Northwest, saxophonist Kareem Kandi is a performer, composer, and educator, in high demand for his talents both on and off the stage.
Kareem is a versatile saxophonist and composer with strong roots in the traditions of Jazz, Blues, Classical and Funk, and has been performing throughout the U.S. and abroad for years, gaining attention from critics and audiences alike. While staying true to musical styles of the past, he also keeps an eye towards the future by composing original music as well as new arrangements of timeless songs from the great American songbook.
Since 1996, Kareem has been performing both as a bandleader and as a sideman to enthusiastic audiences around the world at concert halls, festivals, and clubs. Over the years Kareem has performed, toured and recorded with some of the finest musicians in the music industry including: Pete Christlieb, Patti Labelle, Mark Elf, Ali Jackson, D'vonne Lewis, Bill Watrous, The Seattle Symphony, Mordy Ferber, Julian Priester, The Paperboys, The Northwest Repertory Singers, Thomas Marriott, The Tacoma Symphony, Alex Duncan, Frazey Ford, DJ Hapa, The Polyrhythmics, Bill Ramsay, The Federal Way Symphony, The Staxx Brothers, Jay Thomas, The Sabella Consort, Greta Matassa, The Temptations, Hadley Caliman, The Four Tops, The Harry James Orchestra, Wayne Bergeron, and many others. Because of his musical diversity, his group, The Kareem Kandi Band has a sound that is fresh, innovative, and appeals to a wide variety of audiences.

Growing up in the northwest with its vibrant music scene allowed Kandi the opportunity to study with, listen to, and perform with world class jazz artists residing in the area. Artists such as Tracy Knoop, Jay Thomas, Don Lanphere, Bill Ramsay, and Pete Christlieb had a large impact on Kareem early in his musical education. After finishing high school Kareem received a full scholarship to Olympic College in Bremerton WA where he earned an Associate in Arts and Sciences Degree. While completing his degree from Olympic College he received another full scholarship to attend Cornish College of the Arts in Seattle WA. Kareem attended Cornish and continued his music studies with many renowned jazz artists that served on the faculty at the time which included: Jovino Santos Neto, Julian Priester, Hadley Caliman, Dave Peck, Randy Halberstadt, Chuck Deardorf, and Jim Knapp. Kareem completed his Bachelor's degree from Cornish in 2002 and since then has been very active as a performer, composer, and teacher.

As an educator Kareem maintains a busy schedule teaching at The Tacoma School of the Arts as an artist in residence. He also maintains a full studio of forty private students, conducts weekly jazz classes at Ted Brown Music, coaches ensembles for Seattle JazzED, and regularly conducts masterclasses and workshops at schools around the Pacific Northwest. Along with his teaching duties he is also the director of The Kareem Kandi World Orchestra, is a performing artist for both Selmer Saxophones and D'Addario Woodwinds, and has served on the Tacoma Arts Commission.