Leonard Baskin, the Great Birdman
Every Wednesday–Sunday, through January 28, 2024
This is an in-person event
$0 - $10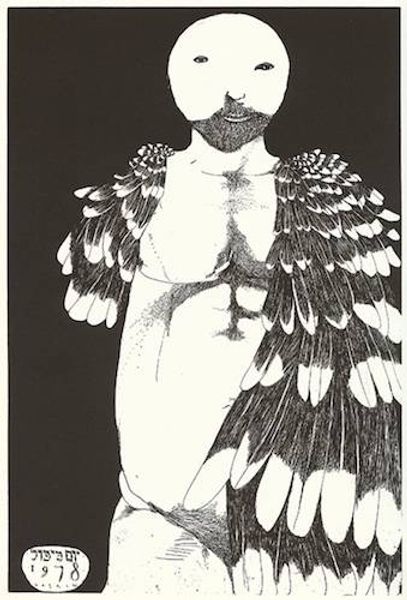 The following description comes from the event organizer.
Leonard Baskin's Orthodox Jewish upbringing and his deep knowledge of Jewish texts and history are evident throughout his oeuvre. His art, expressed in sculpture and painting, and the printing techniques of lithography, woodcut, etching, and engraving, carries multiple sources of inspiration, including monumental Egyptian and Mesopotamian sculpture, classical Greek mythology and literature, and portrayals of Native Americans. Leonard Baskin, The Great Birdman, has been assembled from the collection of Judith Baskin and Warren Ginsberg and features more than 70 multimedia works.
Leonard Baskin (1922- 2000) was born in New Brunswick, New Jersey, the second child of Rabbi Samuel and May Guss Baskin. In his early childhood the family moved to Brooklyn, New York. Before serving in the US Navy in the Second World War, he attended Yale University; he completed for his undergraduate degree at the New School for Social Research in New York City. Between 1950 and 1952, he studied in Paris and Florence and between 1953 and 1974 he taught sculpture and printmaking at Smith College in Northampton, Mass. Baskin received many honors and awards throughout his career, including a Guggenheim Fellowship, Gold Medal of The American Academy of Arts and Letters, the Widener Medal from the Pennsylvania Academy of the Fine Arts, and six honorary doctorates. He is widely collected by museums and collectors throughout the world.