Live Music on the Vancouver Waterfront
This event is in the past
This is an in-person event
Free
All Ages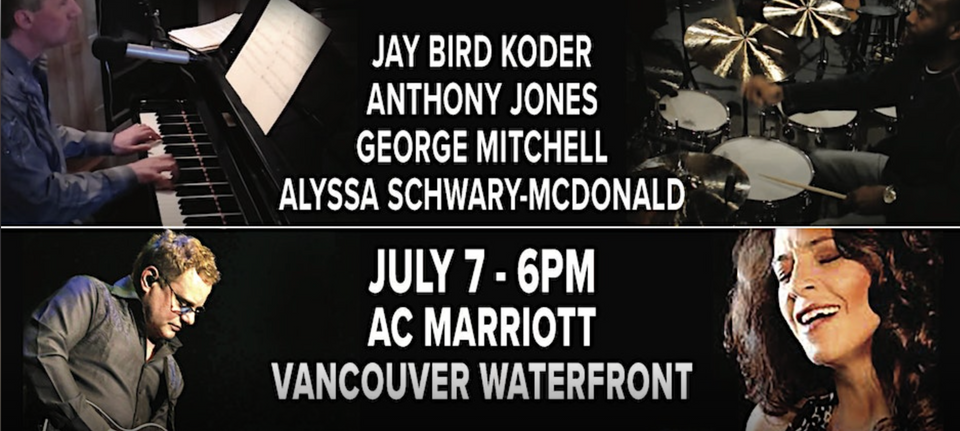 The following description comes from the event organizer.
Free live music returns to the Vancouver Waterfront Friday, July 7th at 6pm! Experience the sounds of celebrated musicians, delicious cuisine, hand-crafted cocktails, and the beautiful Columbia River from the AC Marriott Lounge on the Vancouver Waterfront. Renowned musicians will headline this event:
2023 marks George Mitchell's 40th year as Diana Ross's touring pianist. Together, they've performed for President Obama and family, England's royal family, President Bill Clinton, South African President Nelson Mandela, and Motown Founder Berry Gordy. Mitchell performed at the Motown Records' 25th Year Anniversary TV broadcast, at VH1 Divas Live in 2000, at concerts with renowned opera singers Jose Carreras and Placido Domingo; and in Central Park before a massive crowd of 400,000 fans! He has also appeared with Smokey Robinson, Mariah Carey, Stevie Wonder, Sonny Stitt, Diane Schuur, Jon Hendricks, Donny Osmond, and many more. He has made numerous appearances on The Tonight Show, Late Night with David Letterman, NBC's Today Show and Oprah.
Vocalist Alyssa Schwary-McDonald has performed with Rick Springfield and the Oregon Symphony, Tito Puente, Gino Vanelli, The Yellow Jackets, and local legends, Jaybird Koder, Jim Fischer, Tom Grant, Patrick Lamb, Bobby Torres and many more.
Guitarist Jay "Bird" Koder has performed in venues worldwide. Whether he is playing blues with Robert Cray or jazz with Chick Corea, inventive pop with Gino Vannelli or world Music with Obo Addy, rock with the Steve Miller Band or fusion with Herbie Hancock, Latin with Arturo Sandoval or classical with the Oregon Symphony Orchestra, this "Bird" has flown high and with some of the greatest.
Drummer Anthony Jones was the main drummer and percussionist for the world renown "little orchestra" Pink Martini. His musical career began with his role in Mr. Holland's Opus. He has performed at Carnegie Hall with the New York Pops Philharmonic, the Hollywood Bowl with the LA Phil, traveled domestically and abroad on tour in over 45 countries spread across 5 continents, and has performed on Jay Leno with Pink Martini.
Event Location
333 W Columbia Way Vancouver, WA 98660
Venue website