Magdalene, Viral Tyrant, Alum Occulta, and Geremiah
This event is in the past
The Sïx
Sunnyside (Portland)
This is an in-person event
$7 - $10
21+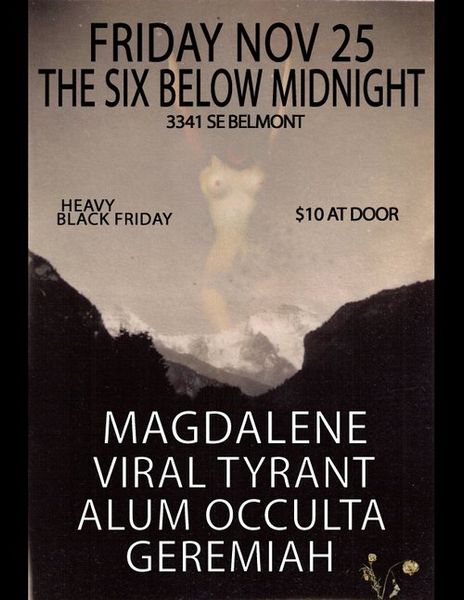 "
MAGDALENE
BLACKENED HC
VIRAL TYRANT
Viral Tyrant from Portland Oregon emerges as a powerful and compelling new voice not often seen in today's doom scene. Drawing influence from past and contemporary titans of Doom/ Black/Thrash metal and beyond, Viral Tyrant are now ready to take their place among the elite of heavy music and elevate themselves as a new, richer and more vicious sound in a crowded landscape.
ALUM OCCULTA
CASCADIAN BLACK METAL
GEREMIAH
Geremiah is an emergent force in Portland. Reveling in dense textures and rhythmic tension, they balance complexity with a focused intensity that roots them firmly in the extreme music of the here and now.
" (Promo Copy)