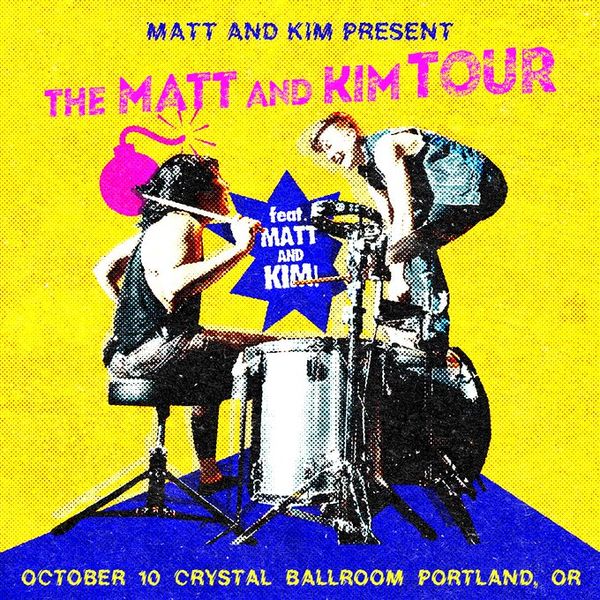 The following description is from the event organizer.
The Brooklyn-based duo Matt and Kim -- Matt on keys and vocals, Kim on drums -- started playing energetic dance punk in the early 2000s, then edged into the mainstream in 2007 with the song "Daylight," which became a viral sensation thanks to its witty video. They held on to that level of popularity by releasing albums and eye-catching videos that enthusiastically melded punk-pop, hip-hop, and radio pop.
Matt Johnson and Kim Schifino began dating in 2002 while attending the Pratt Institute in Brooklyn, and after a couple years of working on art projects together, decided they wanted to start a band. Kim learned to play drums, Matt found a couple of old keyboards, and together they began writing songs inspired by punk and new wave and infused with the duo's happy energy. They began playing shows around Brooklyn and amassed a devoted fan base who loved to dance to the duo's music. The first Matt and Kim recording was the To and From EP, issued in 2005. Indie label I Heart Comix noticed the buzz surrounding them and signed them to a record deal. Their self-titled album was quickly recorded in California while the band was in the middle of a tour, then released in 2016. More touring followed, including slots at Lollapalooza and the Siren Music Festival. The duo's next album was painstakingly recorded at Matt's childhood home in Vermont over a nine-month span as the duo looked to make a record that didn't just document their live set, but stood alone as a listening experience. It was released in 2007 by the Fader label, and spawned a hit single, "Daylight," and a video for the song "Lessons Learned" that saw them stripping down to nothing in the middle of a busy Times Square. The band's energetically melodic music proved to be just what many TV shows, video games, and advertisers were looking for, and their songs could be heard in ads for Bacardi, on episodes of Community, and on the soundtrack of the game NBA Live 10. Their next album was their first with an outside producer, Ben Allen, who had worked with Gnarls Barkley and Animal Collective. 2012's Sidewalks was a change of pace; relying heavily on programmed drums and electronic, club-ready music and less on the frantic dance punk of previous albums. It proved their most popular album yet, cracking the Top 40 on Billboard and earning them spots on stadium tours with blink-182 and My Chemical Romance. After that experiment, the band went back to producing their own albums and after six months of hard work, their fourth album, Lightning, was released in late 2012. It was a return to the stripped-down, punky sound of the past, but with more variety and even a piano-led near-ballad to close it out. The duo spent almost all of 2013 on the road, playing with Passion Pit and on the summer festival circuit. Near the end of the year, Fader released Lightning Remixes, an album of Lightning remixes of tracks by 8-bit warriors Anamanaguchi, Bonde do Rolê, and DJ Venom to name a few.
The band swung back to having outside producers on their next album, 2015's New Glow, which was released by Harvest Records. To craft a set of songs that incorporated far more hip-hop and radio pop sounds than ever before, the duo called in Lars Stalfors and Jesse Shatkin to help. The record once again hit the upper reaches of the Billboard album chart and they hit the road for their usual long string of dates. While playing at Coachella in 2016, they took time to record a four-song EP, We Were the Weirdos, and released it on Fader. The road stretched on and the band played more shows until their March 2017 show at Mexico's Vaiven Festival, when Kim badly injured her knee during a stage routine gone wrong. The pair had to cancel dates while Kim underwent surgery and then a long recovery (which the pair documented in a string of YouTube videos). Once she was able to get back behind the drums, they wrote a batch of introspective and uplifting songs, then started work on their sixth record, ALMOST EVERYDAY. Produced by Matt and Lars Stalfors, the record features a long list of guest vocalists: Santigold, Kevin Morby, Kevin Ray from Walk the Moon, Dave Monks of Tokyo Police Club, King Tuff, and Mark Hoppus can be heard singing along with Matt and Kim in the choruses. It was released by Fader in May of 2018, while the band were, where else, but on tour. (via Spotify)
On sale Fri Mar 17 at 10 am.