This event is in the past
Thursday, October 12, 7 pm
This is an in-person event
$29.50
All Ages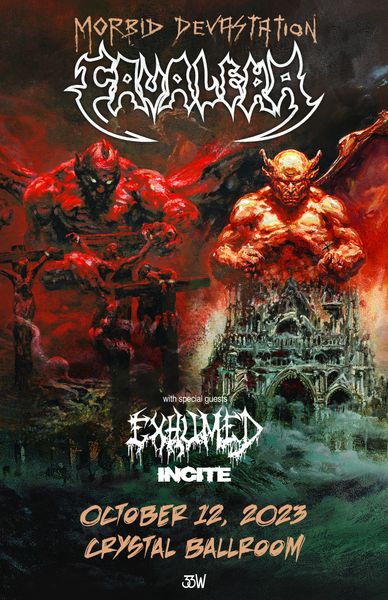 The following description comes from the event organizer.
Max Cavalera (born Massimiliano Antonio Cavalera on August 4, 1969 in Belo Horizonte, Brazil) is a musician.
Formerly the lead vocalist and rhythm guitarist for the metal band Sepultura, upon parting ways with the band, Cavalera formed Soulfly in the late 1990s. In the mid-1990s Max was also involved with the short-lived side project Nailbomb. He has collaborated with many different artists whilst in both Sepultura and Soulfly. He explores religious topics, often with a very critical tongue. The press (especially in America after Max dedicated one of the Soulfly albums to God) depicts him as a religious guy, a label that Max cannot understand. As he himself put it, "I do hate a lot of 'religion' but people like Christ - yeah they inspire me. I mean if you look at Christ, He was hanging around with the lowlifes, prostitutes and the losers you know, not going around with those high society motherfuckers you see trying to sell Jesus today!"
In the early 1990s Max relocated to Phoenix, Arizona U.S.A., with his American wife/manager Gloria, and is today a U.S. citizen.
Of late Max joined forces with former Nirvana drummer and Foo Fighters' frontman Dave Grohl to produce "Red War" which appeared on the self-titled release of PROBOT.
Max also has an ESP signature guitar. Designed to Max's specifications, the guitar has a Seymour Duncan Super Distortion pickup, and is adorned with his signature Brazillian flag graphic. A budget version is sold under the LTD moniker, which has a stock pickup and is missing the flag. While his signature guitar is shipped fully strung with six strings, Max only plays with four strings on his own instrument.
Max has recently stated that he has reunited with his brother Igor, in their new band Cavalera Conspiracy. Cavalera Conspiracy features Max Cavalera on vocals and rhythm guitar, Igor Cavalera on drums, Soulfly guitarist Marc Rizzo and Joe Duplantier from Gojira on bass. Cavalera Conspiracy's debut record Inflikted is currently expected to be released by Roadrunner Records on March 25, 2008. Rex Brown from Pantera and Down cameos on bass on one track, and another track features a collaboration with Max, Joe and Richie Cavalera (Incite) on vocals. Recording for Inflikted took place this past July at Undercity Studios in Los Angeles, with Logan Mader (ex-Machine Head guitarist) of the Dirty Icon Production team, and mixing at Undercity has just finished. Among the 11 songs set to appear are: "Inflikted", "Bloodbrawl", "Terrorize", "The Doom Of All Fires", "Ultra-Violent", and "Sanctuary". A B-side cover of the Possessed's "The Exorcist" was also recorded. (via Last.fm)
On sale Fri Apr 21 at 10 am.