This event is in the past
Lolo Pass
Buckman (Portland)
This is an in-person event
$5 or free with culture-specific food donation
All Ages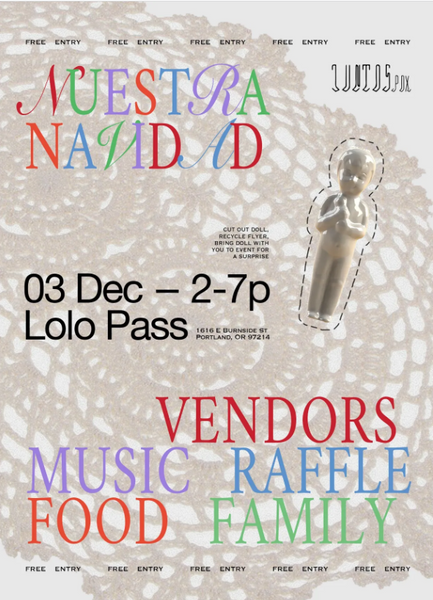 The Latinx community organization JUNTOSpdx is hosting its inaugural Christmas market, giving shoppers the chance to connect with over 20 Latin American vendors who will be sharing their craft. A mystery tattoo artist will be at the market inking Christmas tats, and JUNTOS promises attendees three special gifts, music, and entertainment.

¡Un mercado navideño que celebra la cultura latina y la comunidad!
JUNTOSpdx está organizando su mercado inaugural navideño. Cambiando la experiencia del mercado, "Nuestra Navidad JUNTOS" será un lugar para que todos interactúen con los creadores y aprendan sobre su oficio mientras hacen algunas compras navideñas. Y los que estén presente se irán no con 1, sino con 3 regalos navideños especiales de parte de JUNTOSpdx. ¡Tendremos más de 20 vendedores con raíces de Latino America vendiendo su arte, joyería, ropa, comida, bebidas y mucho más! Y para aquellos ansiosos por un tatuaje navideño, ¡Habrá un tatuista invitado especial presente! En fin, una fiesta Latina no está completa sin música y entretenimiento familiar, ¡así que traiga a la familia y prepárese para celebrar juntos!