Oregon Contemporary and Converge 45 presents Te Moana Meridian and One Hundred More Fires
Every day, through October 7, 12–5 pm
This is an in-person event
Free
All Ages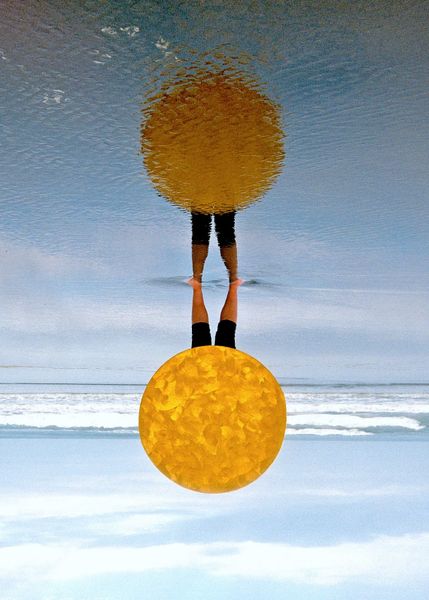 The following description comes from the event organizer.
Converge 45, the Portland-based, non-profit arts organization, in partnership with Oregon Contemporary, is proud to present Te Moana Meridian, an experimental opera delivered as a five-channel video installation by Aotearoa/New Zealand-born, Portland-based artist Sam Hamilton/Sam Tam Ham.
Sam Hamilton/Sam Tam Ham (b. 1984, Auckland, New Zealand/Tāmaki Makaurau, Aotearoa) created Te Moana Meridian as a vessel for proposing a radical new United Nations General Assembly Draft Resolution to formally relocate the prime meridian from Greenwich, London, to Te Moana-Nui-ā-Kiwa/the South Pacific Ocean. Since its inception at an 1884 conference in Washington D.C., the prime meridian has functioned to implicitly serve the hegemonic ambitions of the British colonial empire. Rather than serving as a "beacon of humanity," the prime meridian today more resembles a bygone imperial relic. Just as all roads once led to Rome, all time and space coordinates still point to London as the "center of the world."
Te Moana Meridian proposes to elect a new "center of the world" while acknowledging that doing so has the potential to reframe the dynamics of global power. Where should this new center be located? Te Moana Meridian proposes the open waters of Te Moananui-ā-Kiwa/the South Pacific Ocean. As Hamilton says: the prime meridian should be "anchored in the global commons and personified by the ocean; connective, circulatory, omnipresent, integral to all life. To avoid drowning, we must become the ocean."
As a five-channel video installation, Te Moana Meridian features an international cast of performers, artists and practitioners, including: Mere Tokorahi Boynton (Te Aitanga-a-Māhaki, Ngāi Tūhoe), Holland Andrews (NYC, USA), Dr. Tru Paraha (Ngāti Hineāmaru, Ngāti Kahu o Torongare), Crystal Akins Meneses & The Lincoln City Children's Choir (Oregon, US), Clara Chon (Aotearoa/NYC), Rhonda Tibble (Ngāti Porou, Te Whānau a Apanui, Ngati Kahungunu, Te Aitanga a Mahaki), British mother and daughter performance duo Deryl and Ruby Thatcher (UK), Alexa Stark (US) and others.
Converge 45, the Portland-based, non-profit arts organization, in partnership with Oregon Contemporary, is proud to present One Hundred More Fires, a major new neon and sculptural work by Bahamian-born, New York City-based artist Tavares Strachan.
Politics, aeronautics, astronomy, deep-sea exploration, and extreme climatology are just some of subjects from which Tavares Strachan (b. 1979, Nassau, Bahamas) creates monumental allegories that speak of cultural displacement, human aspiration and the limitations imposed by mortality, remembering and power. His text-based neon sculptures are anthems for our political and cultural moment, his lexicon an effort to mobilize community and social change.
Some years back Strachan asked himself a simple question: Who gets to decide who is remembered and who is forgotten? Before the Internet, The Encyclopedia Britannica, was an important repository of universal knowledge. Compiled almost exclusively by white men, it left great swathes of human knowledge untouched. Moved by this epistemological gap, Strachan put together his own compendium: The Encyclopedia of Invisibility, featuring 15,000 entries that cover a forgotten archive of people, places, concepts, objects, artworks, scientific phenomena and other stories. Among the entries are writings on Matthew Henson, the Black American explorer who first arrived at the North Pole in 1909, Saint Lucian poet and playwright Derek Walcott, and the saola (Pseudoryx nghetinhensis), a bovine known as the Asian unicorn.
A recent entry in Strachan's Encyclopedia is Camilo Cienfuegos. A key figure of the Cuban Revolution, the young revolutionary was popular enough to be widely hailed as "the Comandante of the people." His death at 27 in an airplane crash raised a whirlwind of suspicion about the ambitions of Fidel Castro and Ernesto "Che" Guevara, as well as concern about who would get to write his story. With his large-scale neon sculpture One Hundred More Fires (2023), Strachan literally brings Camilo Cienfuegos' story back into the light.

Sam Hamilton/Sam Tam Ham: Te Moana Meridian and Tavares Strachan: One Hundred More Fires is curated by Christian Viveros-Fauné and organized by Converge 45 and its institutional partners as part of its 2023 citywide exhibition Social Forms: Art As Global Citizenship.
Oregon Contemporary
August 24 – October 7, 2023
Free and open to the public.
Gallery hours: Friday–Sunday, 12-5pm.
8371 N. Interstate Ave
Portland, OR 97217