Plan V - VIVA LA VULVAlution!
This event is in the past
Thursday, September 21, 7:30–9 pm
This is an in-person event
$10 - $18
18+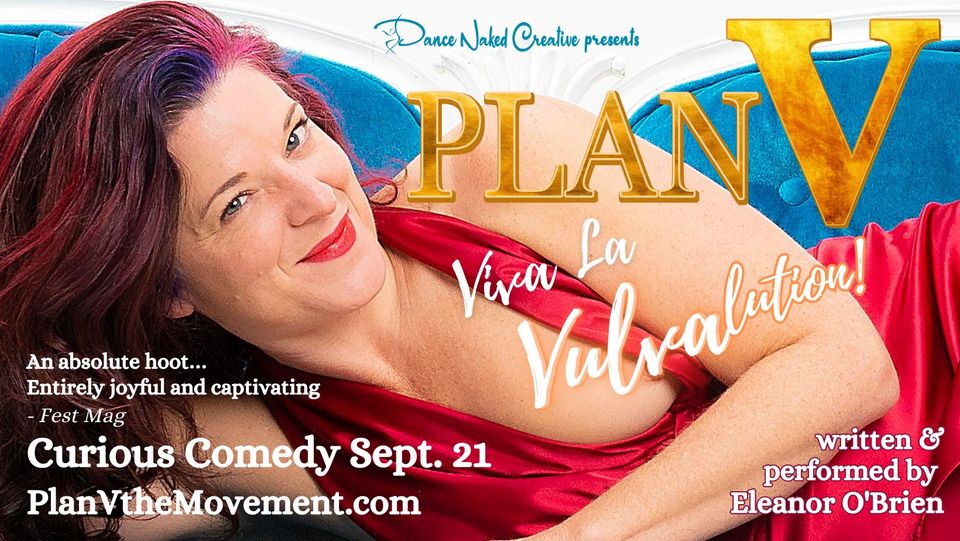 The following description comes from the event organizer.
You've entered an alternate reality, where all over the globe, chapters of Plan V are popping up, spreading the gospel of Sacred Pussy. Is it a sex cult? A Utopian Fallopian Fantasy? Or… an ancient religion ripe for revival?
Eleanor O'Brien plays Mama V, a former Mormon matron turned pansexual, polyamorous pleasure activist intent on converting the patriarchy, one Vagina Monologue at a time. She conjures a future in which a radical shift to Pussy Worship has paved the path to peace and prosperity (and facesitting has neutralized facism!). Throughout this hour-long solo show, you'll meet characters who's lives have been forever altered by the discovery of The Mighty Clitorial Complex, and what it really means to worship at the altar. The audience is part of the Movement™, and participation is part of the fun. Mama V invites Pussy Joys and Pussy Griefs, and leads the charge "Pussy is Life!"
Whether you identify as male or female (both/and?) Plan V embraces everyone in her slippery folds ("If you have an X Chromosome - YOU BELONG!"). An antidote to pessimism, a push for pleasure activism, and the medicine we need for the times we're in. Come join the VulvaLution!
O'Brien, longtime artistic director for Dance Naked Creative, has been called a "sex-positive superstar" by the Willamette Week and "a visionary" by Oregon Arts Watch. A self-proclaimed "advocate for sex-positive storytelling", O'Brien's Plan V is an antidote to patriarchy, a push for pleasure activism, and the medicine we need for the times we're in.
You can watch be a part of the party live and IN PERSON at Curious Comedy, a beautiful cabaret-style main stage venue in Northeast Portland, Oregon – or – watch the livestream from the comfort of home, out of the splash zone, petting your pussy in private. ALL ARE WELCOME!
A really handy sex-organ seminar, as well as an absolute hoot…the best lecture you've never had. Entirely joyful and captivating…- Fest Mag, EdinburghEleanor O'Brien is a visionary: the leader of a movement, a prophet of her own religion. - Bobby Bermea Oregon Arts Watch It's funny, empowering, and just slightly terrifying all at once...highly recommended. -Broadway World