Portland Winter Light Festival: What Glows Under Pressure
Every day, from February 2–10, 6–10 pm
This is an in-person event
Free
All Ages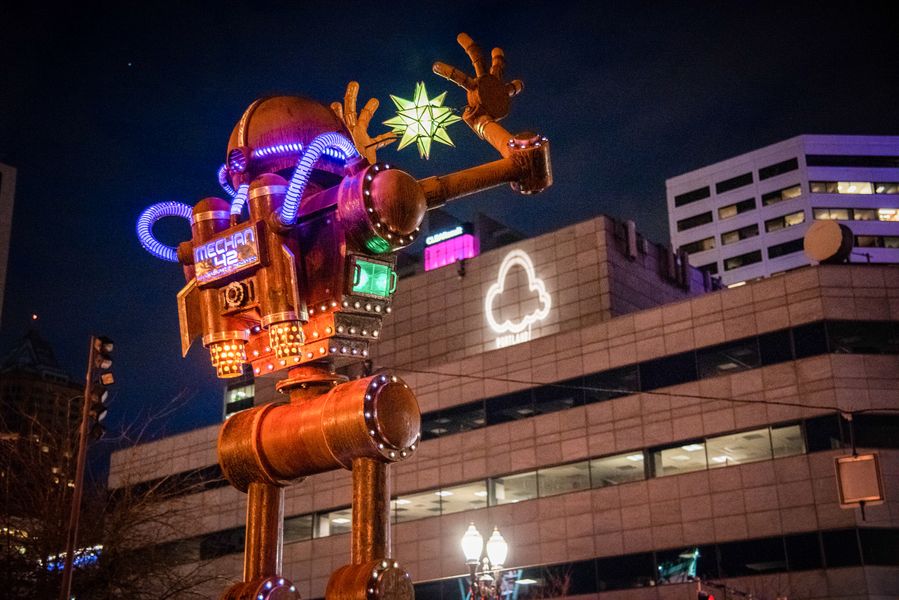 The following description comes from the event organizer.
Join us for the 9th annual Portland Winter Light Festival, where we'll immerse ourselves in a world that glows under pressure. This free and inclusive event takes place from February 2 to February 10, 2024, at various locations throughout the enchanting city of Portland, Oregon.
Event Highlights:
Theme: "Glowing Under Pressure" - Explore the mysteries of the deep sea and be inspired by bioluminescent wonders.
Dates: February 2 - 10, 2024.
Location: Various locations across Portland, Oregon.
Admission: Free for all, welcoming everyone. If anyone tries to sell you tickets, say NO!
Event Details:
Prepare to be captivated by a dazzling symphony of light as we delve into the depths of the ocean's mysteries. In the pitch-black expanse where light barely reaches, we'll encounter bioluminescent creatures that shimmer like stars in the darkness. This year's theme invites you to explore the wonders and dangers of the deep, reminding us of our own insignificance in the face of nature's forces.
This event is a celebration of creativity, community, and the magic of light. Don't miss the opportunity to explore with us in a world that truly "Glowing Under Pressure."
Event Schedule:
Opening Night: February 2, 2024 - 6:00 PM
Daily Events: February 3 - February 9, 2024
Closing Night: February 10, 2024 - 10:00 PM
Admission: All Events are Free and open to all ages and abilities
Accessibility: The festival venues are accessible to people with disabilities.
Contact Information:
Organizer: Portland Winter Light Festival
Email: info@pdxwlf.com
Website: www.pdxwlf.com
Follow Us:
Facebook: https://www.facebook.com/pdxwlf/
Instagram: https://www.instagram.com/portlandwinterlightfestival/
Don't miss the chance to be part of this luminous journey into the depths of creativity and wonder. Mark your calendars and invite your friends and family to experience the magic of the 2024 Portland Winter Light Festival. It's a shining beacon of light in the heart of winter!
Media