Thursday, October 5, 8 pm
This is an in-person event
$25
21+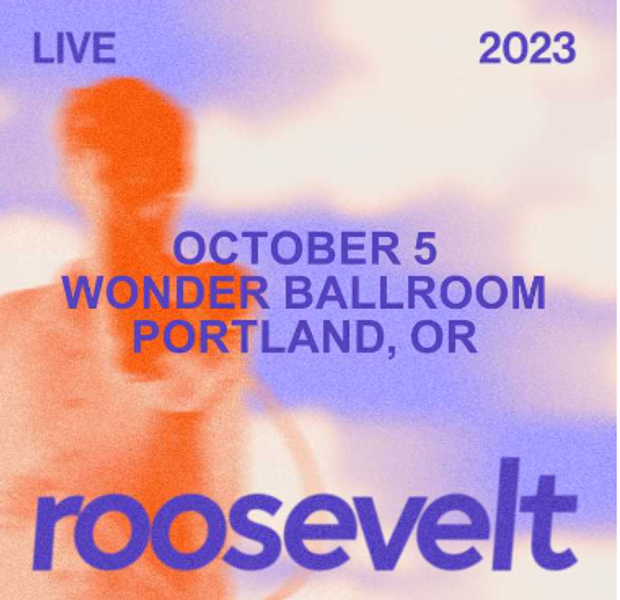 The following description was submitted by the event organizer.
Channeling the spirit of his indie rock roots into his beat-driven electronic synth tracks, Roosevelt made his debut in the early 2010s with the Elliot EP. His shimmering, club-friendly full-length debut, Roosevelt, eventually followed in 2016. Remixing tracks by the likes of CHVRCHES, Glass Animals, and Charlotte Gainsbourg along the way, he stepped away from the dancefloor for 2018's Young Romance before returning with gusto for Polydans in 2021.
As a teenager from Viersen, Germany, Marius Lauber played with a handful of indie garage bands before immersing himself in the techno scene in Cologne, where he was roommates with Kompakt signees Coma. Soon after, Lauber became a dance music devotee, so much so that within a few years he was resident DJ at Kompakt's Total Confusion party alongside Superpitcher and Michael Mayer. In 2012, he introduced his techno-meets-indie pop project Roosevelt with the single "Sea," released by Greco-Roman, a label co-owned by Hot Chip's Joe Goddard. A year later, his song "Elliot" landed on Future Classic. It was included on his four-track indie-disco debut EP Elliot, which was also issued in 2013.
He returned to Greco-Roman for the 2015 release "Hold On," which found its way onto Roosevelt's self-titled debut album, co-released in 2016 by Greco-Roman and City Slang. Roosevelt peaked just outside the Top Ten on the Billboard electronic chart, while rising into the Top 40 in Switzerland, Germany, and Austria. The following year, Lauber released a pair of EPs -- Remixed 1 and Remixed 2 -- which featured the talents of Joe Goddard and Justus Kohncke, among others.
In 2018, he issued the second Roosevelt long-player, Young Romance, which included "Forgive," a collaboration with Washed Out. That same year, he delivered remixes of CHVRCHES' song "Get Out" and Glass Animals' chart-topping single "Life Itself." He returned to his own work in 2020, premiering tracks off his club-minded third album. Polydans arrived on Greco-Roman and City Slang in early 2021. (via AllMusic)