Sea Otters of the Oregon Coast
This event is in the past
Monday, November 20, 7 pm
This is an in-person event
$5 - $6
All Ages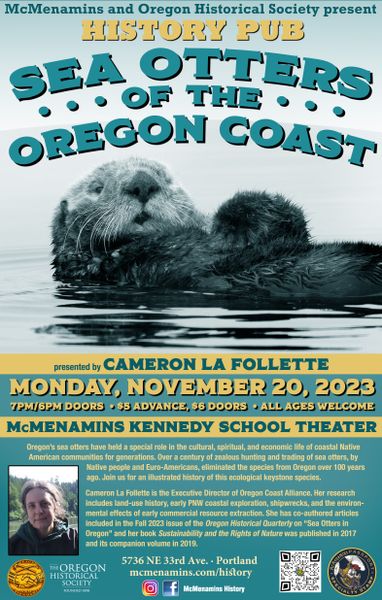 The following description comes from the event organizer.
McMenamins History Pub
Co-sponsored by Oregon Historical Society
Oregon's sea otters have held a special role in the cultural, spiritual, and economic life of coastal Native American communities for generations. Over a century of zealous hunting and trading of sea otters, by Native people and Euro-Americans, eliminated the species from Oregon over 100 years ago. Join us for an illustrated history of this ecological keystone species.
Cameron La Follette is the Executive Director of Oregon Coast Alliance. Her research includes land-use history, early PNW coastal exploration, shipwrecks, and the environmental effects of early commercial resource extraction. She has co-authored articles included in the Fall 2023 issue of the
Oregon Historical Quarterly
on "Sea Otters in Oregon" and her book
Sustainability and the Rights of Nature
was published in 2017 and its companion volume in 2019.
$5 advance/$6 doors