The Banana Pitch Variety Show
This event is in the past
Monday, September 18, 7 pm
This is an in-person event
$5 - $14
21+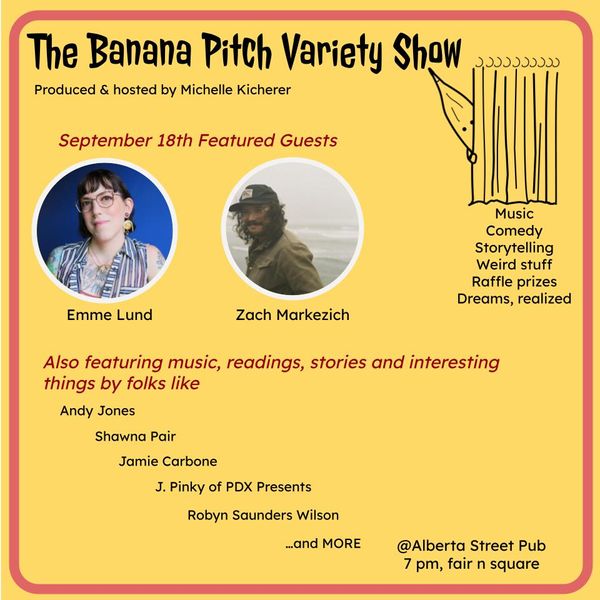 The following description comes from the event organizer.
The Banana Pitch Variety Show
A curated open mic and variety show
The Banana Pitch Variety show is back! Hosted by music and arts journalist Michelle Kicherer, this curated open mic and interview series features writers, musicians, comedians and any kinda other act you fancy. Have a weird story to tell? Lay it on us. Want to read an excerpt from your middle school notebook? PLEASE DO. Want to play a song off your upcoming album? Yes!
The Banana Pitch Variety show is 3 parts:
1. Curated open mic: music, readings, and comedy, etc. Each artist gets a 5 minute slot (or 1 song)
2. Interview: a live interview with the night's featured artist about their craft & what they're working on now
3. Headliner: a 2-3 song set (or reading, comedy, etc) by the featured artist
To get an open mic slot:
Email bananapitchmusic@gmail.com with "VARIETY" in the subject line and share what your medium is (comedy, music, poetry, storytelling, etc).
There will also be a limited number of spots available night-of! Get your tickets in advance to be entered into the night's drawing.