The Curious Cabaret - A Riotous Vaudeville Review (SEASON II)
Third Sun of every month, 7:30 - 9 pm
$10 - $20
All Ages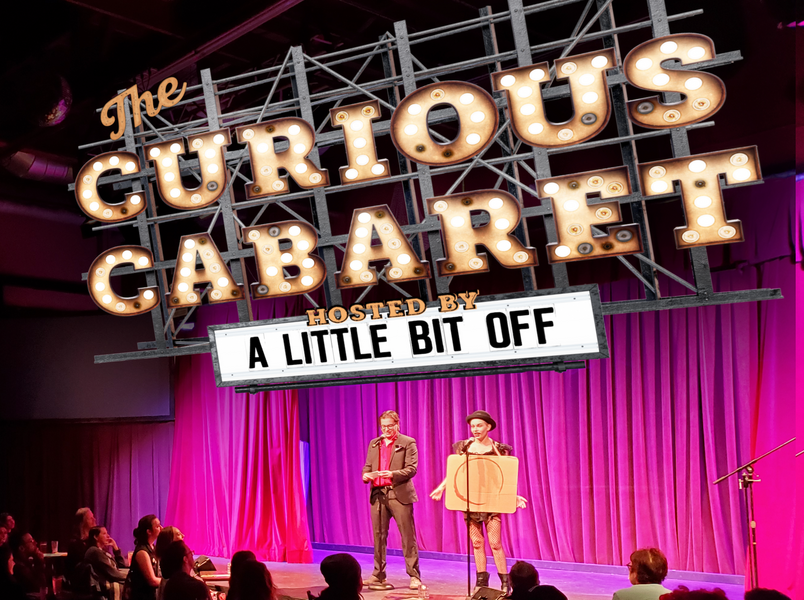 The following description is from the event organizer.
WELCOME BACK TO THE CURIOUS CABARET!
A Riotous Vaudeville Revue!
This is season two of a monthly variety show co-produced by Curious Comedy Theater and the 20-time award winning physical comedy duo, A Little Bit Off. The show features unique, amazing, beautiful, hilarious, and sometimes bizarre acts from the best variety entertainers in the pacific northwest and beyond, representing a wide range of performance styles including circus arts, comedy, live illustration, dance and more. In the spirit of Vaudeville, the event really is a true variety show with something for everyone. The cabaret is emceed by the bickering, bantering, beloved co-hosts, David Cantor and Amica Hunter of A Little Bit Off, and is supported by the Cabaret's one-man house band and World's Most Entertaining Entertainer, Frank, played by Emily Newton (a "Stand Out Clown" says the Portland Mercury). Each month the show has a fun and unique theme that brings some cohesive whimsy to the fast-paced act-to-act nature of the show.
This month's theme is Back From The Dead in honor of the spookiest month of the year, as well as the return of The Curious Cabaret! So go ahead and shed your sense of normalcy, throw on your creepiest costume, and join us for a night of devilish glee! We're kicking off Oct.3rd, and then will be:
Every Third Sunday of the Month
Show at 7:30
Doors at 7:00pm
Venue is all ages, & Show is PG-13
To keep us all as safe as possible during the show, everyone must provide proof of vaccination at the door, and masks are required at all times. We are also offering a LIVE virtual option for this show via an online streaming service, so you can tune in from your couch!
Tickets are available for:
$10 Livestream
$15 Online Preorder
$20 Door