This event is in the past
Friday, September 22, 7:30–10 pm
This is an in-person event
Free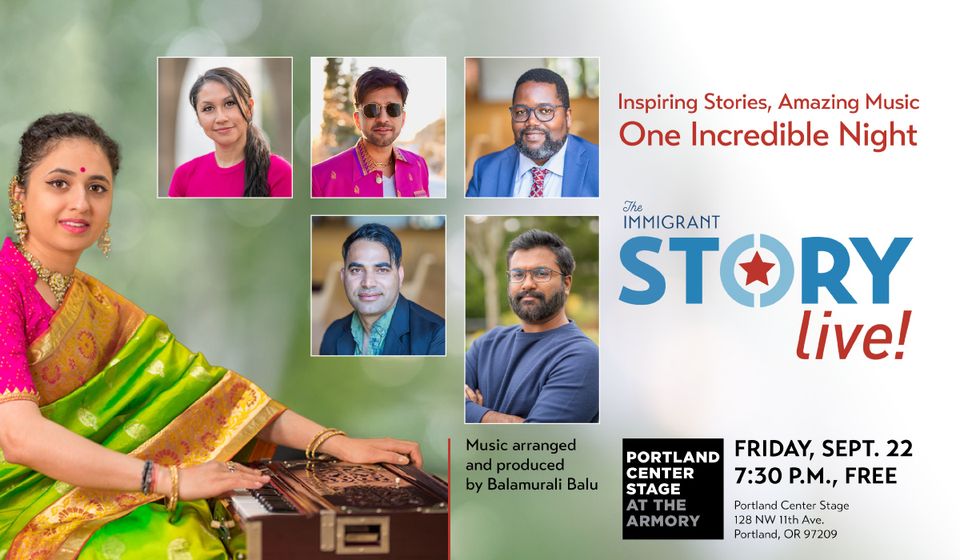 The following description comes from the event organizer.
The Immigrant Story and Portland Center Stage bring the acclaimed live storytelling event, The Immigrant Story Live, to the U.S. Bank Main Stage.
We invite you to hear four compelling first-person tales of courage, fortitude, and resilience in the face of unimaginable challenges by members of our community from Afghanistan, Zimbabwe, Mexico, and India.
After a brief intermission, the evening will continue with the melodious singing performance by Shivani Joshi, presenting traditional ghazals and folk tunes from South Asia. She will be joined by eminent musicians, trained in different genres, and specifically assembled for this occasion to create a one-of-a-kind evening. The night's music will blend traditional sounds with acoustic and electronic harmonies arranged by the talented Balamurali Balu (Bala), a well-known composer in the Tamil film industry.
Join us for a night of stories and music from Oregonians about the places they built, the traditions they brought, and what it has meant to truly belong in their hometown. This live event will celebrate the broader meaning of global diversity by drawing attention to the rich diversity in our communities and investing in their stories and traditions.