WEED: The Book Tour - A Conversation with Caitlin Donohue
This event is in the past
Wednesday, September 20, 7–8:30 pm
This is an in-person event
$5 - $10
21+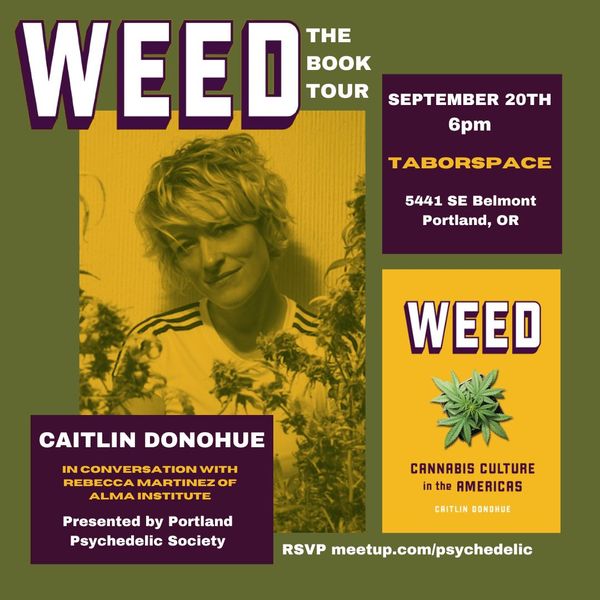 The following description comes from the event organizer.
Join the Portland Psychedelic Society at Taborspace on September 20th for a fascinating conversation with Caitlin Donohue, author of Weed: Cannabis Culture in the Americas. Ms. Donohue will dialogue with Rebecca Martinez, a mother and Director of the Alma Institute, about the importance of youth drug education in a time when prohibitionist thinking appears to be on the rise. What do teens need to know about cannabis and other psychoactive substances, from their own consumption to the impacts that pr? How can we initiate conversations with them that respect their autonomy while empowering them to make healthy decisions?
In Weed: Cannabis Culture in the Americas, culture writer Caitlin Donohue crafts a comprehensive and thought-provoking review of cannabis in the Western Hemisphere. Donohue's investigation spans from Vancouver, Canada, to Buenos Aires, Argentina, interviewing medical researchers, educators, activists, artists, business leaders, and other experts to explore the long relationship between cannabis and the human race, its almost universal prohibition in the twentieth century, and modern efforts to legalize the much-maligned plant in all its forms.
This event will be held in the Copeland Commons Room at Taborspace. Doors open at 6:30 and the talk will begin at 7:00pm. Tickets are $10, or $5 Psychedelics for All for those on Medicaid, SNAP, or other assistance programs.
Tickets are available at Humanitix: https://events.humanitix.com/weed-the-book-tour-a-conversation-with-caitlin-donohue
PPS strives to keep our events affordable and accessible; the ticket's small cost will cover the room rental and other expenses.