WorldOregon's International Speaker Series presents Ambassador Marie Yovanovitch: Lessons from the Edge
This event is in the past
Wednesday, September 20, 6–11 pm
This is an in-person event
$20 - $45
All Ages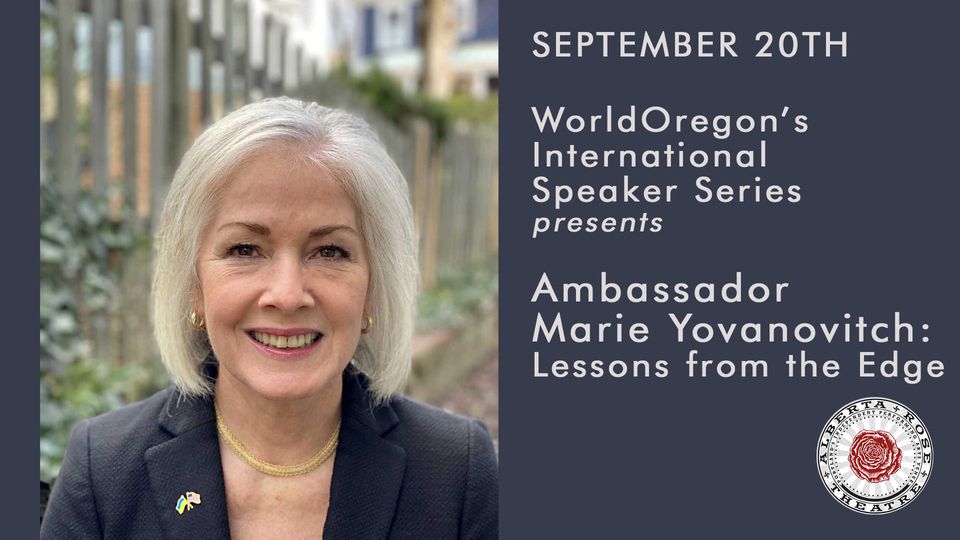 The following description comes from the event organizer.
Marie Yovanovitch, the U.S. Ambassador to Ukraine, became a household name in 2019 when she was abruptly ousted by then-President Trump and subsequently called to testify at the former president's first impeachment trial. Having been born into a family that survived Soviet and Nazi terror, Yovanovitch was raised with a keen sense of just how precious and fragile democracy can be. Her bold decision to speak truth to power resulted in powerful testimony that elevated her as a courageous and dignified voice of truth and defender of democracy at home and abroad.
Join WorldOregon for a rich, candid conversation on Ambassador Yovanovitch's insights and reflections on democracy, a lifetime of public service, getting "our house in order" as a world leader, and —just recently back from Ukraine—why she remains optimistic about the Ukrainians' continued fight for freedom from Russian aggression.
Marie Yovanovitch served as U.S. Ambassador to Ukraine, Armenia, and Kyrgyzstan, in addition to other senior government positions during her 33-year diplomatic career. She retired from the State Department in 2020 and is a senior fellow at the Carnegie Endowment for International Peace and a non-resident fellow at Georgetown University. She has received multiple awards, including the Presidential Distinguished Service Award (twice), the Secretary's Diplomacy for Freedom Award, the Trainor Award for Excellence in the Conduct of Diplomacy, and the PEN/Benenson Courage Award.
About the Series
WorldOregon's International Speaker Series is one of the nation's premier platforms for international affairs. For more than two decades, the series has put you in the room with the global leaders, visionaries, and inspiring voices that are changing our world. Now in its 23rd year, the International Speaker Series continues its tradition of presenting a broad spectrum of the people, big ideas, and issues framing our role on the world stage.
About WorldOregon
WorldOregon was founded in 1950 with the mission to broaden and deepen public awareness and understanding of international affairs, engaging Oregonians with the world—and with each other. WorldOregon programs keep Oregonians connected to the people, places, and ideas that are shaping our shared global future.