This Sichuanese restaurant serves hand-pulled noodles, Chongqing-style hot chicken, twice-cooked pork belly, and other specialties.
624 SW Hall Street
Downtown Portland
503-954-1835
1522 SE 32nd Ave
Richmond
This Chinese restaurant's extensive menu features fried rice, soups, seafood, pork beef, and chicken dishes, clay pot dishes, sizzling platters, noodles, and v…
8733 SE Division St #101
Montavilla
503-946-8830
This restaurant serves a mix of traditional Chinese and Japanese cuisine. The Japanese side of the menu features a wide selection of sushi, nigiri, sashimi, be…
4240 NE 122nd Ave
Argay
971-274-5368
3113 SE Division St
Southeast Portland
503-841-6646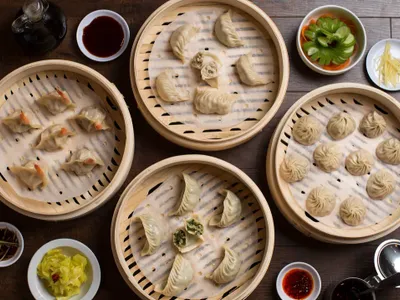 This rapidly expanding dumpling chain based in Washington is known for its juicy xiao long bao (soup dumplings) and signature "q-bao" (pan-fried steamed buns).
1910 S River Dr
Downtown Portland