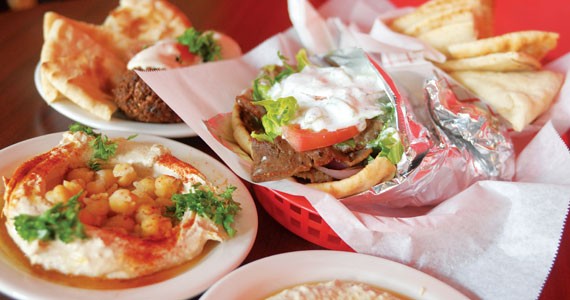 First in the offing is the doner gyro sandwich. Unlike most of the joyless versions around town, this bountiful item overflows with juicy, springy, thick sliced and well-seasoned beef and lamb meat. It is dressed with wedges of tomato, lettuce, and a tangy tzatziki applied with such generosity that approaching the item seated is the wise course of action. Warm, grilled pita holds the moist payload securely to the end, which is impressive given the amount of time needed to eat it. Happily, the meat is nearly greaseless.
The falafel balls are crisp and fragrant, and into their mix of garbanzo beans, parsley, and garlic, Cedo's adds finely minced jalapeños, though the benefit of this is not noticeable spice but rather fuller flavor—it is nothing for the spice-wary to fear. Crisp and fried to order, the falafel are then dressed with the same ingredients as the gyro; the sandwich is as formidable as its meat-heavy counterpart. A second vegetarian sandwich of dolma (the menu lists these as "grape leaves"—their house-made version is filled with rice, tomatoes, parsley, and spices) and a generous slather of hummus—is a creamy and flavorful combination I haven't seen elsewhere. Residual sweet tomato sauce from the braising of the leaves enriches the taste, though after a bit it seems to want a crunchy element against which to chew the filling.
In terms of overall value for money, quality, and flavor, Cedo's is a yardstick against which all similar offerings can be fairly measured. Whether you're distraught over your career prospects or simply in the market for an excellent and affordable lunch, their Middle Eastern fare is a solid bet.
Sandwiches $7, appetizers $5, sides $4-6, plate meals $9. Deservedly crowded at peak mealtimes; expect a wait of 10 minutes and competition for a table, or opt for take-out. Limited beer and wine available.
- CHRIS ONSTAD
Map & Directions
Upcoming Events
at Cedo's Falafel and Gyros
We didn't find any upcoming events at this location.
---