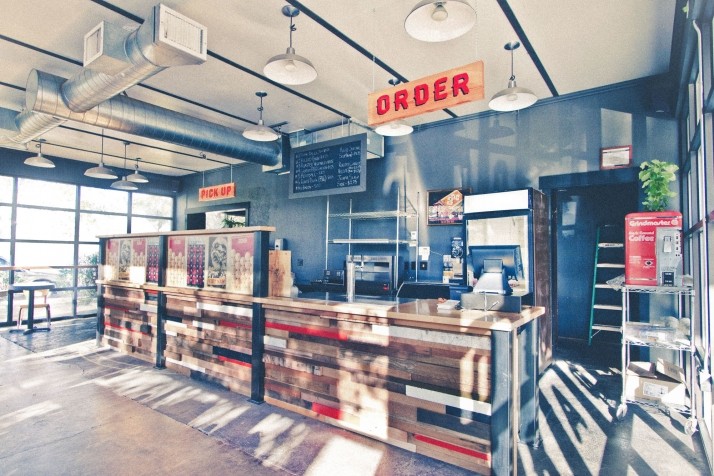 My recent introduction to this lunch-only restaurant came in the form of a friend's incredulous, "EIGHT BUCKS FOR A BANH MI?! BUT I MIGHT WANT A FAMILY SOME DAY!" Indeed, it seemed relatively high, but I'm used to paying something like that for decent sandwiches in town. Spurred on by my eye-opening early dalliances with this item, I drove down and ordered a #1—described on the menu as "melted pork fat, charred meatiness" ($7.50). A sign behind the cashier warned of the grease, of the nap I would need, and that a Caucasian from New Jersey was prowling about in the kitchen.
The thing looked good. It was nearly twice the size of a conventional banh mi, and weighed in at 11 ounces. A julienne of bright, tender, pickled carrots and yellow-tinted daikon threatened to burst from the roll, and reassuring sprigs of cilantro peeked happily from their bed. A fine, generous chop of dark caramelized pork was apparent, held in place by a glistening, salmon-pink, gently spiced aioli, a sauce not traditionally seen on banh mi. The eyes having eaten, I took the plunge.
At once the balance of vegetables, the deeply, expertly flavored pork, the perfectly sourced roll—all the pickle and salt and fat—came together in harmonized textural bliss. Seasoned potato chips provided an alternating crunch. A crisp ginger beer washed the palate here and there, making for many fresh starts, while their signature beverage is a sweet, milky tea deeply infused with fresh basil, which makes for a beautiful pairing with the herbal character of the sandwich. It is a simple triumvirate, but a ruling one nonetheless, and a complete sketch of happiness.
Perhaps their finest banh mi is the roast duck ($9.50), which has the tender yield of a confit, fragrant with its spicing of orange, clove, ginger, and pepper. The beef and pork meatball banh mi ($7.50) is their most satisfyingly voluminous offering—the meatballs are large and tender, but the sandwich eats well, and nary a dab of moisture will sully your trouser leg. Chopped BBQ chicken ($7.50) was, well, the thing you get if you go around ordering chicken at a pork restaurant: quite nice, but it couldn't follow the main event, and benefited greatly from the thick five-spice bacon (an excellent but generally unnecessary $1.50 addition to any sandwich). I imagine that the roasted vegetable ($7.50) would as well, but that's beside the point, and its own meltingly tender eggplant, cauliflower, sweet pepper, and caramelized onion payload is as well constructed and hefty as the meaty versions.
Tender palates fear not: All sandwiches start with a faintly spicy baseline, and can be enhanced to taste with the ubiquitous Sriracha. For those who wish to venture further into the menu, a dark shoyu ramen rich with egg and pork ($8.50), silken roasted carrot coconut soup ($3.25/$4.25), and refreshingly acidic jicama slaw ($2.75) are offered. Beer is available for those who would further tempt Morpheus.
Double Dragon's product is that rarest of things: a second impression that exceeded the long-ago love at first sight. In the end there was no errant grease, no nap, and no curious New Jerseyan—just a deep, balanced satisfaction at an entirely fair price.
-CHRIS ONSTAD
Upcoming Events
at Double Dragon
We didn't find any upcoming events at this location.
---