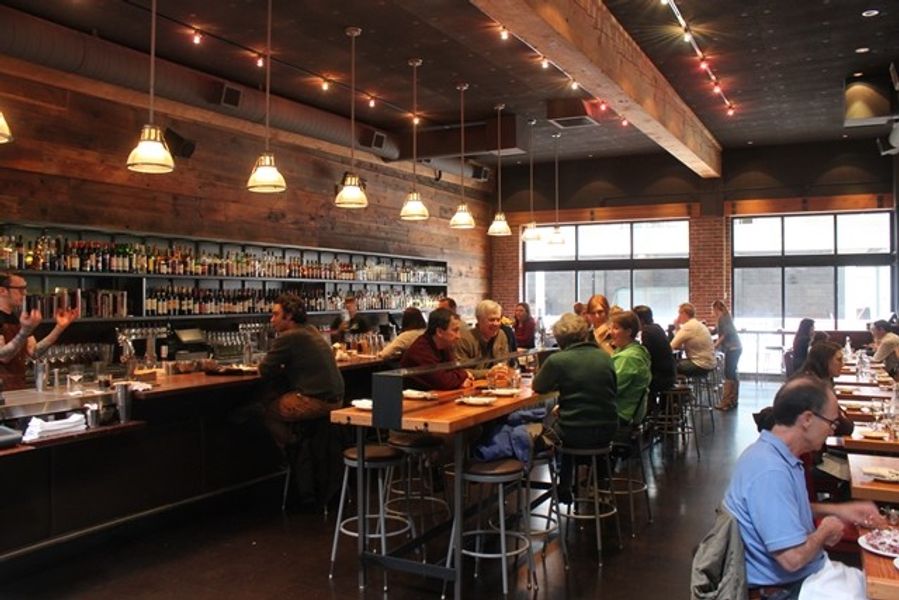 Oven and Shaker's sleek dining room is long and dark, with a bar running the length of the room and both communal seating and individual tables. The room prioritizes style over comfort and caters to a crowd that does the same; you'll probably be seated too close to your neighbor, but at least they'll be good looking.
The centerpiece of Oven and Shaker's food menu is a list of wood-fired pizzas. But Portland's fancy pizza market is currently pretty oversaturated—even McMenamins is in on it now, with wood-fired pizza at their new Zeus Café. Oven and Shaker's pizza boasts creative toppings, and not much else; if I come back, it'll be because of combos like salami and honey, or brussels sprouts and pancetta, not the too-thin, too-chewy crust.
The pizza ranges in price from $12-16 and comfortably serves two; the rest of the menu consists of a short list of salads (try the dinosaur kale, which brightens up breadcrumbs and a salty anchovy vinaigrette with tart sections of grapefruit) and a selection of drinking snacks heavily geared toward some combination of "fried," "starch," and "animal."
A mix-and-match arancini selection offers combinations like saffron risotto with pork and pea ragu; the snowball-sized risotto balls satisfyingly crack open to reveal sizzling hot insides or an outpouring of molten mozzarella. "Tuscan potatoes" is code for french fries, which come in a paper-lined cup with strips of roasted red pepper and fried sage. While the potato and parmesan croquettes were like a less-disgusting-but-still-underwhelming spin on Shari's mozzarella sticks, the polenta crostini was a standout: wedges of firm, perfectly prepared polenta smeared with whitefish spread and topped with roasted peppers.
I'm not sure I'd cross the city to eat at Oven and Shaker—especially when to do so, I'd have to pass Nostrana, whose more extensive (and more expensive) menu offers a better representation of Whims' genius in the kitchen. But Oven and Shaker is serving up great cocktails and some deftly prepared drinking snacks; plus, the service is attentive and the bartenders are handsome. It's not revelatory, but it fills its niche.
-ALISON HALLETT
Map & Directions
Upcoming Events
at Oven and Shaker
We didn't find any upcoming events at this location.
---