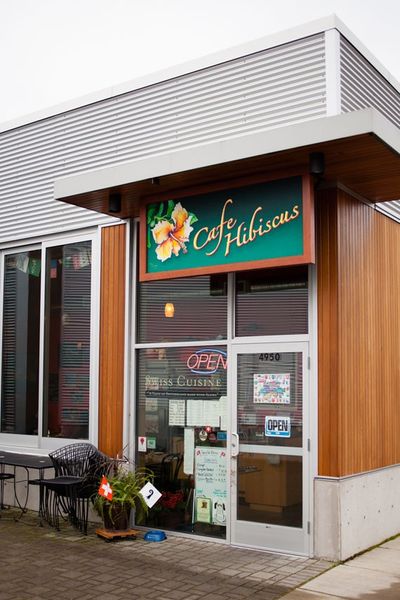 Cafe Hibiscus' offerings distinguish themselves by coming across as neither excessively portioned nor overly rich. It's a rare thing to walk away from a full plate of such food without dreading the next hour of laborious digestion. Here, starch-supported entrees of sausages, stews, and schnitzels seem delicate despite their ample portions. The prices are also curiously low for dining room service: entrees range from $8-12 (prices are rumored by the staff to rise this year, which will no doubt get them in line with the average entrée index of about 1983).
Free, hot bread may seem like a trivial thing, but its significance to a restaurant guest—here: sit and be fed before the routine of cost and choice begins—is of primal importance. This disappearing token of hospitality is wordlessly provided, along with ramekins of their family's mysteriously smooth and tangy Swiss dressing.
Before I start to sound like Andy Rooney's hack brother, though, I'll move on to the heart of the matter.
A variety of cold salads are available as appetizers, but start with the Swiss Salat Teller sampler ($8.75, plenty for two). Chilled and richly flavored, the Wurst Salat with thin half-moons of knockwurst and cheese, as well as the Tuna Salat (light, fresh, and aromatic with dill), were stand-outs. A hot starter of Croute Emmental ($7), toasted bread topped with thinly sliced ham, Emmenthaler cheese, and a mushroom cream sauce, is also substantial enough for two to share.
A Swiss cafe awash in Aloha vibes might sound like something of a novelty act, but in simple terms of value, service, food quality, and my immediate desire to return for lunch the next day, it's a far more serious contender than its quiet reputation would lead one to believe.
Upcoming Events
at Swiss Hibiscus
We didn't find any upcoming events at this location.
---