Cooler weather calls for ducking inside, whether it's to catch a film at the cinema, see your favorite artist light up the stage in a dark venue, take in a lecture, or peruse an art show. To keep you supplied with a steady dose of culture, we've rounded up the most noteworthy arts events this season, from
Hadestown
to the
Orcas Island Film Festival
and from
Earshot Jazz Festival
to
Viet Thanh Nguyen
.
---
Jump to:
---
VISUAL ART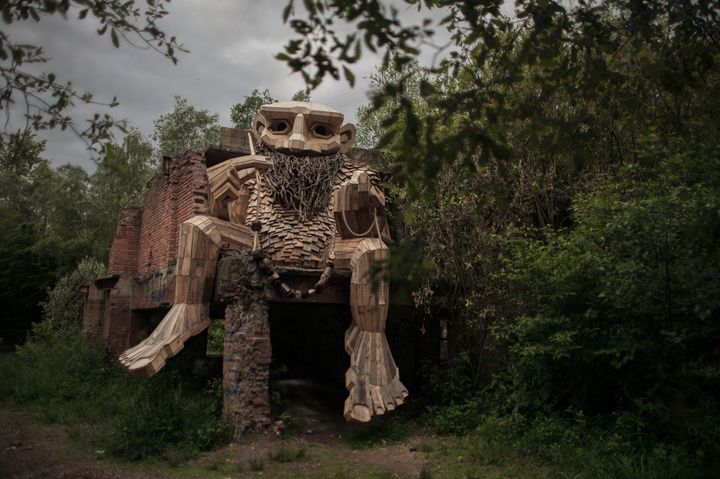 Northwest Trolls: Way of the Bird King Past Event Like List
If you've come across a massive Nordic troll in the wild lately, chances are you're not hallucinating—you've just discovered one of Danish artist and environmentalist Thomas Dambo's gigantic, hand-built, recycled sculptures. His Pacific Northwest-based project, Northwest Troll: Way of the Bird King, has seen six humongous Nordic trolls land in scenic spots across the region, including Bainbridge Island, Issaquah, Vashon Island, West Seattle, and Portland. The final one will be unveiled at the National Nordic Museum on September 18, and they'll be installed across the region for at least three years. The trolls, which are "characters in an environmental story penned by the artist," serve to illustrate critical lessons of environmental stewardship. National Nordic Museum (Mon Sept 18) LC
Positive Fragmentation Remind Like List
Focusing on female artists whose works "employ a strategy of fragmentation," Positive Fragmentation: From the Collections of the Jordan D. Schnitzer and His Family Foundation compiles a whopping 200 prints that dismantle, reconstitute, and blend new ideas. The exhibition's works include meditations on the body, explorations of urban landscapes, and a focus on women of color artists. Although these artists are often underrepresented in museum spaces, you're bound to spot a few names you recognize, like art icons Betye Saar, Kara Walker, and Wendy Red Star. Judy Pfaff, Jenny Holzer, Judy Chicago, Louise Bourgeois, and Polly Apfelbaum are also standouts. Bellevue Arts Museum (Sept 29–March 10) LC
Raúl de Nieves: a window to the see, a spirit star chiming in the wind of wonder… Remind Like List
I try to avoid saying a show has "something for everyone" unless it's really, truly the case, but New York-based artist Raúl de Nieves's a window to the see, a spirit star chiming in the wind of wonder… might fit the bill. De Nieves will transport aesthetic traditions of Mexican craft, Catholicism, tarot, the European art canon, drag performance, and punk music to the Henry—seriously, I'm betting you're into at least one of those things, right? The solo exhibition of paintings, sculptures, and performances by the Mexican-born artist will include one of his signature "stained glass" installations (made with colored acetate and tape), which will imagine a celestial landscape and transform the museum's largest gallery space into a "container of colored light." The goal? A reflective, meditative journey—anticipate temple-like seating, a kaleidoscopic atmosphere of ever-changing light, and ritualistic performances punctuating the run of the exhibition. Henry Art Gallery (Sept 30, 2023–Sept 1, 2024) LC
Clarissa Tossin: to take root among the stars Remind Like List
Brazilian-born, LA-based artist Clarissa Tossin's multimedia works (including films, sculptures, and drawings) look closely at global capitalism's "frontier mythologies," interrogating persistent legacies of colonialism in Latin America and the US through repurposed consumerist garbage. She uses what is perhaps the most potent symbol of exploitation and ecological disaster—Amazon delivery boxes—to think about climate change, mapping as a conquest-driven technology, human consumption, and even space exploration. Why am I stoked about the show? Well, because I'm a nerd: Tossin's first solo museum exhibition on the West Coast borrows its title from sci-fi writer Octavia Butler's apocalyptic Earthseed novels. Frye Art Museum (Oct 7–Jan 7) LC
Calder: In Motion, the Shirley Family Collection Remind Like List
I was lucky enough to spot Alexander Calder's buoyant abstract mobile Lizard (Lézard) at the Palm Springs Art Museum last summer, and therefore must recommend you thrill your eyeballs with this exhibition, which traces the kinetic modernist sculptor's career from the '20s through the '70s. Calder: In Motion, which pulls from a collection gifted by museum patrons Jon and Kim Shirley, offers a non-chronological narrative of the artist's mobiles, stabiles, paintings, illustrations, and more with dynamic works installed throughout SAM's galleries (including its double-height gallery, with overlooks from the floor above). By the way, I hope you're into Calder, 'cause his work is here to stay: This show promises to usher in "a new era at SAM," which will include "ongoing exhibitions and programs centered around Calder and his legacy taking place in downtown Seattle, the Olympic Sculpture Park, and through local and national partnerships." Seattle Art Museum (Nov 8, 2023–Aug 4, 2024) LC
OTHER HIGHLIGHTS
Satpreet Kahlon: the inscrutable shape of longing Remind Like List
Bellevue Arts Museum (Sept 23–Dec 31)
Kelly Akashi: Encounters Remind Like List
Henry Art Gallery (Sept 30, 2023–May 5, 2024)
Rafael Soldi: Soft Boy Remind Like List
Frye Art Museum (Oct 7, 2023–Jan 7, 2024)
Roots of Wisdom: Native Knowledge. Shared Science. Remind Like List
Museum of History & Industry (Oct 7, 2023–March 3, 2024)
Refract Fifth Anniversary: The Seattle Glass Experience Remind Like List
Various locations (Oct 12–15)
Hokusai: Inspiration and Influence, from The Collection of The Museum of Fine Arts, Boston Remind Like List
Seattle Art Museum (Oct 19, 2023–Jan 21, 2024)
Short Run Comix & Arts Festival Remind Like List
Seattle Center (Sat Nov 4)
Elizabeth Malaska: 2022 Betty Bowen Award Winner Remind Like List
Seattle Art Museum (Nov 17, 2023–June 16, 2024)
READINGS & TALKS
Naomi Klein: A Trip Into the Mirror World Past Event Like List
When the Canadian author and social activist Naomi Klein found herself being continuously confused with a certain COVID conspiracist with a similar name (cough, Naomi Wolf, cough), she did the opposite of what I would do (delete my social media and disappear forever). Instead, her digital doppelganger inspired a book on what Klein deems "collective vertigo," a distorted sense of reality that grows increasingly scrambled by social media, AI-generated content, echo chambers, and contradictions. (We live in hell, and her new name is X.) According to Klein, Doppelganger: A Trip Into the Mirror World "grapples with the wildness of right now." She'll dig into it at this talk. Town Hall Seattle (Thurs Sept 21) LC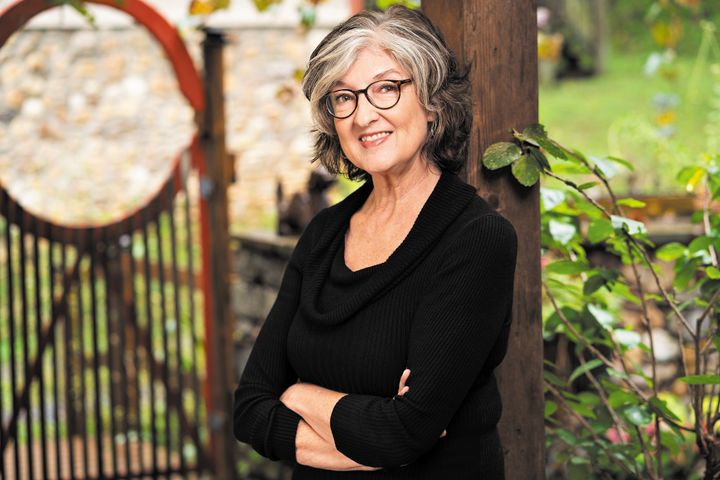 Barbara Kingsolver Remind Like List
If there's such a thing as a household-name author, Barbara Kingsolver might be one example—she's been famous ever since the '98 release of the epistolary novel The Poisonwood Bible. Her latest work, 2022's Demon Copperhead, an angry, compassionate retelling of David Copperfield set in the midst of the Appalachian opioid epidemic, won the 2023 Pulitzer Prize for Fiction. It's a bestseller (natch), was named one of the top 10 books of the year by the New York Times and the Washington Post, and serves as a reminder that Kingsolver's talent ain't going anywhere. Benaroya Hall (Mon Oct 16) LC
Viet Thanh Nguyen Remind Like List
Unless you've been living under the literary equivalent of a rock (a massive stack of dusty old books, perhaps?), you've likely heard of Vietnamese American author Viet Thanh Nguyen's The Sympathizer, which won the Pulitzer Prize for Fiction in 2016. (Nguyen's debut novel follows an expat, cultural film consultant, and North Vietnamese mole in the South Vietnamese army. And you thought your job was hard.) Returning with his now-signature sardonic humor and incisive style ("A voice that shakes the walls of the old literary comfort zone," says the New Yorker), Nguyen turns the memoir genre on its head with A Man of Two Faces, blending personal stories with wider thoughts on refugeehood, colonization, and ideas about Vietnam and America. Town Hall Seattle (Wed Nov 8) LC
Trust For Public Land and SAL Present: An Evening with the Full Circle Everest Team Remind Like List
Hang on to your carabiners: Seattle Arts & Lectures and the national nonprofit Trust for Public Land, which promotes equitable access to the outdoors, will present this free evening with the Full Circle Everest Team, the first all-Black team to summit the highest mountain on Earth. (Meanwhile, I lose my breath summitting Seattle's hills.) Full Circle Expeditions executive director Philip Henderson, who has also summited Denali and Mount Kilimanjaro, will join sociologist/mountaineer Demond "Dom" Mullins and Trust for Public Land's Northwest director, Mitsu Iwasaki, to "amplify a national conversation about inclusion and equity in outdoor recreation." Town Hall Seattle (Wed Nov 15) LC
Ginger Minj: Southern Fried Sass Remind Like List
Drag queen Ginger Minj stole hearts across America on the seventh season of RuPaul's Drag Race, winning three challenges and ultimately placing as the runner-up to winner Violet Chachki before returning for seasons two and six of Drag Race All Stars. The self-described "nicest bitch you'll ever meet," "froganista," and "glamour toad" is known for her side-splitting impressions of celebs like Adele, Phyllis Diller, and Tammy Faye, as well as her feisty Southern belle persona. Now, the redheaded icon is turning her talents toward the culinary world with the release of her new cookbook, Southern Fried Sass, which imparts her secrets to "everything from contouring to cooking and setting the table for a full-on Southern-style Thanksgiving dinner." You can look forward to behind-the-scenes tea, decorating tips, advice gleaned from her grandmother, and recipes ranging from Red Barn BBQ ribs to "better than sex cake." Elliott Bay Book Company (Thurs Dec 21) JB
OTHER HIGHLIGHTS
Benaroya Hall (Tues Sept 26)
Aparna Nancherla: The Unreliable Narrator Book Tour Featuring Mostly Standup Remind Like List
Washington Hall (Wed Sept 27)
Jane Hirshfield Remind Like List
Rainier Arts Center (Mon Oct 2)
Oliver Jeffers Remind Like List
Town Hall Seattle (Thurs Oct 5)
Melissa Broder Remind Like List
Elliott Bay Book Company (Thurs Oct 12)
Molly Shannon Remind Like List
Moore Theatre (Sat Oct 21)
Town Hall Seattle (Fri Oct 27)
Lindy West: Every Castle, Ranked Remind Like List
Edmonds Center for the Arts (Thurs Nov 9)
An Evening with David Sedaris Remind Like List
Benaroya Hall (Sun Nov 12)
Town Hall Seattle (Mon Nov 20)
Steve Inskeep Remind Like List
Town Hall Seattle (Tues Nov 28)
An Evening with Rainn Wilson Remind Like List
Moore Theatre (Fri Dec 1)
LIVE MUSIC
Arooj Aftab, Vijay Iyer, and Shahzad Ismaily Remind Like List
New York-based Pakistani singer-songwriter Arooj Aftab blends traditional Sufi devotional poetry with gentle folk guitar and ambient elements that perfectly cradle her ethereal voice. On her newest project, Love in Exile, Aftab collaborated with multi-instrumentalists Vijay Iyer and Shahzad Ismaily for a haunting meditation about "self-exile, and the search for freedom and identity, and finding it through love and music" (per press materials). With the album's atmospheric electronics, neo-classical piano melodies, and heavenly vocals, it will surely sound just as magical live. Neptune Theatre (Sun Sept 24) AV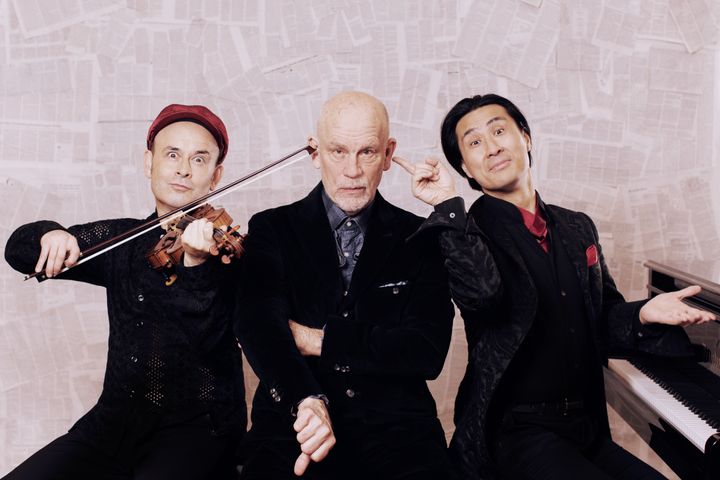 John Malkovich in The Music Critic Remind Like List
Academy Award-winning actor John Malkovich (I bet you know him from the 1999 cult favorite Being John Malkovich) will stop by with his part-classical concert, part-theater performance, and part-comedy show The Music Critic. This wit-filled satirical dramatization takes on the vicious (and fictitious) music critiques written about history's greatest composers and works of music. Malkovich plays the role of the evil critic/narrator, who believes that the music of Beethoven, Chopin, and Prokofiev is "weary and dreary." Classical music funnymen Aleksey Igudesman and Hyung-ki Joo (of the comedy duo Igudesman & Joo) lodge a protest. Who will win in the end? Benaroya Hall (Tues Oct 17) AV
While it's often hard for me to emotionally connect with contemporary indie rock, Angel Olsen's heartwrenching vocals bring me to tears almost every time I hear them. Her voice, which has been compared to artists like Emmylou Harris and Mildred Bailey, seesaws from deep restraint to free-flowing belts, sometimes in one single breath. Olsen will return to Seattle for three nights with tracks from her new stripped-down EP Forever Means and country-tinged 2022 album Big Time. Don't miss opening sets from singer-songwriter Allegra Krieger (night one), acclaimed folk artist/poet Kara Jackson (night two), and chamber pop artist Led To Sea (night three). Neptune Theatre (Oct 26–28) AV
Devo: The Farewell Tour Remind Like List
Okay, here it is: your last chance to see your favorite post-punk weirdos! Ease that uncontrollable urge to scream/sing "Whip It" amongst hundreds of spuds at Devo's 50th anniversary Farewell tour. Founding members Mark Mothersbaugh, Gerald Casale, and Bob Mothersbaugh will plop on their energy domes for a last hurrah ahead of their forthcoming documentary (directed by Tiger King documentarian Chris Smith). My fingers are crossed that they'll play songs from their debut album Q. Are We Not Men? A: We Are Devo! Paramount Theatre (Tues Nov 7) AV
Antonio M. Gómez: LINEAJES Remind Like List
Tacoma-based percussionist Antonio M. Gómez will fill the Frye's Salon gallery with a visual and sonic presentation that explores the intertwined histories of world music. The LINEAJES exhibit features a custom-built tarima (a traditional Mexican percussive platform) along with an array of global instruments from Gómez's vast collection. To heighten the experience, Gómez's Trio Guadalevin and other ensembles have provided recorded soundscapes that will play continuously through the exhibition. This is a wonderful opportunity to expand your knowledge of international sounds and complicate simplified notions of Western civilization. Frye Art Museum (Nov 11, 2023–March 10, 2024) AV
Liz Phair: Guyville Tour Remind Like List
Liz Phair's presence in my life is like a cool aunt who has been there through my purest joys and roughest patches. I was seven years old when her self-titled pop album was released. Fueled by a cocktail of Fruit Roll-Ups and Sprite, I danced around my room to "Why Can't I?" on repeat until I collapsed into bed. As a teen, I found my dad's copy of Exile in Guyville and cried in my car to "Fuck and Run" and "Divorce Song." In college, I dug deeper into the archives. I downloaded her Girly-Sound demo tapes from a questionable online forum and became obsessed with deep cuts like "Ant in Alaska" and "Batmobile." I've had phases with every single one of her albums, but Guyville is her magnum opus—it captures the nuances of womanhood in a way that no other album can (or will). She will celebrate its 30th anniversary by playing the album front to back, along with some additional hits. Moore Theatre (Tues Nov 14) AV
Depeche Mode: Memento Mori Tour Remind Like List
Goth pop princes Depeche Mode will bring their Memento Mori tour to Seattle in support of their 15th studio album of the same name. Both the album and tour are Dave Gahan and Martin Gore's first as a duo since the tragic passing of Andy Fletcher last spring. The album features co-writing credits from the Psychedelic Furs' Richard Butler, which gives the album an irresistible pop sweetness, reminiscent of their earlier hits like "Just Can't Get Enough" and "Enjoy the Silence." Climate Pledge Arena (Sun Nov 26) AV
Last year, Samara Joy won the coveted Grammy for Best New Artist, beating out pop radio heavies like Latto, Måneskin, and Wet Leg—and for good reason! On her Verve Records debut, Linger Awhile, Joy puts her own spin on classic jazz standards, making a case for her to join the likes of Sarah Vaughn, Ella Fitzgerald, and Billie Holiday as Verve's latest jazz singing sensation. Don't miss your chance to catch a national jewel at the very beginning of her career (Joy is only 23 years old!) Jazz Alley (Sept 28–Oct 1) AV
Earshot Jazz Festival 2023 Remind Like List
The 35th annual Earshot Jazz Festival will sprawl across three weeks and 30 local venues, filling Seattle with established legends of the genre and exciting emerging artists. This year's lineup has so many great names, but I am most excited to see Japanese pianist Hiromi's groove-fueled ensemble Soundwonder (Oct 8), the Grammy-nominated vocal supergroup säje (Oct 13), and acclaimed jazz trumpeter Chief Adjuah (Oct 15). Plus, there will be an evening of live music and archival footage, celebrating the life of one of my all-time favorite pianists, Mary Lou Williams (Oct 25). Various locations (Oct 6–Nov 5) AV
Freakout Festival Remind Like List
Acid Tongue's Guy Keltner started Freakout Festival with one thing in mind—he wanted to throw a gigantic party for his friends. Now in its 11th year, the lineup may be bigger and more diverse than ever, but the festival's methodology remains unchanged. Hop between multiple venues across Ballard to hear mindbending psychedelic tunes while tripping out to their notoriously hypnotic visual projections (the festival has a strict no-kids policy, so substances are common). You won't want to miss performances from LA-based psych-rock band Allah-Las, pioneering garage rock band the Gories, chaotic punk quartet the Spits, cumbia-punk outfit Son Rompe Pera, dancey goth project Sextile, and so many others. Various locations (Nov 2–5) AV
OTHER HIGHLIGHTS
John Legend Past Event Like List
Chateau Ste. Michelle (Thurs Sept 21)
Arctic Monkeys Past Event Like List
Climate Pledge Arena (Fri Sept 22)
Paramount Theatre (Fri Sept 29)
Kremfest 2023 Remind Like List
Kremwerk-Timbre Room-Cherry Complex (Sept 29–Oct 1)
Washington Hall (Mon Oct 2)
The Postal Service & Death Cab For Cutie: Give Up & Transatlanticism 20th Anniversary Remind Like List
Climate Pledge Arena (Oct 6–7)
Seattle Rock Orchestra: Pink Floyd - Dark Side of the Moon Remind Like List
Moore Theatre (Sat Oct 7)
SRJO Plays SRJO Hits: A Season Opener Celebration Remind Like List
Benaroya Hall (Sat Oct 7)
Tacoma Dome (Tues Oct 17)
Paramount Theatre (Oct 17–18)
Wu-Tang Clan & Nas: NY State Of Mind Tour with De La Soul Remind Like List
Climate Pledge Arena (Wed Oct 18)
36th Annual East Meets West Concert Series Remind Like List
Benaroya Hall (Sat Oct 21)
Kim Petras: Feed The Beast World Tour Remind Like List
WaMu Theater (Mon Oct 23)
Hozier: Unreal Unearth Tour Remind Like List
WaMu Theater (Tues Oct 24)
The Breeders with Belly Remind Like List
Paramount Theatre (Wed Oct 25)
Showbox SoDo (Thurs Nov 2)
KISS: End of the Road World Tour Remind Like List
Climate Pledge Arena (Mon Nov 6)
Jonas Brothers: Five Albums. One Night. Remind Like List
Climate Pledge Arena (Fri Nov 10)
Cabins & Hideouts with Lauri Porra Remind Like List
Benaroya Hall (Fri Nov 17)
Nathaniel Rateliff Remind Like List
Paramount Theatre (Mon Nov 20)
Aerosmith: PEACE OUT The Farewell Tour Remind Like List
Climate Pledge Arena (Tues Nov 28)
alt-J: An Awesome Wave 10th Anniversary Show Remind Like List
Showbox SoDo (Dec 1–3)
The 1975: Still…At Their Very Best Tour Remind Like List
Climate Pledge Arena (Sat Dec 2)
Neptune Theatre (Tues Dec 5)
Macklemore: The Ben Tour Remind Like List
Climate Pledge Arena (Dec 21–22)
FILM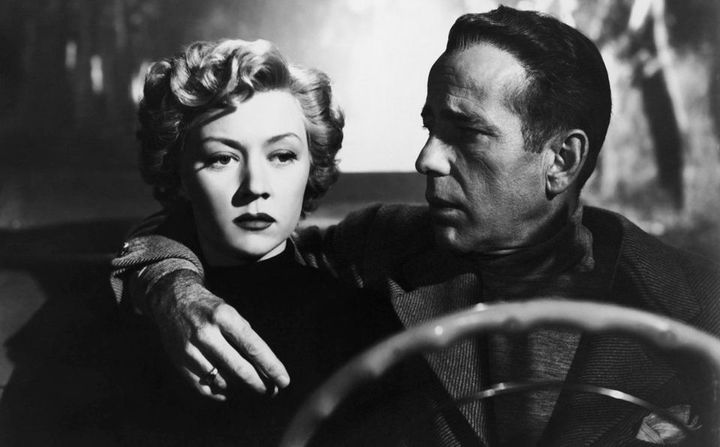 Dark Dreams: The Original Film Noir Series Remind Like List
Look out for cigarette smoke and midnight jazz riffs: Greg Olson, Seattle Art Museum's film curator from 1977 until the position's elimination in 2020, will return with Dark Dreams: The Original Film Noir Series. Olson's noir expertise has been long praised by local voices like film writer and professor Dr. John Trafton, who deemed this year's lineup a "thrilling and mesmerizing journey for die-hard noir fans and the uninitiated," and journalist Charles R. Cross, who called Olson "Seattle's all-time-best film curator." Nine films spanning 60 years of noir style will screen at SIFF Cinema Egyptian; I'm stoked for the free Top Pot doughnuts on opening night and the pre-screening noir playlists by film curator Tova Gannana. SIFF Cinema Egyptian (Wed Sept 27) LC
26th Annual Local Sightings Film Festival Remind Like List
Back in 2015, Stranger senior staff writer Charles Mudede wrote, "What is this city becoming? What have we lost in the rush and thrust of all these new developments? To whom does this growing city belong? The brilliant Local Sightings Film Festival will show films that reveal the answers to these questions, through features, shorts, and animation that are born here or hereabouts. There's much to see and much to talk about." The premise of the hybrid festival hasn't changed much since then—Local Sightings will return for its 26th anniversary this year, offering up another round of curated screenings and transforming the city into a hub for indie filmmakers who forgo New York or LA for the Pacific Northwest's endearing eccentricity. The always-great, hyper-local film festival also offers opportunities for regional filmmakers, emotional storytellers, and documentarians to meet-cute at the festival's events. I'm curious about the two-day found footage workshop, the short film program by "nonbinary trans and queer myth builders" Scumtrust, and the opening feature, Fantasy A Gets A Mattress, directed by local legend Fantasy A. Northwest Film Forum (Sept 15–24) LC
Tacoma Film Festival Remind Like List
The Tacoma Film Festival, which Stranger senior staff writer Charles Mudede deemed "the Sundance of the Pacific Northwest" last year, will return to celebrate all things independent cinema. ("What makes this festival one of the best in the region," says Mudede, "is the charm of its main location and smart programming.") Expect a killer roster of documentaries, shorts, and narrative films. Opening night will include the Tacoma premiere of Fantasy A Gets a Mattress (on the heels of several sold-out screenings in Seattle), and the fest's "centerpiece film," Immediate Family, is a rock doc on iconic musicians Leland Sklar, Danny Kortchmar, Russ Kunkel, and Waddy Wachtel. Fancy Dance, a family drama about Indigenous women and the justice system, will screen on closing night.
Grand Cinema (Oct 5–12) LC
Orcas Island Film Festival Remind Like List
All hail Orcas Island's annual film festival, which the Stranger has praised since its 2014 inception. (Last year, former Stranger staff writer Jas Keimig called it "our Cannes." Those are big shoes to fill) The festival may not be set against a Mediterranean backdrop, but the island's Eastsound village is pretty damn scenic, too. Plus, last year's flicks earned a whopping 27 Oscar nominations, so you're bound to bear witness to something Letterboxd-review-worthy. For instance, quirky satire king Alexander Payne (Sideways, Election) will return with the '70s-set comedy-drama The Holdovers, which stars Paul Giamatti as a cantankerous New England prep school instructor tasked with supervising students on Christmas break. I'm also intrigued by this year's Palme d'Or winner, Anatomy of a Fall, as well as The Disappearance of Shere Hite, a Nicole Newnham-directed (Crip Camp) doc on the feminist sexologist and female orgasm pioneer. Cannes Best Director winner Trần Anh Hùng's historical gastromance The Pot au Feu sounds like the perfect digestif. Orcas Island (Oct 11–15) LC
Seattle Queer Film Festival Remind Like List
A loud-and-proud voice in the Seattle film scene since '96, the Seattle Queer Film Festival is now presented in a hybrid format, blasting an expansive range of queer stories onto big screens (and your computer screen, if that's your preference). I'm pumped for 18 days of queer magic, with in-person screenings planned October 12–22 and virtual screenings October 22–29, plus buzzy parties, live podcasting, filmmaker panels, and workshops. This year's festival theme, "Queer Joy is Cinematic," will bring the ebullience with 50 programs and over 80 films at Northwest Film Forum, Broadway Performance Hall, SIFF Cinema Egyptian, and Ark Lodge Cinema. (Oct 12–29) LC
OTHER HIGHLIGHTS
Teton Gravity Research: Legend Has It Past Event Like List
Neptune Theatre (Thurs Sept 21)
Seattle Latino Film Festival 2023 Remind Like List
(Oct 6–14)
Social Justice Film Festival 2023 Remind Like List
(Oct 11–15)
18th Tasveer Festival Remind Like List
(Oct 12–22)
Silent Movie Mondays: He Who Gets Slapped Remind Like List
(Paramount Theatre, Mon Oct 23)
Disney in Concert: The Sound of Magic Remind Like List
Benaroya Hall (Oct 26–29)
Peter Pan with Live Harp Score Remind Like List
Grand Cinema (Sat Oct 28)
Harry Potter and the Half-Blood Prince in Concert with the Seattle Symphony Remind Like List
Benaroya Hall (Nov 3–5)
Dirty Dancing in Concert Remind Like List
McCaw Hall (Fri Nov 17)
Spider-Man: Into the Spider-Verse Live in Concert Remind Like List
Paramount Theatre (Fri Nov 17)

Found Footage Festival Vol. 10 Remind Like List
SIFF Cinema Uptown (Thurs Nov 30)
Mountains on Stage - Winter Edition 2023 Remind Like List
SIFF Cinema Uptown (Tues Dec 5)
PERFORMANCE
Cambodian Rock Band Remind Like List
Playwright à la mode Lauren Yee, who wove together immigrant narratives and music-led comedy in Young Americans, is back with Cambodian Rock Band, which follows a survivor's return to Cambodia after escaping the murderous Khmer Rouge regime 30 years prior. I'm a big fan of Yee's dramaturgical sensibility, which often seeks to reclaim forgotten or overlooked histories. (She's also slated to pen the musical adaptation of A Wrinkle in Time, so expect to see her name again!) What's got me most riled up for Cambodian Rock Band, though, is its live band, which will play jangly Dengue Fever hits and classic Cambodian oldies. ACT - A Contemporary Theatre (Sept 29–Nov 5) LC
Ziwe: In Conversation Remind Like List
Although Showtime tragically canceled her pink-hued, confrontation-as-comedy show earlier this year after a mere two seasons, Ziwe Fumudoh's button-pressing 2022 interview with Chet Hanks is still the stuff of legend. (Spoiler: He attempts to speak Jamaican Patois, and Ziwe barely lifts a finger, but still buries him.) The snazzy satirist and queen of discomfort has a gift for bringing out cringe-inducing behavior in privileged people, and she tends to do it all in Cher Horowitz-chic outfits. What's not to love (or be mildly nervous about)? She'll drop by Seattle to hand us our asses with a smile. Neptune Theatre (Sun Oct 22) LC
Will Rawls: [siccer] Remind Like List
You might've caught Will Rawls's work recently—the New York-based artist has popped up with installations and exhibitions at Adams and Ollman in Portland and the Henry Art Gallery over the last few years. As a choreographer, performance artist, curator, and writer, Rawls's work is wide-reaching, and [siccer] is no exception. It's part-live performance, part-stop-motion animation, and its title references the Latin adverb sic (which is typically used in brackets to denote an "error" when quoting someone, underscoring the perceived inaccuracy of their speech). To Rawls, "[sic] is a useful metaphor for how the language and gestures of Black bodies are captured, quoted or misquoted, and circulated to appear strange in various media." As a writer, I'm excited to see how Rawls interrogates the limits of citation. On the Boards (Sept 28–30) LC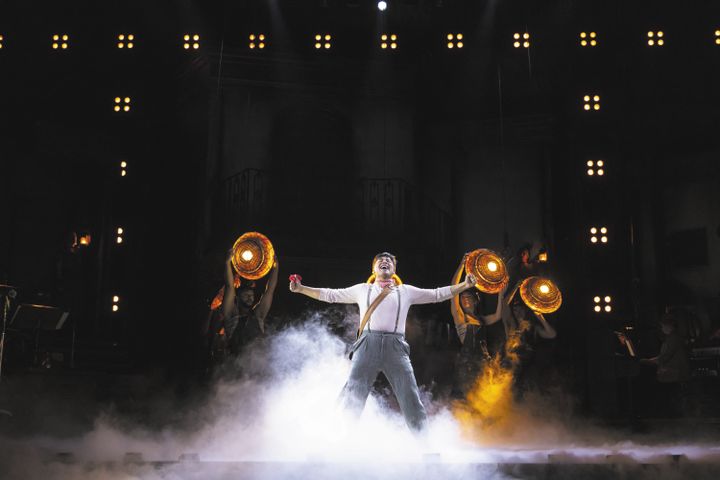 Greek mythology, but make it oppressive and apocalyptic. This Tony-winning musical by singer-songwriter Anaïs Mitchell and acclaimed director Rachel Chavkin draws from the mythos of Orpheus, Eurydice, King Hades, and Persephone to construct one hell-raiser of a musical. Set within a dystopian landscape of climate anxiety and poverty (hashtag relatable), Eurydice toils away in a bummer industrial setting while Orpheus plans their escape. According to the Seattle Times, the production "makes a strong argument for how art can change the world," so check it out if you need a breather from your own daily grind. Paramount Theatre (Oct 31–Nov 5) LC
It's not easy to improve upon greatness, and to me, "greatness" is personified by the 1994 film Little Women starring the trifecta of perfection that is Winona Ryder, Susan Sarandon, and Kirsten Dunst. (No, not the Greta Gerwig one. I said what I said!!) But hey, this theatrical interpretation might change my mind. Based on Louisa May Alcott's courageous 1869 novel, which dared to envision an "unladylike" woman author who writes penny dreadfuls and rejects her rich hottie neighbor, this production of Little Women was adapted by playwright Kate Hamill. I am hoping to see Amy put a clothespin on her nose. Seattle Repertory Theatre (Nov 10–Dec 17) LC
OTHER HIGHLIGHTS
Pacific Northwest Ballet at McCaw Hall (Sept 22–Oct 1)
Todd Barry: Half Joking Tour Remind Like List
Neptune Theatre (Sat Sept 30)
ArtsWest (through Oct 1)
Atsuko Okatsuka: Full Grown Adult Tour Remind Like List
Moore Theatre (Thurs Oct 5) & Neptune Theatre (Fri Oct 6)
Disney's The Little Mermaid Remind Like List
The 5th Avenue Theatre (through Oct 8)
Teatro ZinZanni Remind Like List
The Sanctuary at Lotte Hotel Seattle (Oct 12, 2023–March 31, 2024)
Seattle Opera at McCaw Hall (Oct 14–28)
This Is Halloween Remind Like List
Triple Door (Oct 19–31)
Taylor Tomlinson: The Have It All Tour Remind Like List
Paramount Theatre (Oct 20–22)
Seattle Rep (Oct 20–Nov 19)
Ben Schwartz & Friends Remind Like List
Paramount Theatre (Sun Oct 29)
Pacific Northwest Ballet at McCaw Hall (Nov 3–12)
Alan Cumming & Ari Shapiro: Och & Oy! A Considered Cabaret Remind Like List
Neptune Theatre (Mon Nov 6)
Chelsea Handler: Little Big Bitch Remind Like List
Paramount Theatre (Nov 10–11)
Irving Berlin's White Christmas Remind Like List
The 5th Avenue Theatre (Nov 25–Dec 27)
Michelle Wolf: It's Great to Be Here Remind Like List
Neptune Theatre (Fri Dec 1)
A John Waters Christmas Remind Like List
Neptune Theatre (Sat Dec 2)
MJ The Musical Remind Like List
Paramount Theatre (Dec 7–17)
The Jinkx & DeLa Holiday Show Remind Like List
Moore Theatre (Dec 21–24)