Alice Derry, Tess Gallagher, Kathryn Hunt, and Gary Copeland Lilley: Group Poetry Reading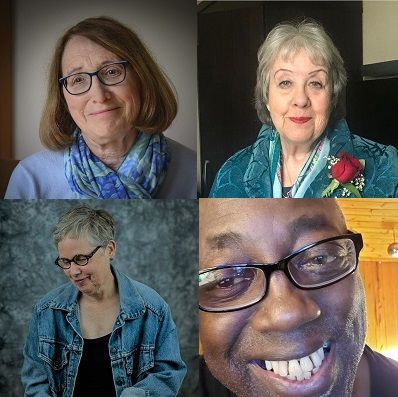 "
Once upon a time, when the getting over was easier, including Elliott Bay being just off the ferry dock, this would have been a great group reading of poets ferried over from across the Sound. As it is, this virtual reading of seasoned poets across the water should be a delight. We will cite most recent books here, but suspect new, not-yet-published poems will be heard along the way.
Alice Derry
, longtime professor at Peninsula College and onetime colleague on the poetry readings circuit as organizer of the Foothill Reading Series, is most recently author of Asking (Concrete Wolf Press), her sixth book of poems. Of these. Tess Gallagher says, "Asking is what our entire country is doing—asking how to bear up under the loss of so many, these absences of our dearly beloveds. These poems answer by more than memory—by joining the beloved to the present in a way that makes asking itself an answer. An exceptional mind is at work here, lyrically, and with suppositional insistence, making a framework in poetry to approach and re-approach the death and the love—its successes and daily quandaries, its deep companioning—this is what really makes this book sing."
Tess Gallagher, herself, who first read at Elliott Bay nearly forty years ago, probably has the longest relationship going with a single publisher of any poet alive, as she and Graywolf Press were first in cahoots with Instructions to the Double in 1975. Many years and books later, it is still Graywolf and it most recently was the luminous Is, Is Not.
" (Promo Copy)