Black Lives Matter Statewide Silent March
This event is in the past
Friday, June 12, 2020, 1–4 pm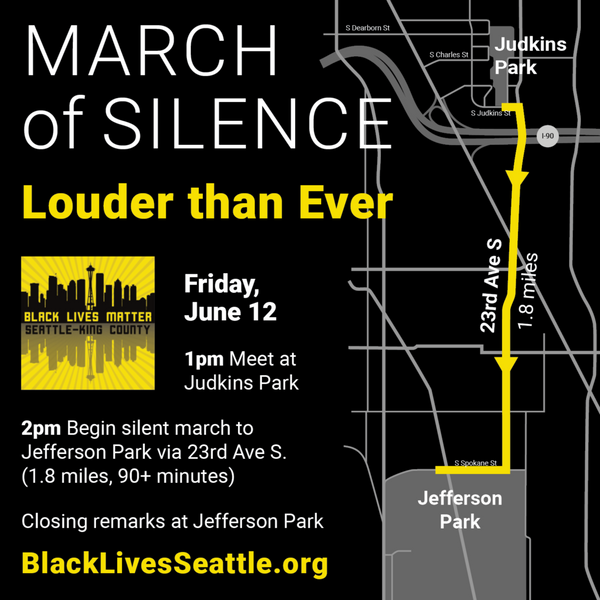 The silent march component of Black Lives Matter Seattle King County's
Statewide Silent March and General Strike
will start assembling at Judkins Park at 1 pm, with the actual marching beginning at 2 and taking a 2-mile route to Jefferson Park via 23rd Ave S. The organizers note that they expect this to take 90 minutes or more, and have listed out additional health and safety precautions (as well as donation requests)
here
.
Further notes from BLMSKC:

March Order


We ask that all march participants respect the following order of procession. We want ensure this is a Black led march, but we encourage everyone to march with their family and loved ones.
1. Black Lives Matter Seattle-King County
2. Black youth
3. Black community
4. People of Color
5. Elected and appointed officials, political candidates
6. White allies
7. Bikes

Other Statewide
Marches
:
Bellingham
2 p.m.
W Bakerview Rd & Arctic Ave
Bellevue
5pm
Crossroads Park
Bonney Lake
12:20 p.m.
Bonney Lake Park & Ride
Centralia
4 p.m.
Borst Park
Duvall
1 p.m.
Safeway (14020 Main St. NE)
Everett/Snohomish County
11 a.m.
Snohomish County Government Plaza
Gig Harbor
4 p.m.
Olympic Dr & Point Fosdick Dr NW
Grandview
7 p.m.
647 E Wine Country Rd
Kenmore
1 p.m.
Kenmore City Hall
Kennewick
1 p.m.
Kennewick City Hall
Kirkland
11:30 a.m.
Peter Kirk Memorial Park
Leavenworth
5 p.m.
Public Library on Hwy 2
Mill Creek
5 p.m.
Mill Creek Sports Park
Mount Lake Terrace
4 p.m.
Mountlake Terrace Elementary
Mount Vernon
4:30 p.m.
4th Street Bridge
Newcastle
1 p.m.
Lake Boren
Normandy Park
4 p.m.
Normandy Park Cove
Oak Harbor
1 p.m.
Windjammer (City Beach) Park
Olympia
1 p.m.
Olympia City Hall
Orcas Island
5 p.m.
Orcas Village Green
Pullman
5 p.m.
Martin Stadium
Quincy
6 p.m.
Quincy Middle School
Raymond
1 p.m.
Raymon Skatepark
Redmond
1 p.m.
Redmond Downtown Park
Renton
4 p.m.
Renton City Hall
Sammamish
9 a.m.
Virtual
SeaTac
10 a.m.
S 188th Street & 42nd Ave S
Seattle – Lake City
2 p.m.
Meadowbrook Community Center
Seattle – Mt. Baker
1:30 p.m.
31st Ave S.
Seattle – Pinehurst
2 p.m.
Pinehurst Pocket Park
Spokane
3 p.m.
Spokane City Hall
Stanwood
6 p.m.
Stanwood Middle School
Tacoma
7pm
NE Tacoma Elementary
Vancouver
4 p.m.
East Mill Plain & East Reserve Street
Vashon Island
7:30 p.m.
Vashon Theater
Wenatchee
5 p.m.
Eastmont Park
Rules for the March:
Please be respectfully silent during the march.This is a time to join community in grief and mourning. Please don't disrespect that by initiating chanting or booing.
We encourage you to bring signs and other visual ways of making your voices heard during the protest.
Please take the pandemic seriously.Maintain 6 feet distance from everyone who's not in your household. There will be plenty of room, so be willing to spread out and expand the footprint of the march!
Bring appropriate facial coverings (mask, cloth, scarf, bandana, etc)
Bring gloves.
Bring hand sanitizer.
Do NOT attend if you are sick, exhibiting symptoms, or if you believe you have come into contact with someone who had COVID-19.
After closing remarks, please disperse and return home immediately. Do this in the interest of mitigating your risk of coming into contact with the virus.
Plan your visit to the area in advance so that you know how you will be getting home before you arrive at the protest.
Additional Safety Precautions
Despite the above instructions, we are aware that many will choose to come to the protest without any protective equipment. For this reason, we will be providing masks, gloves, and hand sanitizer at the event. However, if you are able to bring your own protective equipment, then you should, in order to help us make supplies last.
Additionally, the fact that the march is silent will further mitigate the risk of spreading the virus, whereas yelling often increases risk of its spread.
For further reading, review our
Protestor Safety Guide
.
Donations
If you would like to donate equipment or services for the protest, please fill out
this form
. For more complicated inquiries and questions, please contact donations@blacklivesseattle.org.
We've received numerous donations already. If you're eager to help, here's a list of items that we could use more of.
Gloves – Ideally vinyl in order to accommodate those with latex allergies, but we would accept latex as well.
Water bottles
Bags for trash and recycling.
Snacks of any kind – Particularly, food that is easy to distribute, and options for those who can't eat nuts, grains, or soy.
Ear Plugs
Bandaids, bandages, and other first-aid equipment.
Wipes for disinfecting surfaces.
Any excess non-perishable materials will be saved for future events. We do not need more masks, thank you!