Every day, from January 4–6, 6 pm
This is an in-person event
$35 - $60
18+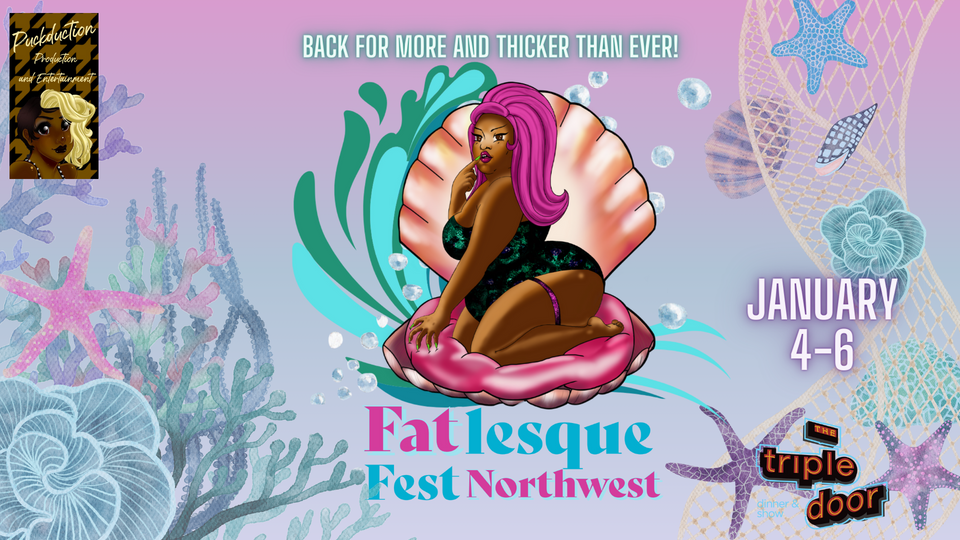 The following description comes from the event organizer.
From the rhinestone studded mind behind What the Funk?! An All BIPOC Burlesque Fest and Queer Prom Seattle
Puckduction Presents The only all Fat Burlesque Festival in the Pacific Northwest! Back for a 2nd year and thicker than ever!
Fatlesque Fest NW is on a mission to disrupt perceptions surrounding burlesque while providing an art, culture, and entertainment experience through a fat liberation and body positive lens.
Come get down with the Thickness!
3 Nights
3 Different Casts
35+ Performers
From all over the Country and Internationally
Doors Open at 6 PM for Dinner Service
Showtime is 7:30 PM
Featuring headliners:
Chola Magnolia (PDX)
Isaiah Esquire (PDX)
Viktor Devonne (LA)
Roula Roulette (ATL)
With feature performances by:
Solangerie (OLY)
Mother Girth (CANADA)
Jezebelly (NEW ORLEANS)
Sucre à la Crème (CANADA)
With emcees
Alotta Boutté (OAK)
Rebecca Mm Davis (SEA)
World Famous *BOB* (AUSTIN)
Fat Friendly Seating/Accessibility Update
The Triple Door offers two main seating options, semi-circle booths or countertop and table seating. For fat and/or larger-bodied individuals, we recommend countertop and table seating to ensure guest comfort throughout the show. The semi-circle booths have tables that do not move and limited seat dimensions. There are seats specifically labeled ADA compliant on the seating assignments.
Media