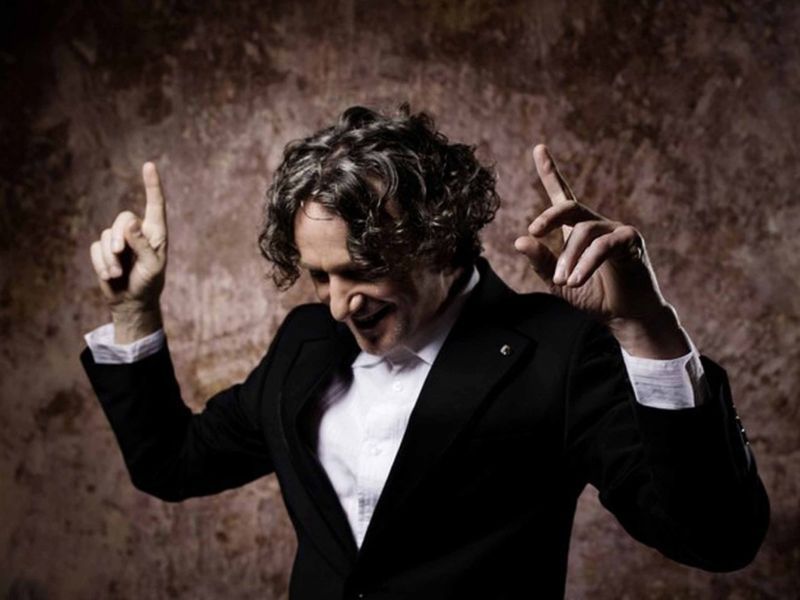 "
Quite a few musicians would be content with only a fragment of Goran Bregović' s career. Contemporary composer, traditional musician or rock star, he did not have to choose – he took it
all to invent a music that is both universal and unmistakably his own.
Goran Bregovic's musical adventures began in the sixties at a music school in Sarajevo. There he started learning to paly violin and got acquainted with the counterpoint and harmony, but this just didn't seem fun enough…
Even in Tito's Yugoslavia rock n' roll sets ablaze the sixties. The answers to adolescent revolt that this genre offers and the discovery of the power of attraction that the electric guitar has for the female sex, light the way for Goran. He continues studies of philosophy and sociology, but also forms a rock group - Bijelo Dugme (White Button). Their first album is an immediate success that albums and 3 singers since its beginning, the group sold millions of albums and brought together thousands of people each time it played in public. Son of a Serbian mother and a Croatian father living in Muslim Sarajevo, Goran is everyone's hero, but noticing the rise of a fanatical nationalistic fever that takes hold of the audience in his concerts, he decides to disband Bijelo Dugme.
At the end of the eighties, the film-maker Emir Kusturica, a fan of his work, convinces him to take part in his next project. Writing music for « Time of the Gypsies» allows Goran to sharpen his sense of musical dramaturgy and to work around Gypsy music that fascinates him. The combination of Kusturica's images and Bregovic's notes sublimates a poignant story that leaves a strong mark. For « Arizona dream » the twosome travels to the US where Kusturica films Faye Dunaway, Jerry Lewis and Johnny Depp and Bregovic writes for the Godfather of punk rock, Iggy Pop.
" (Promo Copy)