This event is in the past
Multiple dates through Jan 31, 7:30 pm
Jazz Alley
Belltown (Seattle)
This is an in-person event
$28.50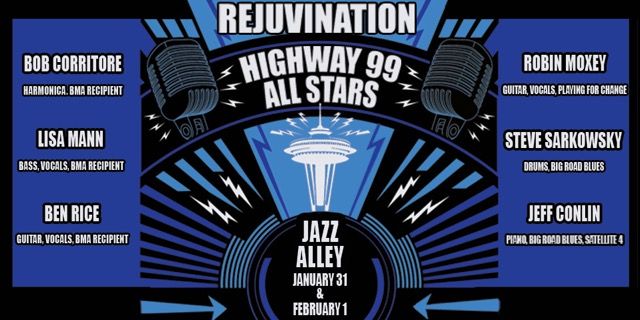 "
The Highway 99 All Stars came into existence with the opening in Seattle of the award-winning Highway 99 Blues Club in 2004. Since then the All-Stars have played numerous shows in and around Seattle at its namesake club, fairs, festivals and special events. The line-up for their shows features players from Seattle and the greater Northwest. While some of the players have done multiple shows over the years, the line-up is a roving cast of "all-stars" bringing solid rhythm and blues and deeply rooted blues music to the stage. For the upcoming Jazz Alley shows, the band will feature six musicians from Seattle, Portland and Phoenix. With three different singers; harmonica, guitars, bass, keys and drums, the show will feature solo spots, duo turns and the full band.
Bob Corritore is considered among the top traditional blues harmonica players on the scene today. His style passionately carries forward the old school of playing that Corritore learned as a young man directly from many of original pioneers of Chicago Blues. His sympathetic, yet fiery harmonica playing is featured on over 100 releases to date, on labels such as VizzTone, Delta Groove, Delmark, HighTone, HMG, Blue Witch, Blind Pig, Earwig, Ruf, Putumayo and many others. Additionally he is the owner of the Rhythm Room, the radio show host of "Those Lowdown Blues" on KJZZ, the founder of Southwest Musical Arts Foundation, the editor and main writer of the Bob Corritore Blues Newsletter, an official endorser of Hohner harmonicas, a Keeping The Blues Alive award recipient, a Grammy-nominated harmonica player and producer, an honorary member of Collectif Des Radios Blues, and a great fan of, and active participant in blues music in general. His album Bob Corritore & Friends / Harmonica Blues won a 2011 Blues Music Award, in 2012 Bob received a Living Blues Award in their Harmonica category and in 2019 won a Blues Blast Music Award for Best Traditional Blues Album for his release Don't Let The Devil Ride.
Lisa Mann hails from Portland, Oregon and is a award winning blues bassist, songwriter and singer. Influenced by the likes of Etta James, Koko Taylor and Bonnie Raitt, Lisa has released four albums of her own and is a two-time Blue Music Award winner. She fronts her own band in addition to being a first call player for many all-star shows. She is a member of the Cascade Blues Association Hall of Fame and her most recent release placed first in the Blues category for unsigned artists. She has won awards in Europe as well as the states.
Ben Rice's music is deeply rooted in traditional blues, yet still manages to be fiercely original. His guitar playing earns labels like "fearless", "inventive", and "powerful". His honest vocal delivery and his skills on his acoustic resonator guitar have garnered him numerous awards. He is a three time Blues Music Award nominee and in 2019 was A Blues Blast recipient of the "Sean Costello Rising Star" award. He is a skilled solo performer as well as an accomplished band leader. Makes his home in Portland, Oregon.
Robin Moxey is a songwriter, producer, guitar player and singer from Los Angeles. He has been a member of the Playing for Change band for a number of years and has toured all over the globe with them as well as appearing in many of their trademark videos. For the past 10 years, Robin has been playing in and around Seattle, with his own band as well as being a special guest in many others. He is a Bogner Amp endorsee and has worked as a mentor for "at risk youth" as the S.A.S. Alternative High School in Bothell, WA. Robin cites influences from Leadbelly, Jimi Hendrix, Bob Dylan and Stevie Ray Vaughn. He is a captivating performer and has played shows throughout the US and Europe.
A Washington DC native, Jeff Conlin has been in Seattle since 2007, and made an immediate impact on the music scene with his smooth, percussive style of playing the keyboards. He was mentored by Bo Diddley and bass player Jesse James Johnson. He has toured with Clarence Turner and the Westcott Brothers. He has played in the Ska scene, blues, reggae and soul bands and filled in for Art Neville with the Funky Meters. Shortly after arriving in Seattle, he helped form the instrumental soul combo The Satellite Four. His most recent work is with the classic soul and blues band Big Road Blues.
Drummer Steve Sarkowsky was the Founder of the Highway 99 Blues Club. A Seattle native, he has played all around the Northwest with blues, soul, country and pop folk bands over the years. Started the Highway 99 All Stars shortly after the club opened. Over the years nearly 50 different musicians have shared the stage as a member of the All Stars. He has been a multiple nominee for best blues drummer from the Washington Blues Society as well as having won Best Blues Act twice – once with the Robbie Laws Bigger Blues Band and again with the Hot Wired Rhythm Band. He did most of the booking for Highway 99 over the years and has also been a writer for numerous publications within the local music community. Most recently he has been working with Big Road Blues, a classic soul and blues band.
" (Promo Copy)