Jimmy Eat World & Manchester Orchestra: The Amplified Echoes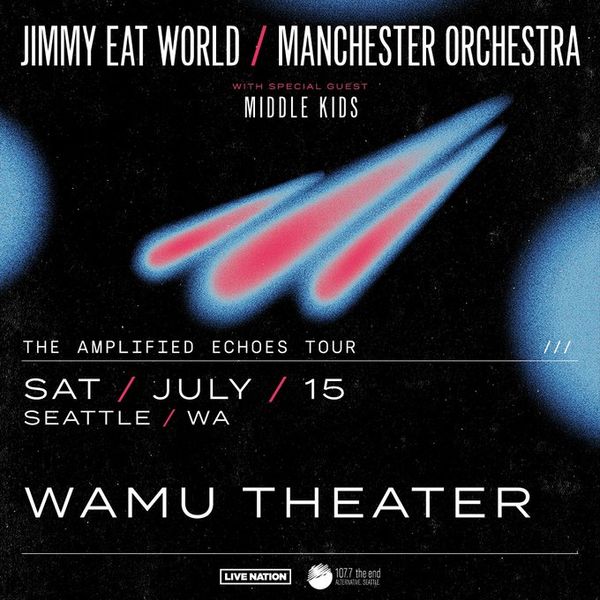 The following description is from the event organizer.
Emerging as a trailblazing name in the mid-'90s emo scene, Jimmy Eat World eventually found a larger audience by embracing a blend of alternative rock and power pop that targeted the heart as well as the head. The band's influence widened considerably with 1999's Clarity -- an album that has since emerged as a landmark of the emo genre -- but it was the follow-up, 2001's Bleed American, and the infectious single "The Middle" that broke them into the commercial rock mainstream. The emo label proved difficult to shake throughout the 2000s, even when subsequent Top Ten albums Futures (2004) and Chase This Light (2007) did little to evoke the hard-edged sensitivity of Clarity, but Jimmy Eat World still remained a league above the generation of genre torchbearers they helped spawn. Settling into comfortable veteran status in the 2010s, the band continued to issue reliable Top 20 efforts, rounding out the decade with their tenth album, 2019's Surviving.
Jimmy Eat World formed during 1993 in the Phoenix suburb of Mesa, Arizona. Jim Adkins (vocals/guitar) and Zach Lind (drums) met while attending Mountain View High School; years of playing in local bands had also introduced them to locals Tom Linton (guitar/vocals) and Mitch Porter (bass). The four musicians joined forces and derived the band's moniker from an argument between Linton's younger brothers, Ed and Jimmy. The two siblings were prone to fighting, with the heavyset Jimmy usually emerging as the victor. One day, a revengeful Ed resorted to drawing a picture of his heavyset older brother shoving the entire world into his mouth. The caption "Jimmy Eat World" was printed beneath, and the band deemed it a perfect fit. Citing influences like Rocket from the Crypt, early Def Leppard, the Jesus and Mary Chain, Fugazi, and the Velvet Underground, Jimmy Eat World outfitted themselves as a punk rock act and began playing small shows in the Phoenix valley.
Over the course of 1994 and early 1995, Jimmy Eat World released several EPs and singles on Wooden Blue Records, an imprint based in the nearby town of Tempe. Limited-edition pressings of "One, Two, Three, Four," "Back from the Dead Mother Fucker," and split EPs with Christie Front Drive, Emery, and Blueprint would later run out of print, as would the band's self-titled debut album. Their audience was steadily growing, and Capitol Records responded by signing Jimmy Eat World in mid-1995, when bandleaders Adkins and Linton were only 19 years old. Porter soon exited the group; Linton's best mate since seventh grade, bassist Rick Burch, was enlisted as a replacement, and the band marked their major-label debut with the release of 1996's Static Prevails. (via Spotify)
Tickets go on sale Thursday 3/16 at 10 am