Levi Hastings with Dave Wheeler
This event is in the past
Wednesday, September 27, 7–8:30 pm
This is an in-person event
Free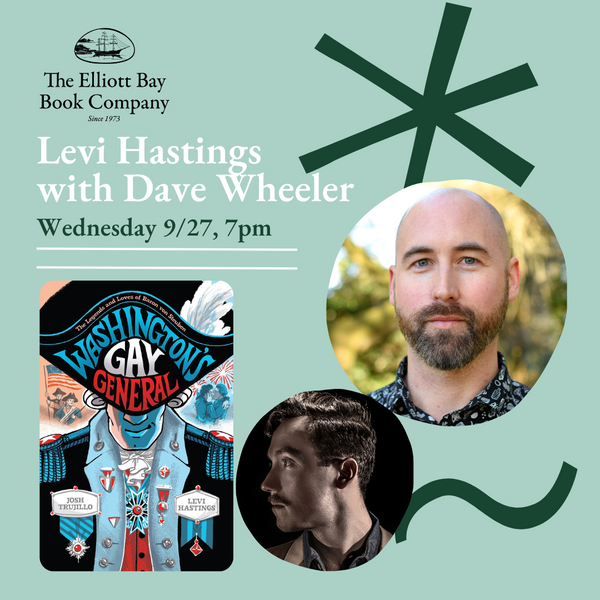 The following description comes from the event organizer.
Levi Hastings, illustrator of
Washington's Gay General
(written by Josh Trujillo) discusses the true story of one of the most important—but largely forgotten—military leaders of the American Revolution, Baron von Steuben, with Shelf Awareness's Dave Wheeler.
Washington's Gay General
is a graphic novel biography of Baron von Steuben, the soldier, immigrant, and flamboyant homosexual who influenced the course of US history during the Revolutionary War despite being omitted from our textbooks. Baron von Steuben brought much-needed knowledge to the inexperienced and ill-prepared Continental Army. As its first Inspector General, von Steuben created an organizational framework for the US military, which included writing the Blue Book guide that became the standard for training American soldiers for more than a century.
Von Steuben was also, by all accounts, a flamboyant homosexual in an era when the term didn't even exist. Beginning with von Steuben's career in the Prussian Army, Trujillo explores his recruitment by Benjamin Franklin, his work alongside General George Washington at the Battle of Valley Forge, and his eventual decline into obscurity. In
Washington's Gay General
, Trujillo and Hastings impart both the intricacies of queer history and the importance of telling stories that highlight queer experiences.
Dave Wheeler is an associate editor for the book industry newsletter Shelf Awareness. He is the author of a poetry collection called Contingency Plans, and he has written for The Stranger, The Seattle Times, Catapult, and INTO Magazine.