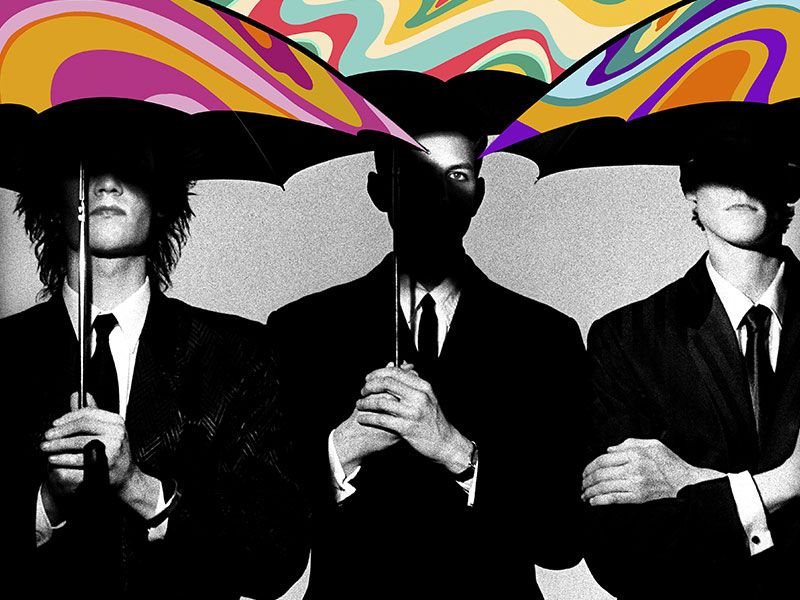 The following description is from the event organizer.
Love and Rockets comprised guitarist/vocalist Daniel Ash, bassist/vocalist David J, and drummer Kevin Haskins, all former members of the pioneering goth band Bauhaus. However, the group didn't sound very similar to its first incarnation. Instead, Love and Rockets emphasized the strains of psychedelia and glam rock that appeared underneath Bauhaus' gloomy drone, adding elements of pop songcraft, folk, and R&B, as well as cryptic, self-important lyrics. For most of the late '80s, the group had a devoted cult following, resulting in a surprise Top Ten hit single, "So Alive," in 1989. During the early '90s, the group's audience steadily declined, although they still retained a number of loyal fans.
After Bauhaus broke up in 1983, David J recorded a solo album and collaborated with the Jazz Butcher, while Daniel Ash concentrated on a side project, Tones on Tail. Haskins soon joined Tones on Tail, but the group folded in 1984. Haskins and Ash then attempted to reunite Bauhaus. David J agreed to the project, but the band's lead vocalist, Peter Murphy, refused. Instead of pursuing an incomplete Bauhaus reunion, Ash, J, and Haskins formed Love and Rockets, taking their name from the underground comic book created by Jaime and Gilbert Hernandez.
Love and Rockets released their first album, Seventh Dream of Teenage Heaven, in 1985; it received mixed reviews but it began to build their following. Express, released the following year, was more successful, charting in both the U.S. and the U.K. On Earth Sun Moon (1987) the band retreated to more atmospheric musical territory, with the notable exception of the alternative/college radio hit "No New Tale to Tell," which helped increase the group's fan base. Love and Rockets, released in 1989, broke the band into the mainstream, thanks to the T. Rex-inspired Top Ten single "So Alive." The album was nearly as successful, breaking into the Top 20 and going gold.
After the success of Love and Rockets, the members of the band concentrated on solo projects for nearly a half-decade. Love and Rockets returned to recording in 1994 with Hot Trip to Heaven, which failed to make any inroads on the pop or alternative charts. In 1996, they returned again with Sweet F.A., and Lift followed two years later. (via Spotify)