Tuesday, September 26, 8 pm
This is an in-person event
$30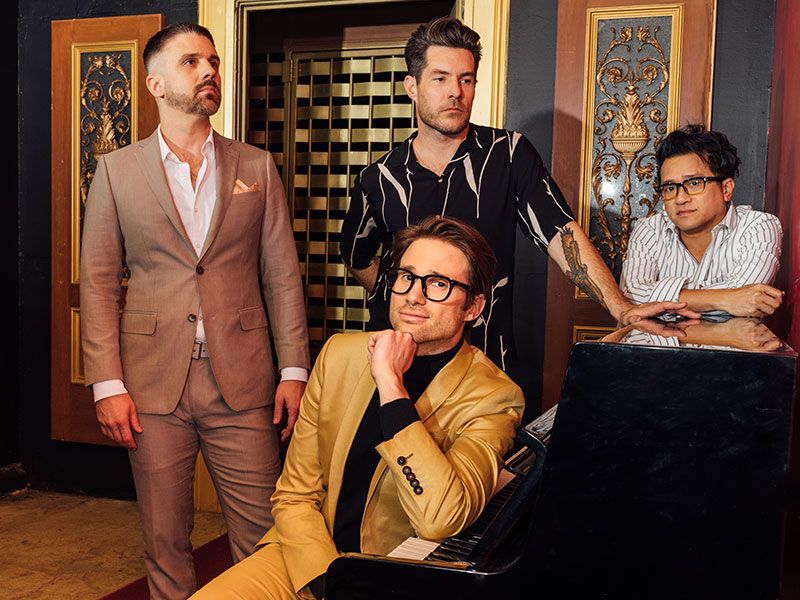 The following description was submitted by the event organizer.
Saint Motel are a California-based indie band whose vivid and catchy art-pop is often paired with innovative visual elements both on-stage and in the form of unique self-made videos that accompany most of their songs. After signing with major-label Parlophone, they landed a charting hit with their 2014 single "My Type," which found an audience in the U.K. and parts of Europe. Their 2016 album, Saintmotelevision, featured virtual reality videos for every track, making it the first VR album ever made. They later released the EPs Original Motion Picture Soundtrack, Pt. 1 and Pt. 2, which they then combined to make their third album.
Saint Motel was formed in 2007 by pianist/vocalist A.J. Jackson and classically trained guitarist Aaron Sharp, who met when they were both film students at Chapman University in Orange, California. Recruiting bassist Dak Lerdamornpong, who worked at a nearby sushi restaurant, and drummer Greg Erwin, who attended another nearby college, they started writing music together, crafting a slick, bouncy, retro, Tropicalia-influenced sound that was the perfect foil to Jackson's smooth, suave croon. Putting their film school experience to good use, they created eye-catching retro videos for all six of the tracks on their 2009 debut EP ForPlay. Their catchy songs of love and good times were a hit, and they consolidated their success with sustained touring. Visuals remained an important element of their work and many of their stage shows were spectacular theatrical events with names like "The Valentine's Zombie Prom." Their debut album, Voyeur, was released in 2012 and was critically well-received.
In 2014, the band signed with Parlophone and the title track from their My Type EP hit the Billboard alternative charts, as well as song charts in parts of Western Europe. Led by the single "Move," which was accompanied by a 360-degree virtual reality video, Saint Motel's second LP, Saintmotelevision, followed in the fall of 2016. By mid-2017, they had completed VR videos for the rest of the track list, making it the first-ever VR album. In keeping with their innovative nature, the band's 2019 album comprised the two EPs and was titled Original Motion Picture Soundtrack. (via AllMusic)
Tickets on sale Fri 5/26 at 10am.