Thu - Sun, from Apr 1 - Aug 27
$0 - $20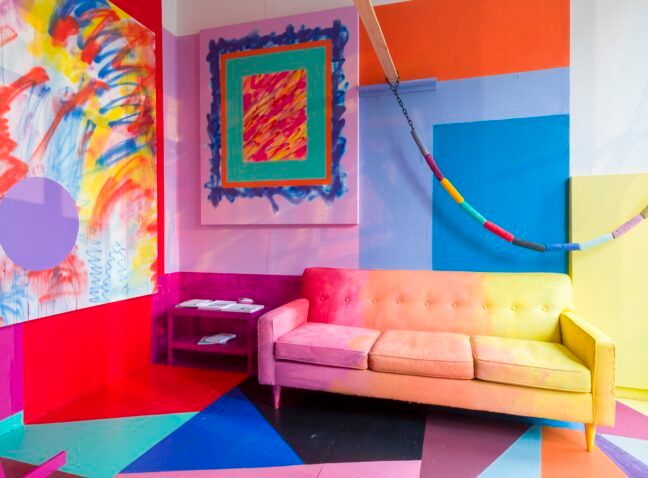 "
Los Angeles-based artist Sarah Cain (b. 1979, Albany, NY) paints exuberant abstractions that often extend beyond the canvas into installations, site-specific painting, stained glass, and furniture that draw from sources as disparate as Abstract Expressionism, graffiti, and pop music, and incorporate materials as diverse as fabric, sand, feathers, jewelry, crystals, and ribbons.


Cain's muscular painting embraces a strategically intuitive power that both undermines and expands our expectations of what has been historically considered "serious" abstract painting. Her color-soaked palette mixes with a wide range of found objects added to her compositions which in turn compliment her titles, which shift in reference from the sweet and mystical, created out of magic from under a rock (2017) to the erotic, Peacocking (2019), to the political, Keep it Safe and Legal (2018). Cain redefines abstraction in feminist terms as an architecture for transformative, embodied, emotive experience. In this regard her work has an explicit politics that emphatically insists on the value of feminine, queer, and other "othered" aesthetics, intentionally dismantling male-dominated art historical traditions.


At the beginning of her career, Cain made dozens of site-specific paintings in abandoned buildings. By nature, these were ephemeral works. As her practice evolved, she has continued to create massive site-specific works and preserved this impulse to treat painting seriously, but not preciously. She cuts into her canvases and embellishes their surfaces with found objects as in Braids and Tassels (2018) and installs works on the floor for viewers to walk on, like Dark Matter (2016). More recently, her desire to create and reveal space has found an outlet in the creation of elaborate works in stained glass, most notably her permanent installation at the San Francisco International Airport Hyatt Hotel, We Will Walk Right Up To The Sun (2019). This radiant, joyful kaleidoscope of an installation uses several experimental techniques to render glass painterly and transform the viewer's experience of space.


For this exhibition, the Henry commissioned Cain to create a site-specific project responding to the museum's East Gallery, which will engage the double-height space through wall and floor paintings, as well as furniture and other architectural interventions.
" (Promo Copy)